Accomplishing Great Things
​"I always keep a picture of Jane Austen's tiny writing table pinned over my desk; if six of the worlds greatest novels can be written on a tea table, then anything can be accomplished."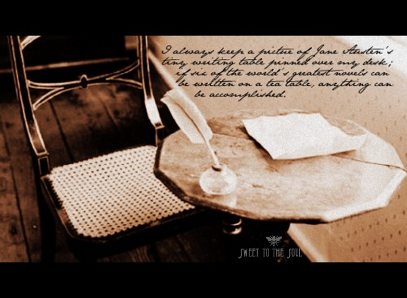 ​I love this quote! Not only because I am an avid Jane Austen fan and have read her six completed novels and can quote many lines from each; but because it brings me back to the reality of just how much - rather how little - is necessary to accomplish great things.


​Often we tell ourselves we cannot accomplish tasks because we do not "have" what is needed; whether equipment, supplies, time or training. We put off even making an attempt until all circumstances are "just right".

Our life becomes cluttered with un-accomplished tasks because we fail to even begin.

Oh what we would have been deprived had Miss Austen chosen not to write a word of Ms. Bennett and Mr. Darcy because she did not have a perfect setting, or even an audience.

​How often do we have this same response when we hear the voice of God calling us into action -- to volunteer our time, to encourage someone hurting, or to speak of God's love to another? Often, we feel we are not equipped, don't know what to say, don't have time.

But the truth is that if God calls us into action, He will not only direct our path but will equip us to complete the task!
​
He that is faithful in that which is least is faithful also in much.
Luke 16:10

All too often we feel an accomplishment for Christ must be huge to be impactful; and this too can prevent us from even attempting to help. But how much more are we touched by a single individual who has taken a moment of time to pray with us, cry with us or even give a hug at just the right moment?

So often these seemingly small gestures of caring have a much greater impact on a person than sermons with a large crowd!

​I long to accomplish great and noble tasks, but it is my chief duty
to accomplish humble tasks as though they were great and noble.
The world is moved along, not only by the mighty shoves of its hero's,
but also by the aggregate of the tiny pushes of each honest worker.
Helen Keller

​Not many are called to be a Jane Austen or a Billy Graham, but most of us every day are presented with an opportunity to minister to another through God's love.

Father God, may we always keep our eyes, ears and hearts open to hear your calling and look to you for the strength and confidence to attend to the tasks you appoint to us each. Amen

​Be the subtle voice that helps another in need.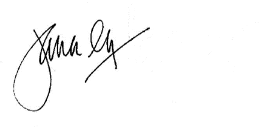 Today I am linking up with Darlene Schacht at Time Warp Wife for Titus2sdays
and Katy McCown at A Football Wife's Life for RaRaLink up.
Would love for you to stop by for a visit!



​Jana Kennedy-Spicer is a blogger, Bible teacher and speaker
passionate about inspiring & encouraging women on their daily walk with Christ.
Read Jana's testimony.
Posted in not categorized
Tagged with accomplish, small, procrastinate, faithful, Luke