You are God's Masterpiece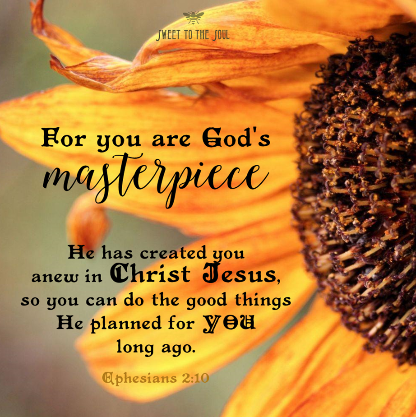 ​"For you are God's masterpiece. He has created you anew in Christ Jesus,
so you can do the good things he planned for you long ago."
Ephesians 2:10
​
The dictionary says a masterpiece is:
the most outstanding piece of work of a creative artist.
WOW! Is there a more creative artist than God?
He created the heavens and the earth; the moon and stars; all the beasts on the land and the fowls in the air and the fish in the seas; He created every petal of every flower, every leaf on every tree; and from the dust of the Earth He created every man and every woman. He spoke our world into existence and filled every horizon with beauty. (Genesis 1)
Yet of everything God has created, He calls
YOU
His Masterpiece!
YOU
are His most outstanding piece of work! Most precious, most beautiful, most cherished, most loved!
Yes, out of everything that God has created, He loves YOU most!

Finding Confidence in God's Love
​
1. He assures you in His word that He has chosen you as His own:
"For He chose YOU (us) in him before the creation of the world to be holy and blameless in His sight." Ephesians 1:4

2. He calls Himself your Husband:
"For YOUR maker is YOUR husband – the Lord Almighty is his name – the Holy One of Israel is YOUR redeemer; he is called the God of all the Earth. The Lord will call YOU back as if you were a wife deserted and distressed in Spirit." Isaiah 54:5-6a
3. He calls you unforgettable:
"Can a mother forget the baby at her breast and have not compassion on the child she had borne? Though she may forget, I will not forget YOU." Isaiah 49:15
4. He promises He'll never leave you:
"Never will I leave YOU; never will I forsake YOU." Hebrews 13:56
5. He says He has always loved you and always will:
"I have loved YOU with an everlasting love; I have drawn you with loving kindness." Jeremiah 31:3
6. He says His love for you is greater than anything you will ever find on this Earth:
"Greater love has no man than this, that he lay down his life for YOU (his friends)." John 15:13
7. And Jesus did just that – he laid down his life for you.
"For God so loved YOU (the world) that He sent His only begotten son, that whosoever believed in Him should not perish but have everlasting life." John 3:16
"But God shows his love for YOU (us) in that while we were still sinners, Christ died for us." Romans 5:8



Finding Identity Beyond Circumstances
Do you sometimes feel trapped by your circumstances? Or wonder how God could love you where you are? Oh dear sister, the circumstances of your life do NOT define who you are –
1.
YOU ARE a loved and cherished Child of God!
"See what kind of love the Father has given to YOU (us), that YOU (we) should be called children of God; and so YOU (we) are." I John 3:1a
"But to all who did receive him, who believed in his name, he gave the right to become children of God," John 1:12
2. YOU ARE a new creation in Christ;
you are no longer the same as you were before you knew Christ.
"Therefore if YOU are (anyone is) in Christ, YOU are (he is) a new creature, the old things passed away; behold NEW things have come." II Corinthians 5:17
3. And
God is creating a new way just for YOU
; He is bringing restoration to your life.
"Forget the former things; do not dwell on the past. See I am doing a NEW thing! Now it springs up; do you not perceive it?
I am making a way in the wilderness
and streams in the wasteland." Isaiah 4
3:18-19
4. He has a specific plan just for YOUR life
for prosperity and deliverance and restoration
"For I know the plans I have for YOU," declares the Lord, "plans to prosper you and not to harm you, plans to give you hope and a future. Then you will call on me and come and pray to me, and I will listen to you. You will seek me and find me when you seek me with all your heart. I will be found by you," declares the Lord, "and will bring you back from captivity. I will gather you from all the nations and places where I have banished you," declares the Lord, "and will bring you back to the place from which I carried you into exile." Jeremiah 29:11-14

​ Are you feeling like God must have abandoned you because so much has seemingly gone utterly wrong? Does it feel like God made a mistake? Or forgot? Or maybe you wonder if He's surprised by your circumstances and wondering how to redeem and restore things, or if that's even possible. Read Jeremiah 29:11-14 again. The Lord is waiting and listening to hear your cry!
Please know that God HAS NOT forgotten you! You have not been abandoned and He is not surprised by your circumstances. God can see the entirety of your life, from your first breath to your last breath, in a single glance of His eye! He knew you before you were even born, and you were precious to Him even then!
"Before I formed you in the womb I KNEW (or chose) YOU, before you were born I set you apart;" Jeremiah 1:5
"In your book were written, every one of them, the days that were formed FOR ME, when as yet there were none of them." Psalm 139:16
Oh Praise to the Lord that we can have such restoration and hope in Him! Praise Him for His love and mercy and grace which He so abundantly pours out on us when we call out to Him. Praise Him for the blessings within our lives and praise Him for the trials which He uses to teach us and mold us into His likeness. Yes, we praise Him through the laughter and the tears, in the night and in day we will praise Him.


Dear Lord, I am so thankful that You have authored a plan for my life... Just. For. Me... You love me enough to prepare for me a wonderful life plan. But I am even more thankful that – in spite of myself, in spite of my pride and foolish choices, in spite of my bad decisions – You are the author of second (and third and fourth, etc.) chances! You forgive my shortcomings and my sin, You open Your arms to receive me home when I have turned away from You to follow my own path. Yes, Heavenly Father, new beginnings are found in You. Life itself, salvation is found in You. You take my damaged life, created by my own sin nature, wash it with Your Son's redeeming blood and create in me a new beginning! Oh thank you Father God! Guide me on this new journey! Thank you Lord for allowing me to step out of my sinful past, and into the glorious new life You have planned for me! To God be all the glory! In Jesus' precious name, Amen


Oh friends, all of these things I write about I know to be true in my own life. Yes, God has rescued me and restored me time and time again! He has turned my mess into His message!

Mine and your life paths may be different, but we each have begun in the same place, known by Him before we were in our mother's womb; and as children of God, we will each end in the same place, praising Him eternally in Heaven. And I praise God for the blessing of this particular season when He designed for our paths, in between the beginning and the end, to intersect for a moment in time.

Blessings Soul Friends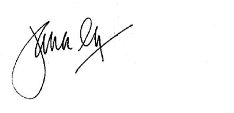 click to tweet
>>
Find confidence, identity and hope in knowing your are God's Masterpiece.




​​Jana Kennedy-Spicer is a blogger, graphic artist, Bible teacher and speaker passionate about inspiring and encouraging women on their daily walk with Christ.
Read Jana's testimony.
Posted in not categorized
Tagged with masterpiece, Ephesians, creative, plans, love, Isaiah, Hebrews, Jeremiah, John, Romans, circumstances, hope, Psalm, prayer