I Am A Prayer Wimp
Praying Scripture Over My Family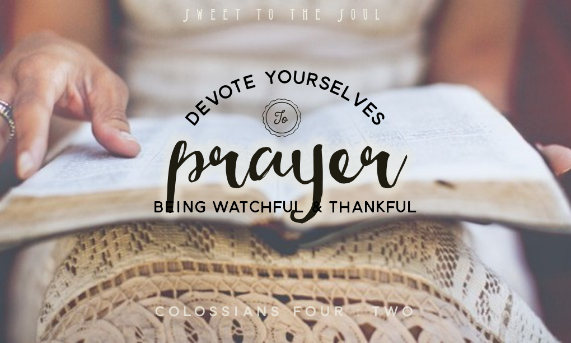 "Devote yourselves to prayer, being watchful and thankful."
Colossians 4:2
Prayer.
I have to admit that this word has always intimidated me. I spent many years feeling inadequate and unworthy to come before God with my petitions; f
umbling through the right words, careful to try and say just the right thing; for some reason thinking I had to silently pray in the "King James Version". It was a struggle,
so I would find myself there only as a last resort.
I spent years thinking that prayer was just a way to ask God for what I wanted, never understanding that prayer served a much greater purpose. Never really grasping that God loves me and wants to have a relationship with me! Of course, to build a relationship takes spending time with each other and takes communication. Prayer.
Prayer warrior or prayer wimp?
Hello, I'm Jana, and I'm a prayer wimp.
In Max Lucado's book "Before Amen" he starts off with this,
"Hello, my name is Max. I'm a recovering prayer wimp. I doze off when I pray. My thoughts zig, then zag, then zig again. Distractions swarm like gnats on a summer night. If attention deficit disorder applies to prayer, I am afflicted. When I pray, I think of a thousand things I need to do. I forget the one thing I set out to do. Pray."
That is
SO
me!
And I must admit that it is a bit comforting to know that a pastor and man of God such as Max struggles with prayer also.
There is hope for me! And friend if you're saying, "yea, that sounds like me too", then know that here is hope for you too!
A conversation.
He also goes on to tell us that,
"prayer is simply a heartfelt conversation between God and His child."
A conversation... personal, confidential, mutual. This helps me, just be me, just talk to God. And this has made a difference for me with my prayers.
Oh I still have struggles, I am not where I want to be and not where I need to be with my prayer life. But with the help of God, I am not where I used to be. Progress.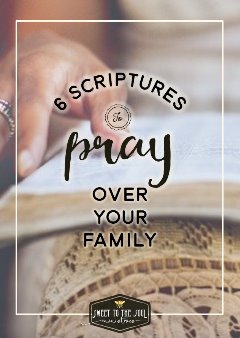 ​One day while talking with a friend about prayer, she mentioned to me that as part of her daily prayers she prays scripture over her family and friends. If they were in a particular battle or dealing with a specific struggle, she would ask God to show her an applicable scripture to pray over her loved one.

I loved this idea so I did the same for my family and below are some of the scriptures I try to pray regularly over my family.
For the grands, Colossians 1:9-14,
"And so, from the day we heard, we have not ceased to pray for you, asking that you may be filled with the knowledge of his will in all spiritual wisdom and understanding, so as to walk in a manner worthy of the Lord, fully pleasing to him, bearing fruit in every good work and increasing in the knowledge of God. May you be strengthened with all power, according to his glorious might, for all endurance and patience with joy, giving thanks to the Father, who has qualified you to share in the inheritance of the saints in light. He has delivered us from the domain of darkness and transferred us to the kingdom of his beloved Son, in whom we have redemption, the forgiveness of sins."
​
For the married couples, Romans 15:5-6,
"May the God of endurance and encouragement grant you to live in such harmony with one another, in accord with Christ Jesus, that together you may with one voice glorify the God and Father of our Lord Jesus Christ."
​For the men, Ephesians 6:11-18,
"Put on the full armor of God so that you can take your stand against the devil's schemes. For our struggle is not against flesh and blood, but against the rulers, against the authorities, against the powers of this dark world and against the spiritual forces of evil in the heavenly realms. Therefore put on the full armor of God, so that when the day of evil comes, you may be able to stand your ground, and after you have done everything, to stand. Stand firm then, with the belt of truth buckled around your waist, with the breastplate of righteousness in place, and with your feet fitted with the readiness that comes from the gospel of peace. In addition to all this, take up the shield of faith, with which you can extinguish all the flaming arrows of the evil one. Take the helmet of salvation and the sword of the Spirit, which is the word of God. And pray in the Spirit on all occasions with all kinds of prayers and requests. With this in mind, be alert and always keep on praying for all the saints."
​For the women, Proverbs 31:25-31,
"Strength and dignity are her clothing, and she laughs at the time to come. She opens her mouth with wisdom, and the teaching of kindness is on her tongue. She looks well to the ways of her household and does not eat the bread of idleness. Her children rise up and call her blessed; her husband also, and he praises her: "Many women have done excellently, but you surpass them all." Charm is deceitful, and beauty is vain, but a woman who fears the Lord is to be praised. Give her of the fruit of her hands, and let her works praise her in the gates."
​
For my mom, Ephesians 1:1-20,
"because I have heard of your faith in the Lord Jesus and your love toward all the saints, I do not cease to give thanks for you, remembering you in my prayers, that the God of our Lord Jesus Christ, the Father of glory, may give you the Spirit of wisdom and of revelation in the knowledge of him, having the eyes of your hearts enlightened, that you may know what is the hope to which he has called you, what are the riches of his glorious inheritance in the saints, and what is the immeasurable greatness of his power toward us who believe, according to the working of his great might that he worked in Christ when he raised him from the dead and seated him at his right hand in the heavenly places"
​
For my husband, I Corinthians 13:4-13,
"Love is patient and kind; love does not envy or boast; it is not arrogant or rude. It does not insist on its own way; it is not irritable or resentful; it does not rejoice at wrongdoing, but rejoices with the truth. Love bears all things, believes all things, hopes all things, endures all things. Love never ends. As for prophecies, they will pass away; as for tongues, they will cease; as for knowledge, it will pass away. For we know in part and we prophesy in part, but when the perfect comes, the partial will pass away. When I was a child, I spoke like a child, I thought like a child, I reasoned like a child. When I became a man, I gave up childish ways. For now we see in a mirror dimly, but then face to face. Now I know in part; then I shall know fully, even as I have been fully known. So now faith, hope, and love abide, these three; but the greatest of these is love."


Soul Friends, I would love to hear from you about your prayer time. Do you set aside a specific time of day for prayer? Do you have a special place you go to meet with God to pray? Do you use a journal? Join the conversation below and let's inspire and encourage each other on our prayer journeys.

Blessings Soul Friends,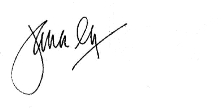 If you enjoy praying for others or feel in need of a prayer community to pray for you, we would love for you to join our fb prayer group "Prayer Closet".
​
Soul Friends is a group of Christ loving women who want to share their #graciouswords and stories of God's greatness and blessings in their lives with others. So join us here, and make not just new friends, but #SoulFriends.

​WELCOME to #SoulFriends linkup!
1. Link up your inspiring post with the button below.
2. Grab the #SoulFriends button (above) to display on your blog or link back
3. Don't have a blog? No worries, leave your encouragement in the comments.
4. Share the love! Leave an encouragement on the blog linked up in front of you & then visit others to soak in their bone healing words.
5. Retweet the blogs you love, using the hashtag #SoulFriends, and inspire others!


​Jana Kennedy-Spicer is a blogger, graphic artist, Bible teacher and speaker passionate about inspiring and encouraging women on their daily walk with Christ.
​Read Jana's Testimony
Posted in
Soul Friends
Tagged with prayer, Colossians, family, Romans, Ephesians, proverbs, 1 Corinthians