Rescued & Repaired
​Trust in the Lord with all your heart,
and do not lean on your own understanding.
In all your ways acknowledge him,
and he will make straight your paths.
Be not wise in your own eyes;
fear the Lord, and turn away from evil.
It will be healing to your flesh
and refreshment to your bones.
Proverbs 3:5-8


​"Trust me."

Funny how hearing someone say these two little words often actually invokes the exact opposite response. Instead of trusting, we doubt, we wonder, we hesitate, we revaluate, we worry; but we don't trust.

If we've become this type of skeptic, it's probably because we've been hurt and let down by a person who asked us to trust them; and this hurt has left a little broken piece of our heart reluctant to trust again.

Repeat this scenario over and over by people in our lives and our ability to trust anyone can become quite damaged.

In her book, "The Mended Heart", author Suzanne Eller relates how "we can lose heart because of people" and refers to this as the "people factor in our broken places."

When we are broken and then we read a scripture like Proverbs 3:5, "Trust in the Lord with all your heart" it can seem to sit heavy on the air unable to penetrate the pile of broken pieces of our heart.

And we wonder... how do I do that?

How do I 'trust with all my heart'? What does that look like?

​I stood there looking at the person who had been for twenty years, probably the greatest influence on my adult life, but seeing them now through eyes which had absolutely no idea who they were. The day before I knew, that morning I knew, but right then, just a few hours later… I just kept asking myself 'who is this person?'

It can happen just that quick -- This morning I trusted you, tonight, I can never trust you again.

And it doesn't take much longer for I don't trust you to go to I don't trust me.

How did I not know this? How did I not see this? How could I trust me again?


There I sat, surrounded by my broken heart and shattered life, filled with more emotions and doubts and questions than I can even now find words for, reaching out and begging God to come fix this broken family - to come fix broken me.

His response, "Trust Me. I will repair your family, but you must trust Me."


​How Do I Trust With All My Heart?
​"Trust in Him at all times, you people; Pour out your heart before Him; God is a refuge for us."
Psalm 62:8
​It's easy to trust God on the good days, the days when the sun is shining and everything is going our way, the days when everything just seems to fall into place.

But on those hard days, the days when it seems like it's been forever since we've even seen the sun, the days when everything and everyone seems to be against us, the days when it feels like the very world itself is falling apart, on those days…
​Those are the days when trusting God becomes real.
Those are the days when the idea of trust becomes the action of trust.
​Those are the days when we must lean into God and not our own understanding, because He knows and He sees and He feels our pain... and He is at work.

​What Does Trusting With All My Heart Look Like?
​In
chapter 3 of the book of Daniel
, we learn of three young men who trust in God with all of their heart.
Faced with the threat of death by fire if they do not meet the King's demand of worshipping Him only, Shadrach, Meshach, and Abednego responded with,
​"Our God whom we serve is able to deliver us from the burning fiery furnace, and he will deliver us out of your hand, O king."
Daniel 3:17
​They were very bold in their trust of God, and the King promptly had them tossed into the furnace. But their God was indeed able to deliver them.

We will most likely never face a literal furnace, but when we face the verbal, emotional and physical struggles of life which represent our "fiery furnace" we can be just as bold in facing them as Shadrach, Meshach, and Abednego were, by trusting God - knowing God - IS able to deliver us from whatever 'people factor' we may encounter.


​"Yes, Jesus took our sins upon Him at the cross, but it doesn't stop there. That same act frees us from the effects of the sins of others upon our own heart. That's the Jesus factor! We can live free from the inside out, regardless of what people have done to our exterior." – Suzanne Eller

If you are in this broken place today, know this .... "the Jesus factor is greater than the people factor." Lean into God, turn trust into action and begin to expect His deliverance and healing. Yes, the sun will come out again, the flames will subside and our God IS able to rescue you and repair your broken heart.


"Dear Jesus, I open every door to the place where people have hurt me. Shine Your Light and let Your work begin. Today I will shift my focus to You rather than dwelling on people or the past. Thank you for filling my gaps to overflow with You." - Suzanne Eller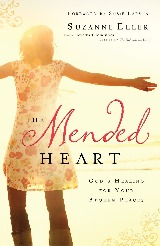 ​If you are finding yourself in a place where you are needing to be rescued and repaired, I would invite you to join Suzie, myself and women from all over for
The Mended Heart: God's Healing for Your Broken Places
On-line Bible Study hosted by
Proverbs 31 Ministries OBS
, June 22 - July 31. The study is FREE and you can read more info and sign up by
clicking here
.
"Your past may have shaped you, but it doesn't have to define you. Learn how to move forward and find healing for your deepest hurts in The Mended Heart Online Bible Study."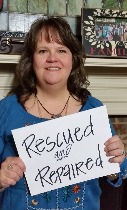 ​Jana Kennedy-Spicer is a blogger, graphic artist, Bible teacher and speaker passionate about inspiring and encouraging women on their daily walk with Christ.
​Read Jana's Testimony

My families' ordeal brought me to my knees and back to the feet of Jesus. Our relationship was restored and grew into something I had never experienced before.
Three years ago God brought a wonderful godly man into my life and called me to serve the Kingdom, that is when "Sweet To The Soul" began.
God took the worst thing that happened to my family.
He rescued and repaired us, and turned it into a testimony and ministry.
Posted in
Live Free Thursday
Tagged with The Mended Heart, rescue, restore, Daniel, trust