The Anchor Holds
"I have told you these things, so that in me you may have peace. in this world you will have trouble. But take heart! I have overcome the world." John 16:33


Sitting in a waiting room of a hospital that was less than a year old, but yet, the love of my life was a 27 year employee of this facility; I wondered how can this be happening?

Just a few days before, a well-planned surgery took place. Several months before, we set the date, prepared the details, saved a little money, adjusted insurance plans to cover this major surgery and of course, we prepared our hearts, I thought….



Eighteen years ago, while I was pregnant with our daughter - a high risk pregnancy after two previous mis-carriages - we heard a six letter word that no one wants to hear….CANCER.

He sat on that table and said "I am not leaving here until you tell me what is wrong with me" and we did not. He was diagnosed with Hodgkin's Lymphoma at the young age of 33.

I was 7 months pregnant and He had cancer.

Doctors said you have a 78% chance of beating this and then two weeks later, 96% of chance winning this. Six chemo treatments (each two weeks apart), a beautiful baby girl born, 22 radiation treatments, shingles, six spots on his lungs, lung surgery to biopsy (spots were scar tissue from shingles) and then six more chemo treatments, IN THIS ORDER.

All of this within one short year….but he beat that cancer!

We shared our story, we loved on others that were traveling the same journey and just claimed this as a chapter that left a great impact on us and we would have a great story to share for years to come.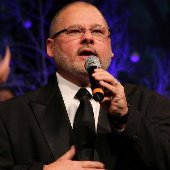 We are a part of great church that loves music and the love of my life loved to sing. Cancer took some of that away but he kept singing.

One of his "go to" songs was My Anchor Holds by Ray Botlz.

The words are so powerful and comforting. Countless times this song was sung by him. Words comforted many, spoke to many, held us up in some of our hardest times.

I have journeyed through the long dark night,
Out on the open sea, by faith alone,
Sight unknown; and yet his eyes were watching me.

I've had visions, I've had dreams;
I've even held them in my hand.
But I never knew they would slip right through,
Like they were only grains of sand.

I have been young but I'm older now.
And there has been beauty these eyes have seen.
But it was in the night, through the storms of my life,
Oh, that's where God proved His love for me.

The anchor holds,
Though the ships been battered.
The anchor holds,
Though the sails are torn.
I have fallen on my knees as I face the raging seas.
The anchor holds in spite of the storm.


Once you have cancer, the effects of cancer never leave you. I always looked at this as a reminder of how good God was and is to us. This pain was a reminder of his goodness.

Years later, the effects of cancer started showing up in a greater way. Doctors said, we will monitor this, but you need to have your heart valves replaced. At first, the relation between cancer and heart valve was not apparent. We continued life in the busyness of two teenagers and work life and did not look back.

As 2014 hit full stride, Gregg's symptoms were becoming greater and greater. It was time, surgery needed to be scheduled so we can watch our beautiful daughter cross that graduation stage and begin a new chapter into college. The perfect date was set and everyone was ready!

Friday, March 13 (yes, it was Friday the 13th, but that is just a date on the calendar), surgery began….valves were replaced and then, his heart failed….words were spoken, "he will be moment by moment", "we do not know what the next few hours will look like".

How can this be?

We planned this perfect story and the ending would be that we would celebrate our soon to be 30th wedding anniversary together and we were looking forward to becoming empty nesters.

Time began traveling so quickly over the next 18 days. God's handprints began showing up, actually I started seeing God's handprints.

After being transferred to another facility, the confusion of the "Why's" became more evident. One morning, the new doctors stood over his bed and asked "Has he ever been told that he has Radiation Heart Disease?" A new up and coming diagnosis….the price of beating cancer 18 years ago and the side effects of radiation treatments!

My family was surrounded by so many that loved on us, cared for us and prayed for us. I began to use social media as a communicator and share our story, our needs, our prayers….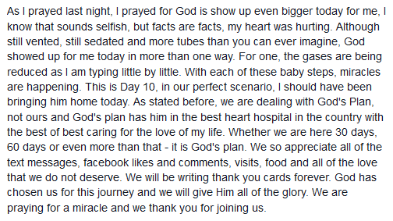 The love of my life met Jesus 18 days after the surgery. It was God's perfect plan. For the previous 18 days, the world came to a halt. Nothing else mattered!

As we sat in that "family room" after he passed away, my daughter leans over to me says, "I have never felt so much peace".

The Anchor was holding us…

Two weeks before the surgery, he had completely written down all of the details of how he wanted his funeral planned out. From what songs, names, scriptures, no open casket…every detail. He only shared this with our son. He had a father/son lunch just a couple of weeks before with wise words such as …if something happens; take care of your Mom, walk your sister down the aisle, tell my grandchildren all about me and telling him that he was writing out these details. When I think about this, I think about the incredible peace he must have been feeling while writing it.

God's handprints were showing up!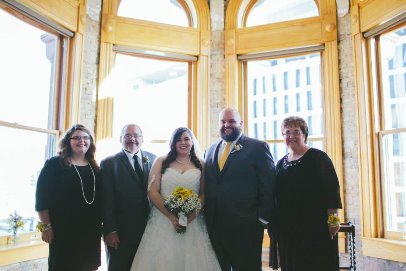 Time has passed and handprints have been more evident everywhere! Gregg's story lives on – the words to that song My Anchor Holds is still singing clearly. How wonderful it is that even in a world of ever changing fashion, The Anchor is the fashion style right now. So every time we see an anchor or someone that is touched by our story sees one, the anchor is our promise that my Anchor holds us and I claim my Anchor is JESUS!

Blessings,

Today's blog post is part of the #LiveFreeThursday series with Author and Proverbs 31 Ministries Speaker
Suzanne Eller
.
This week when Suzie announced her writing prompt as "anchored", I just knew this was a message from God for me to invite my friend Denise to share her story.
Connect with Denise and join the conversation below in the comments.


Denise Howell is a simple girl that loves the Lord! She is always ready to share her story of faith, of unending love for her husband (of almost 30 years), her two kids and daughter-in-love; and testify that God's handprints can and will show up even when you are not looking. God has proven through her journey that He is in control and we are not!
Posted in
Live Free Thursday
Tagged with anchor, peace, family, handprints, illness