The Solid Rock
"He only is my rock and my salvation, my fortress; I shall not be shaken.
On God rests my salvation and my glory; my mighty rock, my refuge is God. Trust in him at all times, O people; pour out your heart before him; God is a refuge for us. Selah Those of low estate are but a breath; those of high estate are a delusion; in the balances they go up; they are together lighter than a breath." Psalm 62:6-9




We are in the way both of duty and comfort, when our souls wait upon God; when we cheerfully give up ourselves, and all our affairs, to his will and wisdom; when we leave ourselves to all the ways of his providence, and patiently expect the event, with full satisfaction in his goodness.

See the ground and reason of this dependence. By his grace he has supported me, and by his providence delivered me. He only can be my Rock and my salvation; creatures are nothing without him, therefore I will look above them to him.

Trusting in God, the heart is fixed. If God be for us, we need not fear what man can do against us. David having put his confidence in God, foresees the overthrow of his enemies.

We have found it good to wait upon the Lord, and should charge our souls to have such constant dependence upon him, as may make us always easy.

If God will save my soul, I may well leave every thing else to his disposal, knowing all shall turn to my salvation.

And as David's faith in God advances to an unshaken stedfastness, so his joy in God improves into a holy triumph.

[from David Henry's Concise Commentary]



On Christ The Solid Rock I Stand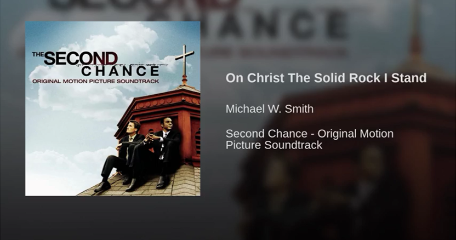 My hope is built on notheing less
Than Jesus' blood and righteousness
I dare not trust the sweetest frame
But wholly lean on Jesus' Name

When darkness seems to hide His face
I rest on His unchanging grace
In every high and stormy gale
My anchor holds within the veil

His oath, His covenant, His blood
Support me in the whelming flood
When all around my soul gives way
He then is all my Hope and Stay

When He shall come with trumpet sound
Oh may I then in Him be found
Dressed in His righteousness alone
Faultless to stand before the throne

Chorus:
Oh Christ the solid Rock I stand
All other ground is sinking sand
All other ground is sinking sand

Songwriters: MOTE, EDWARD/BRADBURY, WILLIAM B.
Solid Rock (On Christ The Solid Rock) lyrics © Warner/Chappell Music, Inc., Universal Music Publishing Group





Today's blog post is part of our series SundayHymnBook, where I have invited others to visit on Sundays and share about how a particular hymn or worship song has impacted their life.
How has this song impacted your worship experience? I would love to hear from you in the comments below.
Do you have a hymn or worship song which holds special meaning to you? Would you like to share your story with others? You don't have to be a writer or blogger to join us in this series, just love God and love His music! So if you would like to share your story one Sunday, just drop me a line at
jana@SweetToTheSoul.com
.
Blessings,

Posted in
Sunday HymnBook
Tagged with no tags