Holy Spirit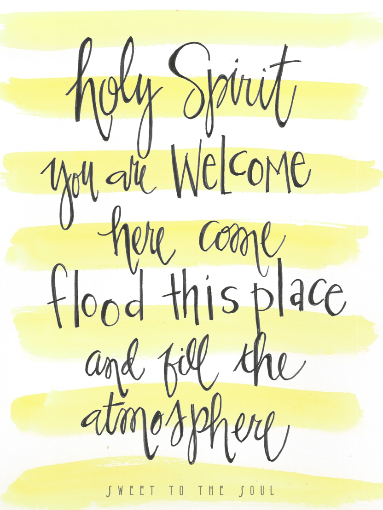 ​There's nothing worth more that will ever come close
Nothing can compare, You're our living hope
Your presence, Lord

I've tasted and seen of the sweetest of loves
Where my heart becomes free and my shame is undone
Your presence, Lord

Holy Spirit, You are welcome here
Come flood this place and fill the atmosphere
Your glory, God, is what our hearts long for
To be overcome by Your presence, Lord

I've tasted and seen, of the sweetest of loves
Where my heart becomes free, and my shame is undone
By Your presence, Lord

Let us become more aware of Your presence
Let us experience the glory of Your goodness


​The summer months are fading and I feel as though I am springing forth, even though fall is just around the corner. These past three months have been so much about growth and discovery and opportunity.

Ok, so that's really just a poetic way to say change. Some of that change was sought after and some of it was, well, a total unprepared for surprise.

I've always considered myself a person to roll with change, in fact, to even seek out change if things were beginning to feel just a little too much like a routine. My husband on the other hand, finds great comfort in structure and routine. As you can imagine, this makes for an interesting mix!

I really have no great learnings or lessons to offer here right now about my summer of change. God is still working with me.

Today I just wanted to take a step back toward a routine that I actually missed – writing, blogging and connecting with all of my wonderful Soul Friends. And I wanted to share a song with you that throughout July and August has actually become a prayer for me. A prayer for my heart, for my life, for my marriage, for my family, for my home and for my ministry.

Holy Spirit, You are welcome here
Come flood this place and fill the atmosphere
​
My hope is that it might become your prayer also. That together we will open our hearts and homes and every area of our lives and invite the Holy Spirit to flood each and every place.
I invite you to
download this free printable
of this beautiful song's chorus, print it out, frame it for your desk or home, tape it on your bulletin board. Make several copies and display them wherever you are inviting in the Holy Spirit. Even share on your social media accounts! Wouldn't it be wonderful to flood social media with the Holy Spirit?!
Blessings Soul Friends,

​Jana Kennedy-Spicer is a wife, mom and Nana who is passionate about inspiring and encouraging women on their daily walk with Christ. A woman rescued and repaired by the grace of God, she loves to share about the realness of God's love, redemption and faithfulness.
Posted in
Soul Inspired
Tagged with Holy Spirit, hymn, prayer, printable