In The Garden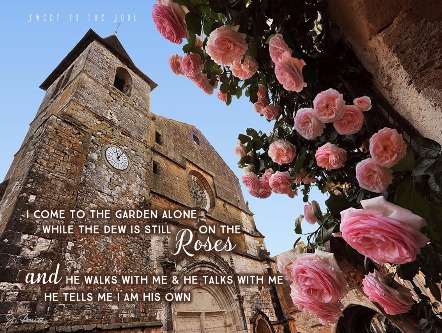 ​There have been moments of life when I have felt totally alone. When there hasn't been one person who has been on my side. I know that sounds really depressing, but if we are honest, we have all been there. However, in those moments, God has reminded me that He is always with me – and that I can walk with him.

As a little girl, I always loved the hymn "In the Garden" . I always pictured myself in the Garden of Eden, walking in a perfect world. I would day dream about being able to walk with God – not just through my daily time in the Word and Prayer, but actually walking with God. I pictured him like I did my daddy – strong and sure and holding my hand.

But, I didn't feel like that was what was actually happening. I felt alone, and sometimes, I felt as if God wasn't really with me.

As I matured in my walk with Lord, I began to learn that my garden time was my quiet time- and it was beautiful.

There, He walks with me. Through words of scripture He talks to me – and tells me I am his own. We share joy – and the joy is like none other I have ever known. It is intimate, it is personal, and it is mine.

That personal relationship with Jesus is my lifeline, it is my everything. Just like the love relationship with my spouse, I need that time to truly be alone and intimate with him.

Since making this time a priority, that lonely feeling doesn't haunt me as much. I know that my Heavenly Love will always be there, waiting for me. I just have to come to the Garden.

Worshiping with my life,
Mandy


​I come to the garden alone
While the dew is still on the roses
And the voice I hear, falling on my ear
The Son of God discloses

And He walks with me and He talks with me
And He tells me I am His own
And the joy we share as we tarry there
None other has ever known

He speaks and the sound of His voice
Is so sweet, the birds hush their singing
And the melody that He gave to me
Within my heart is ringing

I'd stay in the garden with Him
'Tho the night around me be falling
And He bids me go, through the voice of woe
His voice to me is calling

And He walks with me and He talks with me
And He tells me I am His own
And the joy we share as we tarry there
None other has ever known


​Today's blog post is part of our series SundayHymnBook, where I have invited others to visit on Sundays and share about how a particular hymn or worship song has impacted their life.
How has this song impacted your worship experience? I would love to hear from you in the comments below.
Do you have a hymn or worship song which holds special meaning to you? Would you like to share your story with others? You don't have to be a writer or blogger to join us in this series, just love God and love His music! So if you would like to share your story one Sunday, just drop me a line at
jana@SweetToTheSoul.com
.
Blessings,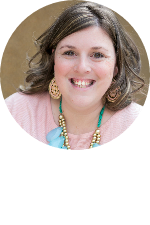 ​Mandy Kelly is passionate about two things: The Word of God and the Souls of Men (and Ladies!). She is a married to her best friend, and gets the privilege to love on their three blessings (who lost their biological momma leaving her husband widowed).She loves that the Lord has let her life be an example of delighting in Him and watching Him mold her life to make her desires match His. She spent 9 years in an early childhood classroom, and 4 years in an "in house" seminary program at her home church.She loves to bring God glory through her roles as Christ-follower, Wife and Mother (in that order!) She enjoys women's ministry, cooking, crafting, and traveling the world. Mandy is also passionate about Adoption and helping women with Infertility- as both are areas God has trusted her with. Her greatest desires are to have her marriage bring God ultimate glory, see her children walk in truth, to lead others to the feet of Jesus, and to lead women into deeper and intimate relationship with their Savior through study of the Word of God.
You can connect with Many on her blog
Worshipful Living
Posted in
Sunday HymnBook
Tagged with hymn, garden, prayer