It Is Well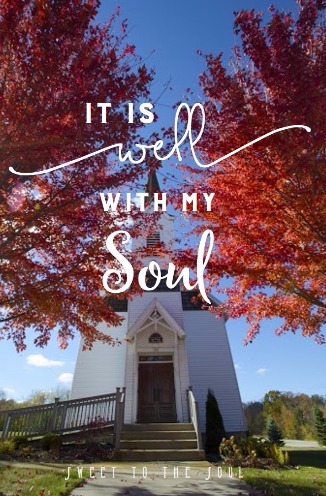 As a child in my small, traditional, Southern Church, where my grandparents were founding members, I was always excited when we would sing "It Is Well" and "Because He Lives". It would not have mattered to me if we sang them each and every Sunday because those two were my absolute favorite songs to sing in church.

It wasn't until many years later that I would fall in love with "It Is Well". Only this time, instead of sitting on an antique pew surrounded by church goers in their Sunday best, I was surrounded by other band parents listening to our kids play on the marching band field.

I had never attended a Friday night football game where the crowd silenced and you could hear a pin drop, until the first time our band stood on the field and began to play On A Hymnsong of Philip Bliss, and arrangement by David R Holsinger of It Is Well.

There was something Holy and special that happened that night and every performance after.

For me, each time my son's marching band stood on a field and began to play, my heart would stir and I could feel faith grow a little deeper in my soul. And I wouldn't know how important those moments were until a year later.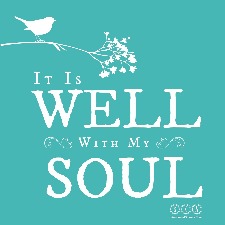 I found myself staring at a doctor listening to him say I was diagnosed with an aggressive breast cancer. I was devastated at first, but soon I found a familiar melody in my ear.
A reminder that Jesus is peace in the midst of the storm --
When peace, like a river, attendeth my way

When dark days were my companion and I wasn't sure if I would die or live to see my children graduate and hold my grandchildren --
When sorrows like sea billows roll

No matter the outcome, whether I was healed here or in Heaven, I would trust God and believe He had good for me --
Whatever my lot, Though has taught me to say

After months of treatments, God was faithful and the doctors could not find even a microscopic cell of cancer in all of my lab tests. God had healed me completely --
It is well.

My son ended his high school music career the same way it started five years earlier, performing On a Hymnsong of Philip Bliss with his graduating class. What a gift to my soul to be alive, sitting in the audience as I listened to my son play the music that was once my prayer and now my testimony --
It is well with my soul.


​Today's blog post is part of our series SundayHymnBook, where I have invited others to visit on Sundays and share about how a particular hymn or worship song has impacted their life.
How has this song impacted your worship experience? I would love to hear from you in the comments below.
Do you have a hymn or worship song which holds special meaning to you? Would you like to share your story with others? You don't have to be a writer or blogger to join us in this series, just love God and love His music! So if you would like to share your story one Sunday, just drop me a line at
jana@SweetToTheSoul.com
.
Blessings,



​Stephanie K Adams is married to her high school sweetheart, Rick. They have two young adult children, Camilla and Joshua, as well as their tiny fur-baby, a Yorkie named Gracie. Stephanie enjoys reading, a good cup of coffee, Saturday breakfast with her husband and being a band mom during marching band season.
Catch up with Stephanie on her blog
R.E.A.L. Women
Posted in
Sunday HymnBook
Tagged with peace, hymn, soul, cancer, storm