Old Rugged Cross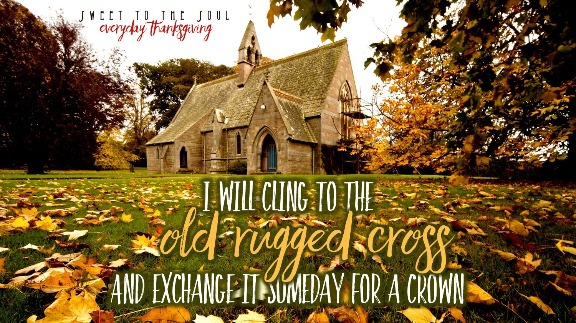 ​On a hill far away stood an old rugged cross,
The emblem of suffering and shame;
And I love that old cross where the dearest and best
For a world of lost sinners was slain.

So I'll cherish the old rugged cross,
Til my trophies at last I lay down.
I will cling to the old rugged cross,
And exchange it someday for a crown.

​Beautiful words. Words that clinch my heart and mist my eyes. Words that make my family … giggle in church??

Now, before you think I have raised a pack of disrespectful hooligans, let me explain.

Growing up in traditional Baptist churches, I've heard this song my whole life. It's always been one of my favorites. But one Sunday morning during the congregational hymn, the idea popped in my head that this would be the perfect funeral song. Don't you agree? Just look at the second verse:

​To the old rugged cross I will ever be true,
It's shame and reproach gladly bear;
Then he'll call me some day to my home far away,
Where his glory forever I'll share

​Perfect funeral fare! I poked my husband in the ribs and whispered, "When I die, I want this song at my funeral." He looked at me and rolled his eyes in that way that husbands do when we say something ridiculous in church.

Being totally serious about my wishes and not satisfied that he would remember these important instructions, the next time I heard the song in church, I leaned over and told one of my kids, "When I die, make sure they sing this song at my funeral." My kids are pretty much used to the crazy ideas that constantly pop in my head, so I didn't get much reaction from them.

But I was determined. Every time I heard the song, I told anyone who would listen that I want The Old Rugged Cross sung at my funeral. My kids and husband know. My mom knows. My best friends know.

After years of brainwashing them about my choice of funeral songs, when we hear it now, everyone giggles and rolls their eyes and says, "We know….we know! This is your funeral song!" I think even the people who normally sit around us in church have heard the snickering and I'm counting on them to be part of the chorus singing my song.

While it has become a funny part of our family quilt, I pray when the time comes, the song gives my family some measure of comfort. Perhaps it will remind them that I did live my life clinging to the hope Jesus offered this lost sinner on that old rugged cross.

Maybe it will encourage them to ever be true to The One that calls us.

And I know this might be too much to hope for, but in my perfect world, hearing this song at my funeral would make the people who love me smile as they remember all those times we giggled in church.

I'm tempted to tell them I will come back and haunt them if they fail to honor my song request, but honestly, I know I won't care then what they are singing. I will be too busy laying down my meager trophies and exchanging that cross for my crown..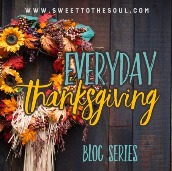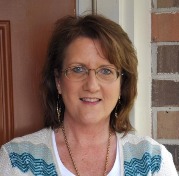 ​Christa Hutchins is a "doer-of-things" who provides ministry coaching, project management and administrative support for speakers, writers and ministry leaders. She lives in South Louisiana with her husband in their delightfully empty nest, where you can usually will find her with her nose stuck in a book or sipping on a triple tall, non-fat peppermint mocha, extra hot, from Starbucks. Connect with Christa at
www.doanewthing.com
, on
Facebook
and on
Twitter
.
Posted in Everyday Thanksgiving, Sunday HymnBook
Tagged with cross, hymn, EverydayThanksgiving