The Hungry Table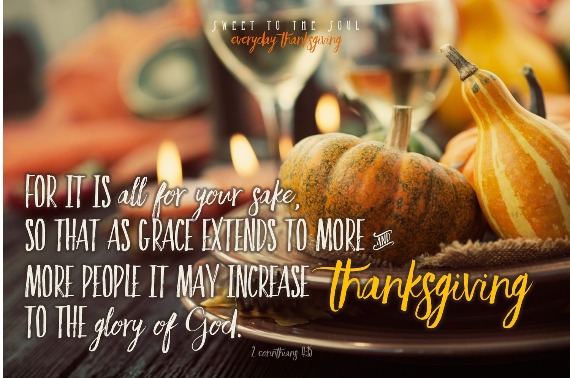 ​For it is all for your sake, so that as grace extends to more and more people it may increase thanksgiving, to the glory of God. 2 Corinthians 4:15



Growers of grace,
Writers of peace,
Bringers of the gospel,
Keep bringing it because you are catalyzing
A phenomena called Thanksgiving.

When you plant bulbs of compassion in barren gardens,
Share platefuls of forgiveness at forgotten tables,
Say "I love you," over bowed heads and clenched fists,
You spread mercy like pixie dust.

It's not just for movies, it's for every single day
Of every person's life.

Oh, how we need it---to be washed clean and filled up
With extravagance.
A handshake, meal bought, ride offered,
A hug we have to walk across a room 50 feet long to share.

Oh, grace grower, you are the farmer
Of an organic movement
Called blessed,
Amazing grace.

When you give your harvest, bouquet, overflowing basket
Of life fruit, able to feed souls who crave color:
Crimson, deepest blue, and yellow singing sun and welcome,
You spread gratitude grown from God's ground.

There is no greater worship than the spread of undeserved love.
It is how we say Yes, Lord.
Amen, and let's do it again!
Day after golden-rayed day,
Saving lives with small faith
And uncommonly open arms,
Giving thanks to the One bringing souls to the table
To eat and live.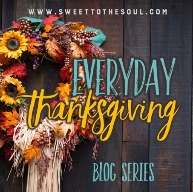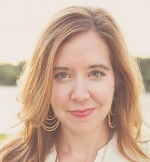 ​Christina Hubbard shares stories from the suburban prairie about living courageously as a writer, poet, wife, and mother at
www.creativeandfree.com
. She writes about identity, worth, and the creative process to help others find God's imagination in their own stories.
Connect with her on Twitter
@Creatively_Free
and on Facebook
@Creative and Free
.
Posted in
Everyday Thanksgiving
Tagged with poem, grace, EverydayThanksgiving, compassion