Cultivating a Positive Attitude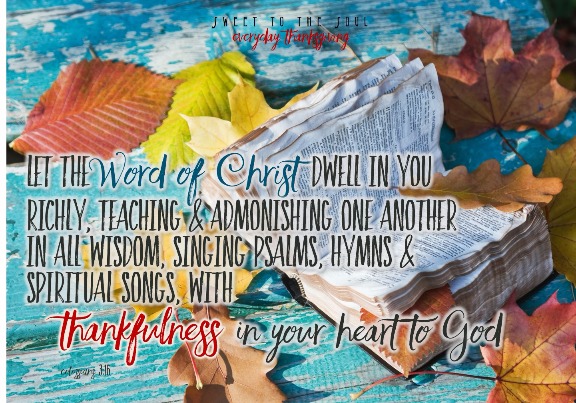 ​"Let the word of Christ dwell in you richly, teaching and admonishing one another in all wisdom, singing psalms and hymns and spiritual songs, with thankfulness in your hearts to God." Colossians 3:16

​Have you had a case of the grumbles lately? Sometimes a negative attitude can hit you out of nowhere, can't it?

Life is an amazing gift from God that should inspire gratitude. Yet some mornings we wake up on the wrong side of the bed, and the day goes downhill from there. We grumble and complain.

This may or may not have happened to me the week our garage door opener broke and my daughter's computer crashed.

Our lives are a crazy mix of blessings and misfortunes, beautiful and hard woven together. Even on our best days, we don't have to go far to find difficulty, but I don't want to travel the road of life complaining about it. That ruins the ride for all the other passengers in my car, like my husband and kids.

Complaining zaps the contentment right out of my heart. So I want to get serious about waging war on the grumbles.

​Colossians 3:16 shows us 3 ways to cultivate a positive outlook:
​As we read scripture, the Holy Spirit brings encouragement, strength, and peace to our hearts. Complaining can set our minds on a negative cycle, but God's Truth renews our thoughts. As we read, meditate, and obey it, God's Word takes root in our hearts. A daily dose of the Word helps ward off a negative spirit like nothing else.
​When we choose to praise God in the middle of our challenges, it brings Him honor and shifts our focus. As we worship, our hearts are drawn to closer fellowship with Jesus, and our eyes are opened to His love and care for us.
​God makes the sun rise even on the days when the garage door opener breaks. He gives us a new gift of 24 hours each morning. Thanking Him for simple blessings grows gratitude in our hearts. Even in life's tough moments, in hospitals and funeral parlors, God gives us grace. Recognizing and thanking Him for His goodness lightens our heaviest burdens.
​The next time a computer crashes around here, instead of coming down with a case of the grumbles, I want to hold fast to God's Word, sing my praise loud, and start giving thanks! Let's ward off whining by cultivating contentment and growing gratitude.

How about turning the praise music up loud today?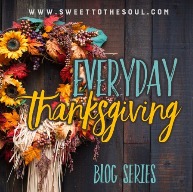 ​Betsy de Cruz enjoys God, life with teenagers, and dark roast coffee. She and her crazy nomad family are currently spending 9 months in Dallas, Texas, but they look forward to returning to Turkey, their favorite home. Betsy's passion is to encourage women to get God's Word in, so their faith can spill out, even during life's bumpy moments. She writes about everyday faith at
faithspillingover.com
. You can also connect with Betsy on
Twitter
,
Facebook
, and
Pinterest
.
Posted in
Everyday Thanksgiving
Tagged with EverydayThanksgiving, Colossians, attitude, complain, praise