Body of Christ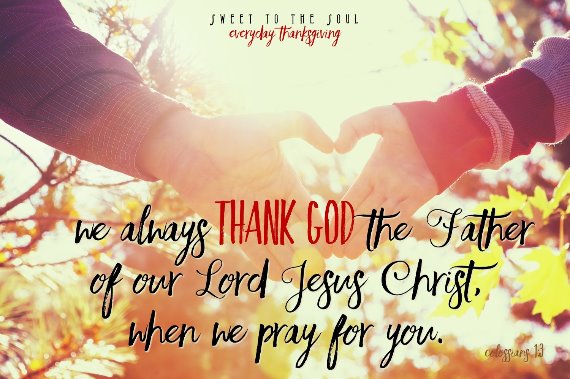 ​As I count the many blessings of my life I give thanks for the many brothers and sisters in Christ whom I call family.

Moving shortly after getting married to my high school sweetheart taught me many things. One valuable lesson I learned was the importance of knowing and trusting the body of Christ as family. Later I would discover the beauty of offering thanksgiving for this special family.

After leaving my hometown and relocating to a big city with my new husband I quickly realized things were going to be different. I was a new college graduate with a nursing degree and I was guaranteed a job anywhere. So we moved where my husband could get his foot in the door and the very next week I went on a job hunt. I drove downtown without the assistance of GPS and searched for the hospital parking lot. Greeted by parking deck after parking deck I knew quickly this country girl was in over her head. Cautiously, I parked and went in to apply for a job, nervous that I may not make it out of the parking deck. You see, I didn't bring any money and this was before you could swipe a card absolutely everywhere. Thankfully, the hospital stamped my card and I was "home free". Well, until I pulled up at the intersection of Queens, Queens and Queens. How is that possible?

Things were going to take some adjusting.

My husband was settling into his new job while I was still trying to learn my way around this big city. We both knew we needed a church home, I just didn't realize how much. Oddly enough we chose a church with ten thousand members to call home. Soon we discovered a new family. A family that would love and care for us. Spend time with us, help us when we were in need and pray for our concerns.

The body of Christ became an extension of the families we were born with and I have cherished every church family since.

One day while studying one of the many books written by Paul I noticed a trend. Repeatedly Paul offered deep gratitude for other believers that loved and supported His ministry for Christ. His words flowed off the page of the Bible and echoed the emotions of my heart. First He thanked God for those dear to him and then he reminded them of his prayers for them. How precious! He loved and cared deeply for His "church" family just like me.

​"We give thanks to God, the Father of our Lord Jesus Christ, praying always for you" Colossians 1:3

​I give thanks to God for my church family who visited me in the hospital.

I give thanks to God for my brothers and sisters who fed us after our first child was born.

I give thanks to each one who looked after me while my husband was away for military obligations.

I give thanks for the ones who welcomed me into their homes for prayer and bible study.
​
And these are just a few things I'm grateful for as I consider our first city-church family!

Paul demonstrates the beauty of the body being family and our response of thanksgiving and prayer that follows. This Thanksgiving join me lifting thanks and prayer for your Christian brethren.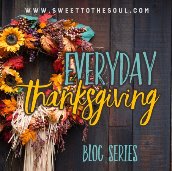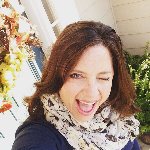 ​Jodie Barrett is a wife, mother, homemaker, office manager, teacher and speaker! She enjoys using the gifts that God has given her combined with the wisdom gained from the Word and life experiences to motivate and encourage women to strengthen their faith and fitness. She resides in the small town of Roanoke Rapids, NC and attends Calvary Baptist Church.
Catch up with Jodie on her blog at
Faithfully-Following.com
Posted in
Everyday Thanksgiving
Tagged with thanksgiving, friends, church, prayer