Peace of Christ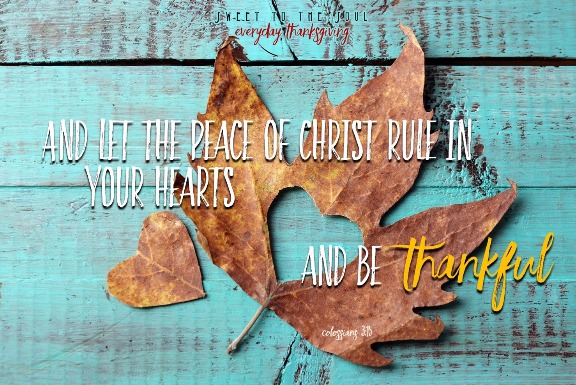 ​"And let the peace of Christ rule in your hearts, to which indeed you were called in one body. And be thankful." Colossians 3:15


​In chapter 3 of Paul's letter to the church at Colosse he is talking to them about putting on their "new self" because with Christ they have put to death the "old self" and have risen to newness of life.
In this passage Paul
defines Christian character
rather than
prescribe rules to obey
. For him, morality is a matter of what sort of person one becomes in Christ, where one "puts on" the capacity for doing the good that God has willed.
2 Set your mind on the things above, not on the things that are on earth.

8 But now you also, put them all aside: anger, wrath, malice, slander, and abusive speech from your mouth. 9 Do not lie to one another, since you laid aside the old self with its evil practices,

12 So, as those who have been chosen of God, holy and beloved, put on a heart of compassion, kindness, humility, gentleness and patience; 13 bearing with one another, and forgiving each other, whoever has a complaint against anyone; just as the Lord forgave you, so also should you. 14 Beyond all these things put on love, which is the perfect bond of unity.

16 Let the word of Christ richly dwell within you, with all wisdom teaching and admonishing one another with psalms and hymns and spiritual songs, singing with thankfulness in your hearts to God.

​"And let the peace of Christ rule in your hearts ... and be thankful." Colossians 3:15

​
Did you know that according to Jewish psychology, the heart is the location of volition [where our will and desires reside]; one's entire life is guided by what takes place in the heart.

​"Guard your heart above all else, for it determines the course of your life." Proverbs 4:23


​To put this in a more common saying, "garbage in, garbage out." What we are filling our heart with will spill out into our lives through our attitudes, actions, decisions and words.

If the peace of Christ rules the heart, then every decision made and every action taken will have the quality of peace.

Now, having peace does not mean to be in a place where there is no noise, trouble or hard work. It means to be in the midst of all those things and still be calm in your heart. To have peace, we must choose peace.

Likewise, we must also choose thankfulness.

"And be thankful" may seem odd thrown in with "let peace rule your hearts" but actually the two go hand in hand. You see, thankfulness brings contentment and contentment brings peace.

Blessings Soul Friends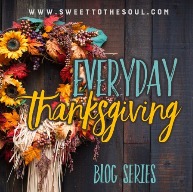 ​Jana Kennedy-Spicer is a wife, mom and Nana who is passionate about inspiring and encouraging women on their daily walk with Christ. A woman rescued and repaired by the grace of God, she loves to share about the realness of God's love, redemption and faithfulness. Embarking on a new life journey, she is dedicated to using her blogging, Bible teaching, writing, photography, drawing, painting and graphic designs to bring glory to the Lord.
Read more about Jana
Posted in
Everyday Thanksgiving
Tagged with thanksgiving, peace, Colossians, heart