The Gift of Hospitality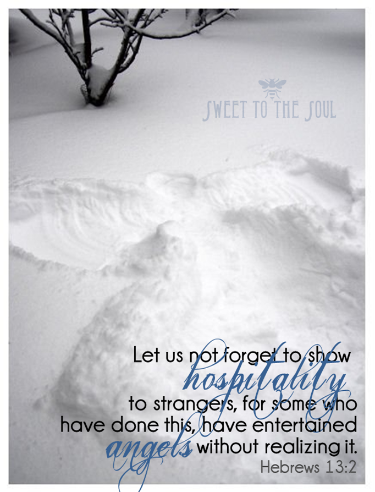 ​​"Let brotherly love continue. Don't neglect to show hospitality, for by doing this some have welcomed angels as guests without knowing it."
Hebrews 13:1-2 [HCSB]
Many times in God's Word we are told of angels being sent to deliver God's messages…
Gabriel visited Daniel to provide insight into his dream (Daniel 10) and also visited Mary to tell her of baby Jesus (Luke 1:26-56); and angels also appeared to John to bring the message of the Revelation of Jesus Christ. In these circumstances, the angels all took on a magnificent super natural appearance and were obvious to their recipients.
But on other occasions God's messengers have taken on a human form, blending in with those around them.
In Genesis 18:1-18 Abraham noticed three strangers and welcomed them into his home and prepared for them a meal. Then they revealed to him the message from God that Sarah would have a son. Again in Genesis, 19, strangers were received by Lot into his home and not only made welcome but also protected. They then revealed God's message to Lot that Sodom was going to be destroyed and he was to take his family and leave.
In Hebrews 13:1-2 we are reminded of two things –
1. to continue to love others (everyone) as brothers (as family); and
2. to be welcoming and hospitable to strangers.
These are important instructions to receive together, because
what enables us to open ourselves up and be hospitable to strangers is to love them like they are family – NOT strangers.
​How do we love strangers as family?
When we allow God's love to flow through us,
He enables us to love others as He loves others.
When Jesus was questioned about the most important commandment, He responded by quoting old familiar teachings;
"The most important one," answered Jesus, "is this: 'Hear, O Israel: The Lord our God, the Lord is one. Love the Lord your God with all your heart and with all your soul and with all your mind and with all your strength.' (Deut. 6:4-5) The second is this: 'Love your neighbor as yourself.' (Lev. 19:18) There is no commandment greater than these." Mark 12:29-31
Abraham and Lot were first obedient to God, they displayed their love for God by obeying His commandment to love others; then they were given their message from God. Let us strive also to be obedient to God in loving others. And let us also be open, welcoming and hospitable to strangers around us. Let them see and feel God's love through us.
What are some ways we can show Christian hospitality to others?

In what way has your life been touched by someone showing hospitality?

I would love to hear from you, let's start the conversation below.

Blessings Soul Friends



​Jana Kennedy-Spicer is a wife, mom and Nana who is passionate about inspiring and encouraging women on their daily walk with Christ. A woman rescued and repaired by the grace of God, she loves to share about the realness of God's love, redemption and faithfulness. Embarking on a new life journey, she is dedicated to using her blogging, Bible teaching, writing, photography, drawing, painting and graphic designs to bring glory to the Lord.
Posted in
Gifts of the Heart
Tagged with hospitality, love, Hebrews