Soul Deep In God's Word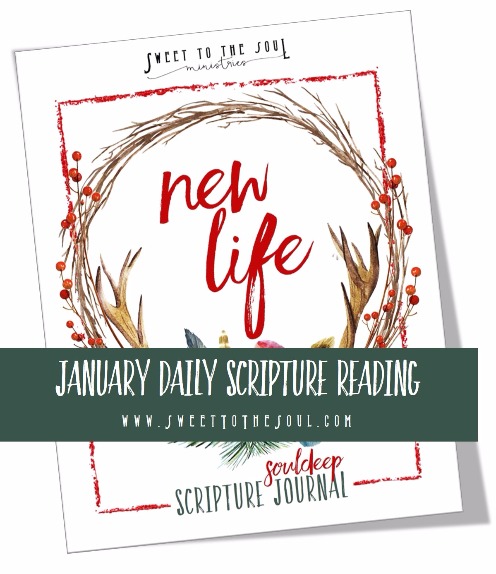 ​"Your word is a lamp to my feet and a light to my path." Psalm 119:105




For awhile now, I've been praying the same prayer, every day.


It's short. It's simple. But it's soul deep. And it's a prayer, I feel, God finds joy in answering.

So I've put together this Scripture Journal for me to use each day, and I thought I would share it with y'all and invite you on this journey with me as we dive #souldeep into God's Word.
​

You can then use the 2-pages, for that day's scripture, to reflect on and map that scripture.
We would love to hear about what God reveals to you through His word, so please come join the conversation with us each day and share what God is teaching you.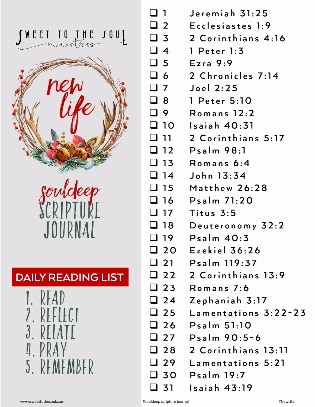 #souldeep Scripture Journal
Everything you will need, we have put together in our 70 page #souldeep Scripture Journal, which you can purchase, then download, print and place in a binder.

It is designed to allow you to go as soul deep as you desire in discovering the beauty of God's Word. Even though for each day we have only selected a single scripture, our encouragement is for you to go beyond that one verse.

To truly understand the lessons of a scripture,
we should take in the surrounding verses to capture the context,
read the same scriptures in other Bible translations, and
read cross-referenced scriptures.
The #souldeep Scripture Journal includes the Daily Bible Reading List, a #souldeep Scripture study page pre-printed with each day's scripture, a Verse Mapping page for each day's scripture and a set of scripture cards printed with each day's scripture.
Purchase
​
your #souldeep Scripture Journal - #newlife
($5)
by January 15, 2016 and receive 2 free scripture printables!
(That's a $10 Bonus!)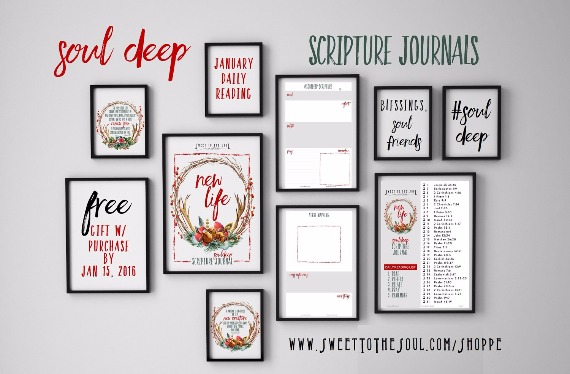 #souldeep Scripture Journal page
​The #souldeep Scripture page includes 5 sections:
Read: today's scripture
Reflect: what does this scripture mean (use the verse mapping exercise)
Relate: how do I apply this scripture to my life
Pray: talk to God about today's scripture and topic
Remember: what is today's key take-a-way
The Verse Mapping page allows you room write out the day's scripture and really make it personal.
​Read the verse.
Write out your verse. (in this box, leave plenty of space around it, between the lines and between the words.)
Personalize it: replace words like "you", "we", "us", "them" with your name.
Mark, circle, underline, highlight words and phrases that stand out to you. Any words make you want to dig deeper? Look up and define any words that need clarification.
Read the verse in context: read the preceding and following verses or whole chapter. See how it ties in to the verses before and after it.
Read the verse in other translations: note which words or phrases help you understand or apply the verse.
Cross-reference the verse: find, list and read other verses which speak about the same topic.
And we'll be sharing more information about verse mapping as we go through our study.
Do I need to purchase the journal to participate?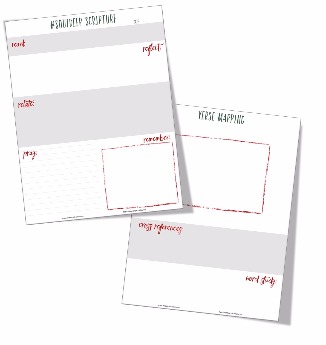 ​If you are wondering if you must purchase the #souldeep Scripture Journal to participate, the answer is no. Blank journal pages are available for you to download free of charge.
Click here to download
the #souldeep Scripture and Verse Mapping blank Journal pages.
You may print multiple copies of these blank pages.

​
God has spoken to our hearts that spending time in His Word with Him everyday is a priority. But just like you, often our daily routines, schedules and family responsibilities do not allow either a consistent time slot or an extended time slot to sit with God.

The exercise of using the #souldeep Scripture Journal is more for consistency and accountability. It's a simple guide to aid us when we sit with God's Word. It gives us a place to go, a starting point, a conversation starter with God.

Whether the morning affords only time enough to read the scripture or an hour to sit at His feet, we want to encourage you - as well as ourselves - to daily read from the Bible.


So we invite you to join us each day as we dive #souldeep into God's Word.

Blessings Soul Friends,

This blog post is part of our #souldeep series on #newlife



​Jana Kennedy-Spicer is a wife, mom and Nana who is passionate about inspiring and encouraging women on their daily walk with Christ. A woman rescued and repaired by the grace of God, she loves to share about the realness of God's love, redemption and faithfulness. Embarking on a new life journey, she is dedicated to using her blogging, Bible teaching, writing, photography, drawing, painting and graphic designs to bring glory to the Lord.
Posted in
Soul Deep Scripture
Tagged with #newlife, journal, printable