My Story - Jana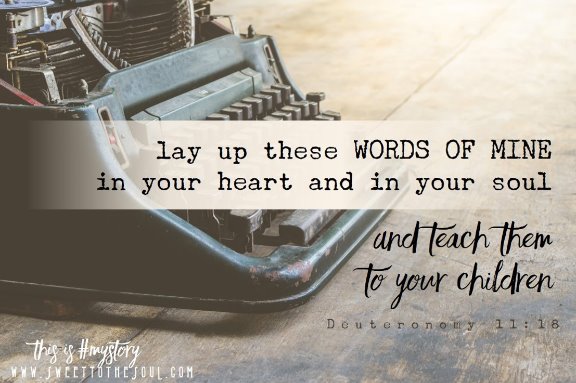 ​Several years ago my family and I went through a particularly difficult time that created great conflict, division and unrest for all of us. During this time I really began to seek God's direction for dealing with the circumstances and the trauma, as well as be an influencer to my children and help them survive the situation.
I purchased a brand new Bible and I asked God to lead me through these crisp new pages and take me to the words my soul needed to hear, and oh how I needed to hear God's voice! --
just as much as I needed the air to breathe.
Over the next few years God lead me on a journey through His word and revealed things to me I had never seen or heard or understood before! Even listening to sermons and reading devotionals and doing Bible Studies was different, everything held
new meaning
.
In every message, whether read or heard, God sent the exact words that my soul seem to be craving! I had no idea what my soul needed to hear but He did. And oh the sweetness and satisfaction of His words!
I wanted to keep those words forever, so I wrote them down, I made notes, I kept journals.

I highlighted and underlined and circled and scribbled in the margins of my new Bible.

I typed them up, I drew them out and I even taped them to the walls and mirrors in our home.
All those precious words, God's words; I would read and re-read to just love on the messages He had given me!
​
​"Therefore shall ye lay up these my words in your heart and in your soul, and bind them for a sign upon your hand, that they may be as frontlets between your eyes. And ye shall teach them your children, speaking of them when thou sittest in thine house, and when thou walkest by the way, when thou liest down, and when thou risest up. And thou shalt write them upon the door posts of thine house, and upon thy gates" Deuteronomy 11:18-20

​Then I realized one day that God was not only revealing Himself to me through His words, but He was also healing me through His words. And not just me, He was healing my family as well!

At one time all I could hope and pray was that we would survive, but God had enabled us to thrive!


​My Bible doesn't look new any longer, the pages aren't crisp and white. The leather is worn, the binding has torn through and been taped back together, the gold leafing has faded from the edges and the pages are wrinkled, written on and tear stained. I can re-read a passage and be taken back to the very moment when God spoke to me through those very words. Oh His word is so precious to me now.

​But like the great book that our life is, where one chapter ends, another begins.

​A few of years ago now, God told me to share all of these words – His words, with others; to share my story with others. And He gave me His words, a specific scripture for this purpose.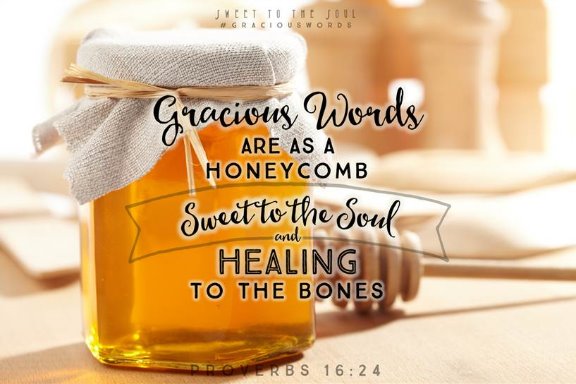 ​Proverbs 16:24
"Gracious words are as a honeycomb, sweet to the soul and healing to the bones."

​
God wanted me to share His words with others so that, like me, they could experience the soul sweetening and bone healing that can only be delivered through the Word of God. Thus, the birth of Sweet to the Soul Ministries.

Now I'm not talking about just handpicking those cheerful passages where God promises us blessings. Oh we need to hear those; we need to hear Him reassure us of His strength and provision.

But many, many times the words we need to hear are convicting and life changing. In truth, God wants to speak His words over us every day, in every situation, and for every reason – encouragement, empowerment, *salvation & deliverance*, redemption, forgiveness, restoration; for all of those reasons, and for every other. God shared His words with me and now, through the ministry of Sweet to the Soul, I want to share them with you.


You may have noticed that the beginning of this little story was a bit vague. No details about what happened or the situation. And that's on purpose. What happened isn't important, it's not the message… what God did is the message, what God did is what is important. You see, I could fill a book with the details of what happened, but it wouldn't be important because those would just be my words, and there is no power in my words. But there is power in God's words, awesome extraordinary world creating, life giving, miracle performing, soul saving power! … Soul sweetening and bone healing power!

Blessings Soul Friends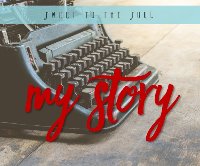 Today's blog post is the first in our "My Story" series.
Join us all year as our Sweet To The Soul Team Members, Contributors and Ministry Partners share their stories.

And watch for opportunities to share your story as well!
Not sure you have a story - oh yes, friend, you have a story! We all do.
Not sure how to tell or write your story. We'd love to help you do just that.



​Jana Kennedy-Spicer is a wife, mom and Nana who is passionate about inspiring and encouraging women on their daily walk with Christ. A woman rescued and repaired by the grace of God, she loves to share about the realness of God's love, redemption and faithfulness. Embarking on a new life journey, she is dedicated to using her blogging, Bible teaching, writing, photography, drawing, painting and graphic designs to bring glory to the Lord.
Posted in
My Story
Tagged with testimony, proverbs, Deuteronomy