9 Traits of a Life Giving Marriage OBS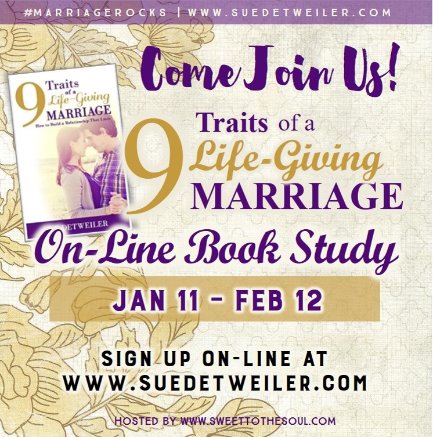 ​Soul Friends, I would love to invite you to join us as we host a new 5-week On-Line Book Study for my friend and author, Sue Detweiler.

​Her latest book, 9 Traits of a Life Giving Marriage, answers a resounding "yes" to the question, "Is it possible to enjoy a strong and healthy marriage--'till death do you part?"

Yes... with God!
Sharing with honesty and transparency, Sue identifies the essential elements of a life-giving marriage and how to:
• Heal the broken places in your marriage
• Strengthen your relationship with your spouse
• Understand God's plan for your marriage
• Revive your relationship with God's transformative power

It's not too late to join our study!
Click here to sign up
. This will also get you into our special Facebook group, open only to study participants.
On Mondays and Wednesdays beginning January 11, please visit
Sue's blog
for a special video message and your weekly study download.
Then visit our private Facebook group throughout the week to join the conversation and find daily study discussion and encouragement. (remember, you must
sign up
to get into the fb group)
​Then on Thursday evenings, in our private Facebook group, we are hosting a LIVE CHAT from 9:00 - 10:00 pm CST.
To order your copy of 9 Traits of a Life-Giving Marriage book,
visit Sue's blog
. Don't have the book? Come join us anyway!
There's still time to also invite your friends to join you for the Study!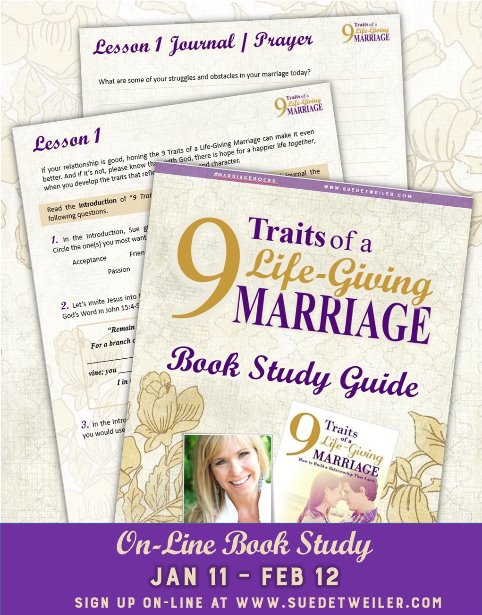 All participants and fb group members receive this FREE Book Study Guide to follow along with our On-Line Book Study of 9 Traits of a Life Giving Marriage by Sue Detweiler.

Posted in not categorized
Tagged with Book Study, marriage, OBS