Finding New Strength for the Storm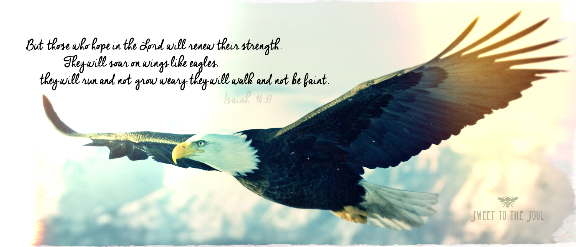 But those who wait for the Lord will gain new strength;
They will mount up with wings like eagles, They will run and not get tired,
They will walk and not become weary.
Isaiah 40:31

I spent the holidays with my family in the beautiful little town of Breckenridge nestled in the Rocky Mountains of Colorado. Breckenridge sits at 9,000 feet above sea level.

One thing you immediately notice being at a high altitude is even the simplest everyday tasks take a lot of effort. Lifting suitcases from the car to the condo, walking up the stairs, or even unpacking makes one's heart pound, you feel light-headed, and gasp for air.

My family and I needed new strength. We longed to run and not grow weary, walk and not be faint, and soar on wings like an eagle across the ski slopes with little effort and energy.

​In Isaiah 40:31 God promises fresh strength for those who hope in Him.

​The prophet Isaiah had a message of blessing from God to the people of Israel. However, he had also just delivered a message of doom. (Isaiah 39:5-8) Israel would be overrun by the Babylonians and be taken into exile. Yet, this was not the end of the story. God would rescue His people and bring them out of captivity and back to Jerusalem.

However, it seemed God had to persuade the people of His ability to overpower the nation of Babylon. "To whom will you compare me? Or who is my equal?" says the Holy One. The people did not have faith in God, nor did they have the inclination to go through with the hope God was offering them.

God says His word and promises can be trusted. God is sovereign. God does not stop caring for His people. The great nation of Babylon would wither like grass. From history, we know this to be true, and with threats in our time, we would do well to remember this applies to all world powers.

The people of Israel were willing to settle for second best even though the promise was those who hope in the Lord will renew their strength. They will run and not grow weary. They will walk and not faint.



​How do you react when you face insurmountable problems?
​1. Do you soar effortlessly and easily above the storm? Or do you hide and become despondent?
​
Eagles have broad long wings that allow them to glide effortlessly on rising air currents. Sometimes they need to search for hundreds of miles and for hours to find food. Soaring is an efficient way to cover ground. It is said eagles use the pressure of the storm to glide, while other birds hide and wait out bad weather.


We need to become like the eagle. The thing keeping us in captivity is not going to win. With God we can weather the storm.


Memorize this verse to help you step out in faith: The Lord himself goes before you and will be with you; he will never leave you nor forsake you. Do not be afraid; do not be discouraged. Deuteronomy 31:8
2. Are you strong or do you give in and settle for second-best, especially when it seems like others are getting the upper hand?
Are we going to believe this problem is too big for God or are we going to hold onto the truth that God is in control?


Spend some time in prayer bringing your burden to God and leaving it at the steps to his throne.
3. Are you worn out with thinking bad things are happening because you have done something to displease God?
In Isaiah's time, the people were living under the old covenant. They received blessings for being obedient to God and curses for their disobedience to the covenant. Exile was a result of their sin.


Yet, Isaiah 40 also contains the announcement of God doing a new thing. A voice of one calling: "In the wilderness prepare the way for the Lord" are words used by John in the Gospel of Matthew to announce the coming of Jesus and a new covenant—This is my blood of the covenant, which is poured out for many for the forgiveness of sins. Matthew 26:28


We do not live under the stipulations of the old covenant. We live with a new covenant, which proclaims if anyone is in Christ, the new creation has come: The old has gone, the new is here! 2 Corinthians 5:17


We need to believe and draw comfort from there being no condemnation for those in Christ Jesus. (Romans 8:1)

​There is only one way to deal with the problem of a lack of oxygen at high altitude, and that is to stay hydrated. Drinking plenty of water helped us to do the everyday tasks that seemed so difficult and allowed us to fly down the ski slopes with little effort.

We too need to remember to stay close to Jesus and drink deeply of the new life he gives us. That is the only way to renew our strength for the storms.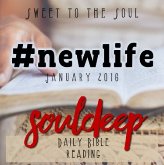 ​This blog post is part of our #souldeep series on #newlife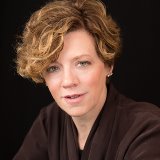 ​​Rachel Britton is an author, blogger and speaker. Raised on the east coast of England, Rachel now lives in Massachusetts with her husband and three college-age children.
She is passionate about helping women become healthier in their relationship with God, with others, and with themselves.
Rachel is author of Prayer Zone Workout: Spiritual and Physical Exercise for the Heart, and its accompanying app. She loves to walk, swim and ski. Rachel cannot live without an early morning mug of English tea or a bar of chocolate.
You can connect with Rachel at
www.rachelbritton.com
.
Posted in
Soul Deep Scripture
Tagged with #newlife, Isaiah, strength