A New Song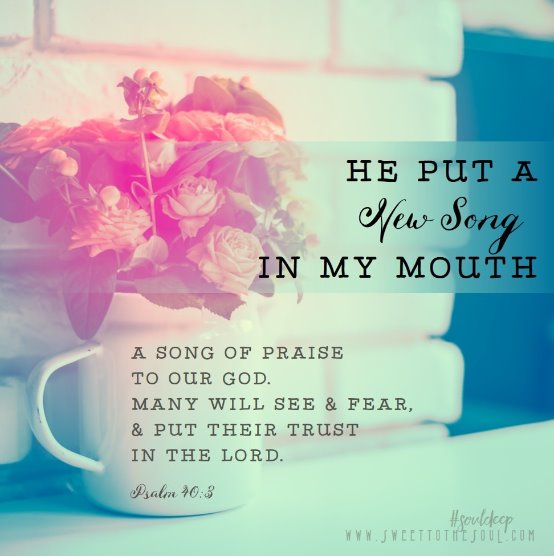 "I waited patiently for the Lord, he inclined to me and heart my cry.
He drew me up from the pit of destruction, out of the miry bog and set my feet upon a rock, making my steps secure.
He put a new song in my mouth, a song of praise to our God. Many will see and fear, and put their trust in the Lord." Psalm 40:1-3

​Psalm 40 is one of my favorite Psalms because I too have been in the pit. I have called out to God and He heard me. He pulled me up out of the pit and set my feet on THE solid rock.

​These verses are my story.
And maybe they are your story as well.
God's mercy shown in verses 1 and 2 have led the psalmist to sing a new song. No longer crying out for mercy, God has delivered him so now he sings songs of praise for everyone to hear and know what God has done for him. And this is why we tell our stories. For others to hear testimony of what God has worked in our lives so that they too will put their trust in God!
I found a comment in my
ESV Study Bible
interesting,
"One's reception of God's help is not complete until he gives public thanks."
It begs to question, is there something God has worked in my life for which I have not given Him the glory? Did I take the credit? Did I falsely give credit elsewhere?

Soul Friends, lets take time today to give the glory to God for all He has done in our lives. Let's tell someone so they can also know the life-changing mercy of our God.


Joining me on the blog today is Angie Kay Webb from
The Joyful Journey
.
I've invited her to share about the new song God has given her so that others can see and know our merciful God.

​As we go through this life, the world throws so much at us that we often wonder if we are ever making any headway on this walk through life. Even when we have faith that God is on the throne, we still see the world through clouded, confused eyes that make us question so much of what we are facing.

We are healed, forgiven and chosen even when we feel unworthy. I certainly understand the constant questioning, doubting if things will ever change and if you will ever find freedom, peace and "new" in your life. I have been there through the struggles of loss of family to murder/suicide, my own struggle with anxiety, fear and agoraphobia all the while questioning why God chose for me to be born. The struggles were huge and the wounds were deep, yet freedom and "new" never seemed to materialize.

​The deep wounds only seemed to grow larger over the years, all the while the enemy kept me bound up to the fear and anxiety.

​As I read Psalm 40:3 this verse reminds me that a new song is now in my heart. The Lord drew me to Him all those years, which allowed the relationship between the Lord and I to grow to a different level. We connected heart to heart and verse-to-verse. He called me to Him and spoke a new word into my heart: FREEDOM

This new word spoken by God allowed the enemy to be once again put in his place and a new song was placed in my mouth. I was then able to praise the Lord for all He has done for me on this journey to freedom.

He has put a new song in my mouth-
Praise to our God;
Many will see it and fear,
And will trust in the Lord.
Psalm 40:3

The new song is from God and He puts it in our hearts when we call on Him to be delivered from our struggles and even from death. We are delivered from death as we call on Him to be saved, changed and forgiven. Death can no longer hold us hostage and cause us to live a life that is full of fear because of the unknown world after death.

WE are HIS when we are saved. WE are HIS when we are forgiven. Nothing can separate us from Him ( Romans 8:35) and the good plan He has for us as we grow in our walk with the Lord. (Jeremiah 29:11)

As we learn about the Lord and listen to His still, small voice, our song will change and grow into something even more beautiful than we ever thought could happen. He wants the best for us and that also includes more than we could ever think or imagine. (Ephesians 3:20)

I am thankful that the new song in my heart is now one of freedom from fear, anxiety and agoraphobia. The past no longer has a hold on me. I am free to live a life full of peace, purpose and His plan. He wants the same for you. It is simple. Ask and you will receive. Believe and trust in Him.

Be blessed today as you learn about Him and search His word. He loves you and waits patiently for you to call on Him.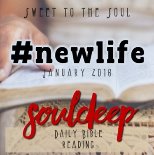 Today's blog post is part of our #SoulDeep Daily Scripture Reading series on
#newlife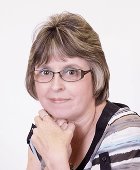 ​Angie has been married to her high school sweetheart, Mike from the age of 18 years old. Mike and Angie have walked through many trials and joy together. ​Angie and Mike have two grown sons and three grandchildren, as well as their 4 dogs. Angie has had several jobs along the way but one of her favorites was the time she was employed by her town's local library.
​Angie is in the process of writing a book about her journey through fear, anxiety and agoraphobia which has a working topic of When Your Home Becomes a Prison: Out of Fear and Agoraphobia. ​Connect with Angie on her blog:
The Joyful Journey
Posted in My Story, Soul Deep Scripture
Tagged with #newlife, Psalm, praise