How To Be A Fighter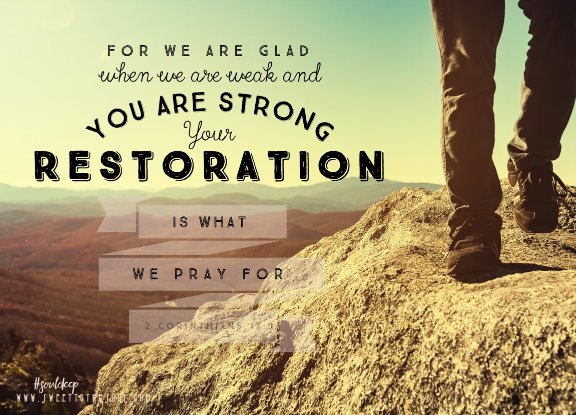 ​"For we are glad when we are weak and you are strong. Your restoration is what we pray for." 2 Corinthians 13:9 ESV
​My college years were filled with questionable choices and less than stellar moments. That was a few years ago. OK, more than just a few.

Rushing into decisions on a whim sent me into confusion overload. Giving half-hearted effort to my classes left me feeling weak and unfulfilled. During those unfocused years, I often remembered simple songs and sayings I had learned as a child. One in particular stood out in my mind…

"Jesus loves me this I know, for the Bible tells me so. Little ones to Him belong, they are weak but He is strong."

Weak? But I didn't want to be weak. I didn't want to always be striving but never reaching, always trying but never getting anywhere. Was I destined to be a weakling all my life? Would I constantly feel as though I was clawing my way out of a deep hole I had dug for myself? I longed to be strong, yet I couldn't figure out how.

I just hadn't learned yet how to be a fighter.

​"So Joshua marched up from Gilgal with his entire army, including all the best fighting men." Joshua 10:7 NIV

​In Joshua chapter 10, the five kings of the Amorites – Jerusalem, Hebron, Jarmuth, Lachish, and Eglon – joined forces to attack Gibeon because it had made peace with Israel. When the Gibeonites heard this, they sent word to Joshua and pleaded for his help. Joshua went to their aid, but he didn't go alone. He took his best fighting men with him.

I know God is the One who fights my battles, but I have also learned I must do my part when I join His team. Yes, in order to find direction and purpose in my life, I need to think like a fighter. What does it take to be a fighting man like those in Joshua's army? Here are three characteristics of a fighting man. We too can learn from these qualities and apply them to our own lives today.
Fighters prepare for battle. We may not use man-made weapons, but ours have more power than we can imagine. Paul explains it this way in 2 Corinthians 10:4, "We use God's mighty weapons, not worldly weapons, to knock down the strongholds of human reasoning and to destroy false arguments." Prayer. Reading scripture. Studying. These are the weapons we use to prepare for the battles we will face in this life. With these weapons, we are more than conquerers.

Fighters trust God's plan. Joshua's men didn't question his directives, and they didn't choose to go their own way. These fighting men followed him and trusted the outcome because they knew Joshua had been appointed by God to lead them. When we "walk by faith, not by sight" (2 Cor. 5:7), we exercise our faith and show our willingness to trust the Lord's plan.

Fighters do not fear the enemy. This is the toughest one of all. I can read scripture after scripture about fear, but still find myself giving in to worry and what-ifs. What if something bad happens? What if things don't work out? Thoughts like this can completely sabotage our progress if we let them get in the way of the battle plan. When Joshua took his army up to Gibeon, the Lord said, "Do not be afraid of them; I have given them into your hand." (v.8) The men marched in bravely, and God gave them an overwhelming victory!
​Joshua and his fighting men won the battle because God was with them. They possessed these three important character traits, and so can we. Have you been in that place where you feel weak and without purpose? Where you don't know how you'll find the strength to make positive changes in your life?

That's exactly where I was when God drew me in and gave me the desire to become like Joshua's fighting men. From that day on, my confusion and half-hearted effort was replaced with commitment and purpose. Just like the song lyrics express, we are weak without God, but we find our strength in Him. And through His strength we develop boldness and confidence to grow into the person He designed us to be – brave, steadfast, and courageous. Fighters.


Today's blog post is part of our #SoulDeep Daily Scripture reading series on
#newlife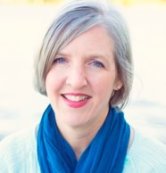 ​Kristine Brown is a writer, dramatist, and teacher. She helps women and teen girls navigate the ups and downs of real life.
Kristine devotes her time to family, freelance writing, and her nonprofit ministry, More Than Yourself, Inc.
You can read more from her at
http://www.morethanyourself.com
.
Posted in
Soul Deep Scripture
Tagged with #newlife, strength, 2 Corinthians, restoration