Using The Bible to Grow Your Prayer Life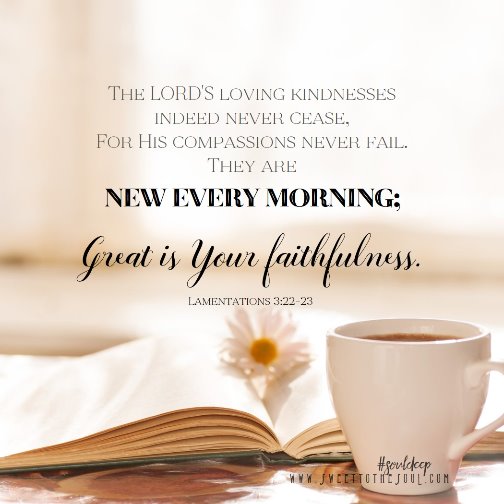 Do you ever feel unsure of how to pray for someone you love? Have you ever gotten tired of praying the same things day in and day out? Does your mind wander while you're trying to talk to God?

Friend, you're not alone. I'm the queen of distraction, so I've experienced all of these. I want to grow closer to God and see lives changed through prayer, yet my mind can travel to the moon and back when I try to pray. That's why I want to learn more about using God's Word to fuel and focus my conversation with Him.

Scripture works like a springboard for prayer. As we read it, the Holy Spirit sparks our thoughts and leads us into closer communion with Him.
​
Praying God's Word has several benefits:
​It gives direction to our prayer. When we don't know how to pray for a person or situation, scripture shows us. We know we're praying in line with God's will when we pray His very words back to Him. And when we're left speechless at the end of our rope, it gives us the words we need.

God's Word has power. Scripture has authority. It's alive and active. It's a mighty weapon of spiritual warfare that fuels our faith and breaks down strongholds. We find power when we pray God's inspired Word.

God's Word is an anchor. When your mind wanders, you can always go back to the scripture that sparked your prayer. When your faith flounders, the Bible gives you words to declare and something to stand on.
​
Here are Three Ways Pray Using Scripture:
1. Pray God's Word in Your Quiet Time
In your devotional reading, respond to God's words by praying them back to Him. After you read a passage, go back and read it again, pausing to respond to God when you see a verse that sparks prayer. Look for the following
* A quality or action you can praise God for.
* A blessing to thank Him for.
* Something you want to ask God for.
​2. Use memory verses as prayer prompts.
If you're using a scripture memory program, spend a few minutes praying through a verse after you review it. Lift up to God whatever thoughts come to mind. Perhaps you'll want to pray for yourself or for a loved one, asking for grace to obey a command, or faith to believe a promise.
​3. Pray Along with the prayers of the Bible
God's Word contains the most beautiful and powerful prayers ever written. Pray along with the people of the Bible as they wrestle with God, praise Him, and bring their petitions before Him. Here are several prayers from scripture you can make your own:
1 Chronicles 29:10-13
Psalm 51
Luke 1:46-55
Ephesians 1:15-23
Ephesians 3: 14-21
Colossians 1: 9-12
As you pray more of God's Word, your faith will grow. When your words echo His, you grow closer to Him.
​Soul friends, here's something you can try right now before you go: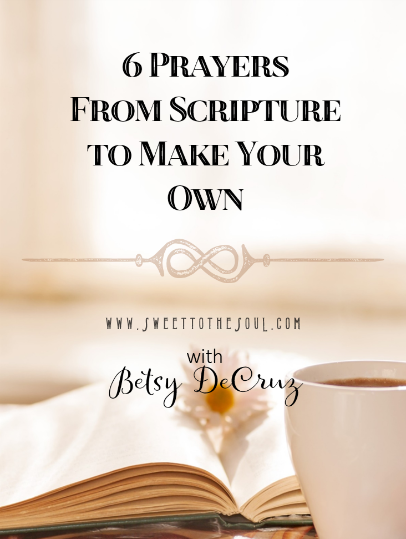 As a bonus to today's blog post, we would love for you to have this FREE printable of the
6 Prayers From Scripture To Make Your Own.
​This file may be downloaded, shared and printed an unlimited number of times, however, it can not be sold or included in any sales promotion.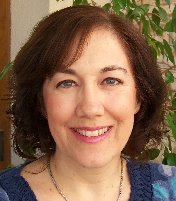 ​Betsy de Cruz enjoys God, life with teenagers, and dark roast coffee. She and her family live in the Middle East. Most days she feels privileged to live overseas; other days she wants to pull her hair out and catch the next plane home.
Betsy's passion is to encourage women to get God's Word in, so their faith can spill out, even during life's bumpy moments.
You can find Betsy at her blog,
faithspillingover.com
Posted in not categorized
Tagged with
prayer