In The Waiting Season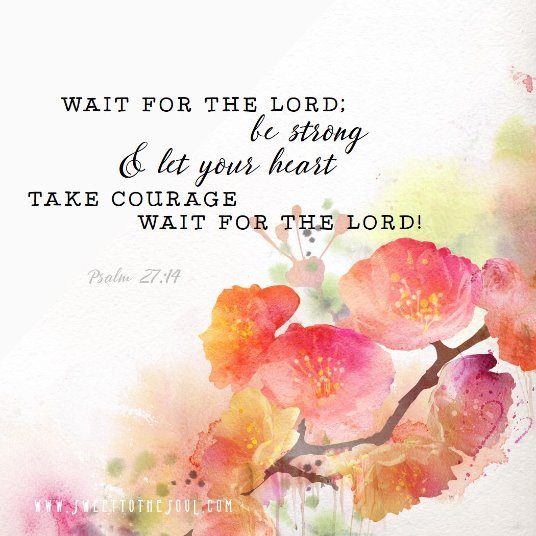 ​Wait. … W. A. I. T.
When you read that word, how does it make you feel?

Can I just be honest and tell you I'm not overly fond of waiting? I don't mind pulling up behind another car at a traffic light and waiting for the light to turn green. But when I pull up at a traffic light that is red and there is neither another car in front of me, nor traffic coming from the other direction and I have to wait, and wait, and wait, I can get a little antsy. Or when someone has agreed to have something done for me by a specific deadline and it isn't, I can grow disinterested of waiting.

​The hardest times for me to wait, however, are when I'm waiting on the Lord but I'm not exactly sure what I'm waiting for. When I'm just waiting for Him to move and show me what to do next, I struggle the most.

​Being in a season of wait, of not knowing and waiting to find out, takes courage.
​Psalm 27:14 tells us
"Wait for the Lord; be strong and let your heart take courage; wait for the Lord!"

​Those seasons of wait require that we put our trust in Him and in His sovereignty. Psalm 33:20-21 confirms for us that while it's hard, if we will maintain our trust in Him during those times of wait, we can be assured that He is our help, and we can be at peace while our heart remains glad: "Our soul waits for the Lord; he is our help and our shield. For our heart is glad in him, because we trust in his holy name."
In Jeremiah 29:11 we are told that God knows the plans He has for us, and His plans are good. His plans for us are for a future and a hope. So in those times of wait, we must trust in His plans and trust that while we cannot see the map from our current point A to our eventual point B, God knows the route and the resources required to get there, and the path is a good one filled with hope.
​It can be tempting to grow frustrated or discouraged in the waiting seasons. I know many who begin to blame God and become angry with Him during their time of wait, as if our seasons of wait are some form of God-inflicted abuse. Yet His word tells us the truth about His character.
​"The Lord waits to be gracious to you, and therefore he exalts himself to show mercy to you. For the Lord is a God of justice; blessed are all those who wait for him" (Isaiah 30:18).
God doesn't inflict periods of wait on us to torture us. Sometimes waiting periods are necessary to work out other details for our good. Sometimes they are a result of our own sin. Regardless of the reason, we can be assured that it is God's ultimate desire to be gracious to us and bless us.

​Invariably, it's in the times of wait that I've grown the most. When things in life are moving along smoothly, as much as I hate to admit it, I can grow lazy or fall back on my independent nature. But when I'm in the wait, the frustration and desperation drive me to interact more diligently with God. I've wrestled with God in the wait. I've questioned and I've argued and I've cried in the wait. But it's in the wait that I've often pursued Him most fervently, with my whole heart. His word promises that when I do that, I will be rewarded richly with finding Him.
​"You will seek me and find me when you seek me with all your heart" (Jeremiah 29:13)

and "But if from there you seek the LORD your God, you will find him if you seek him with all your heart and with all your soul" (Deuteronomy 4:29).

​What are you waiting for? Will you use that time to draw closer to Him and let Him be gracious to you?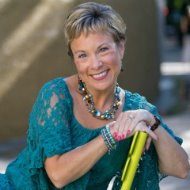 ​Author, speaker and board certified clinical neuropsychologist, Dr. Michelle Bengtson is also a wife, mother and friend.
She knows pain and despair firsthand and combines her professional expertise and personal experience with her faith to address issues surrounding medical and mental disorders, both for those who suffer and for those who care for them.
She offers sound practical tools, affirms worth, and encourages faith. Dr. Michelle Bengtson offers hope as a key to unlock joy and relief—even in the middle of the storm.
Connect with Michelle on her blog:
www.DrMichelleBengtson.com
Posted in not categorized
Tagged with wait, Isaiah, Psalm