Restoration and Hope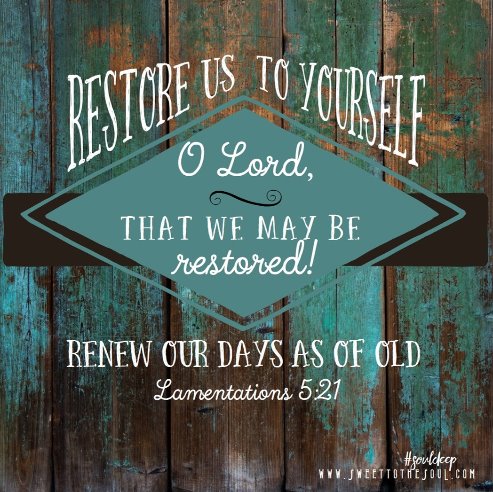 "Restore us to yourself, O Lord, that we may be restored! Renew our days as of old"
​Lamentations 5:21


​When we think of the word "restoration," we think of an old car being brought back to its former glory or an old photograph being saved and brought back to life by means of editing software. Time, wear and tear, or the over usage of something calls for renewal. It happens to be that our Lord is in the renewal business and desires to restore things back to their former glory.

Restoration is defined in terms of bringing something back into existence or back into use. It also means to put something back into its earlier or original state. Renewal, like restoration is the rebuilding of something at large.

As we read through today's Scripture in Lamentations, we see a need for serious renewal and restoration. Lamentations 5:21 says: "Turn us back to You, O Lord, and we will be restored; Renew our days as of old…" This passage talks about a time in Israel's History where God's people had been sent into captivity by the Egyptians and Assyrians. There was a need for the people to both pray and to repent, so that God could restore them to their former land.

The prophet Jeremiah is the one said to have penned the book of Lamentations. We clearly see that he was lamenting and pointing to a day of future restoration for God's people. Shock, grief, humiliation, suffering and chaos due to sin and idolatry were the cause of the authors need to lament.

Please keep in mind that before there could be renewal or restoration like Jeremiah was pointing to in the Old Testament times, there was a path that had to be followed. It started with the depravity of mankind. Man's sin lead to sorrow. Sorrow lead to repentance, repentance lead to hope. Hope lead to faith and faith lead to the type of restoration that only God could give His people.

​That restoration came through the redemptive work of Jesus Christ on Calvary.

Even though the book of Lamentations was written as a collection of five different poems, all written in the style and rhythm of an ancient Jewish funeral song, Jeremiah saw the future coming of Jesus and pointed to our need for His coming.



Today, some many years later, we have Jesus. God's Healing Spirit lives in us as believers. It works to restore and renew our lives in more than imaginable ways. Marriages are healed, painful memories are washed in the blood of Jesus and people forgive. The prophet's prayer for restoration proves that God makes all things new. The Lord desires to redeem, renew and restore.

Today is also a call for rejoicing and celebration. Join with me and thank Yahweh that He restores and renews us through His grace. Thank Him for His love that is poured out through His Spirit. Ask Him to fall afresh on you and then sit back and watch as He makes beautiful things out of your life.

​Blessings,


Today's blog post is part of our #SoulDeep Daily Scripture reading series on
#newlife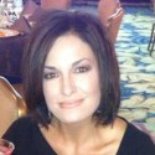 ​I'm Misty Keith and ​I am a daughter of the King of all Kings, wife to Richard, Mommy to Reagan (11 years), Kylee (8 years), and Karis Delaney (6 years). I am a teacher by trade, an encourager and up-lifter by calling and a writer by practice. I understood from early adulthood and beyond that I would never fit. The Lord helped me to realize that He called me to stand out and because of this, I am forever grateful and at peace with how He has made me and who He has made me to be.
My family and I live just outside the Austin, Texas area. I homeschool all three of my children and teach Reading for a private college in the Master's/Credentialing program. I stay busy and enjoy the hobbies of Reading, Writing, Scrap-booking and Running. As a family, we attend Hill Country Bible Church. We enjoy traveling and take "family fieldtrips" often. All of life is an adventure and we are thankful for every life lesson that the Lord teaches us in the process.
You can catch up with Misty on
Facebook
Posted in
Soul Deep Scripture
Tagged with restoration, Lamentations, hope