Give Save Live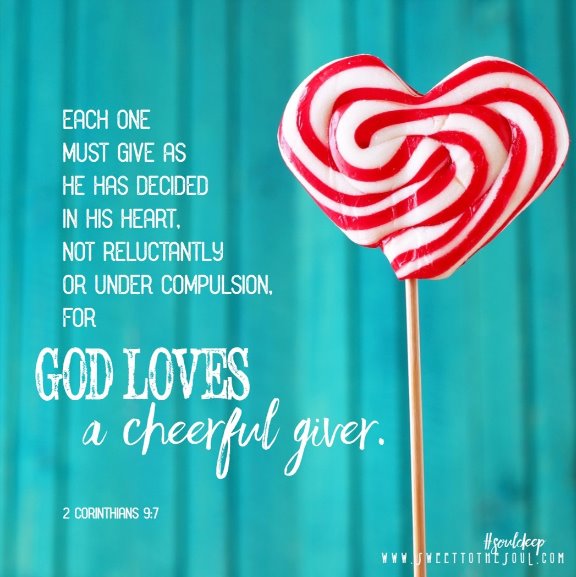 ​"Each of you should give what you have decided in your heart to give, not reluctantly or under compulsion, for God loves a cheerful giver. "
2 Corinthians 9:7



​Three Mason jars sit in the kitchen windowsill, tucked between an overgrown aloe plant and a dying succulent. Chalkboard labels on each describe their purpose –Give, Save, Live. After monies for chores are awarded, the kids separate their coins into each jar. Most of the time they look forward to it because it's exciting for them to have money, but sometimes it's not.

One day in particular, I remember my son proudly holding his hard-earned coins in his hand knowing he accomplished a job well done. I prodded him to drop his coins into each jar but he clenched the coins tighter, pulling his fist closer to his chest. After much cajoling, he finally outstretched his little arm releasing one coin at a time, the clinking sound as they fell to the bottom of the jar satisfying my heart but causing toddler-sized tears to slide down his face.

My heart broke. I wanted him to cheerfully separate his coins into the jars. Some money to the
Give fund to be emptied into the offering plate at church or used to fill shoeboxes with toys at Christmas. Some money into the Save fund to be used later toward a larger family or kid purchase everyone could enjoy. Some money into the Live fund for extra toothbrushes or socks or snacks. But he didn't want to let go.

I've found myself guilty of the same thing sometimes, tightly clenching my money because I don't want to let go. And it's not just money I hold tightly to. but it could be time or talents too.

Just like it broke my heart to see my son stubbornly holding onto his few coins, it breaks our Father's heart to see us tightly clenching what belongs to Him already.

My heart has been burdened to let go of the things I hold so tightly and to give freely. Last week when I thought of our three jars in the kitchen window, I purposed in my heart to Give, Save, & Live freely and cheerfully of all the Lord has given me.

Every morning since, I excitedly wonder what I can give today, perhaps another hour of service in the church nursery. I look for new ways to save or invest in the future by pouring into the lives of others, either with my own children or young moms in the community. I seek ways to count it all joy as we live because life is fleeting and we should make the most of every opportunity.

How many ways can you cheerfully give this week?

Suggestions: Try creating a visual reminder to give, save, and live every day of your life either with mason jars or cute Bible verse printables with today's verse taped to your mirror where you'll see it every morning.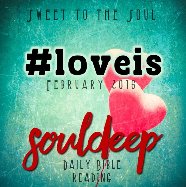 Today's blog is part of our #SoulDeep Daily Scripture Reading series, #loveis


​Hello! I'm Amanda Wells, but my friends call me "The Farm Wyfe." My smokin' hot husband is a third-generation farmer and we are raising our quiverful (six kiddos!) on the farm. We are usually in the fields, engaged in one of the following activities: harvesting potatoes, feeding the cows, scooping up fertilizer (otherwise known as "cow patties") and spreading it throughout the vegetable fields, gathering chicken eggs, or countless other chores.
On the occasions I'm not in the fields, I'm elbow deep in the kitchen baking for my brood or chasing children across the yard. I enjoy baking, reading, writing and arithmetic (kidding!).
Connect with Amanda on her blog:
w​ww.farmwyfe.com
Posted in
Soul Deep Scripture
Tagged with 2 Corinthians, give, #loveis