Hello, God
​Guard your steps when you go to the house of God. To draw near to listen is better than to offer the sacrifice of fools, for they do not know that they are doing evil. Be not rash with your mouth, nor let your heart be hasty to utter a word before God, for God is in heaven and you are on earth. Therefore let your words be few.
Ecclesiastes 5:1-2 ESV

When we draw near to God it should be to listen; not trying to speak our wants and needs to Him, rather allow silence space so God can speak His wants and desires to us.

Making time to be still and just listen is hard because we are always on the go and something, or someone, is demanding of our attention.


But if we are serious about a relationship with Christ then we will be serious in creating the time for Him.

​Silence—it makes us uncomfortable. Often we are afraid to sit and let the thoughts ramble until they trail off and leave us alone. Are we afraid of what God might say?

Are we afraid He will require more than we are willing to give? Or give up to make space for what He asks?

Do we really want to hear Him? His plan? Or, do we secretly hope He will tell us what we want to hear?

We have to tune out the world to tune in to God


If we want to hear God speaking to us, we must know what He would say to us; to know what He would speak, we must first know His character.

Being in God's Word is vital to knowing His character and hearing His voice. There is no other way to know Who He is than to spend time in His Word.

Yet many of us don't make it a priority to read our Bible because we walk away feeling like we did not receive anything.

But His Word is working inside us whether we feel it or not. It is being planted, rooted, and grown inside of us, which will cause our thoughts to be transformed, and transformation is an active process.
​
Do not be conformed to this world, but be transformed by the renewal of your mind…
Romans 12:2 ESV

​Often we build up an exaggerated image of what "quiet time" should look like—a nice comfy chair, a mug of our favorite hot beverage, peace and quiet, angelic voices singing Heavenly song, beams of Heavenly light streaming down as we open our Bible to a random passage that will certainly reveal the mysteries of the universe, answer every question and solve every problem we have…in 5 minutes flat!

Right? Not!

While it is important to find some alone, silent space to hear God speak, we don't necessarily have to wait for time alone to begin to learn God's Word.

Rather than waiting for uninterrupted time during our day, Priscilla Shirer suggests in Discerning the Voice of God, we can choose one verse for an entire week (or two, if you need it) and meditate on it during our busy, chaotic schedule.

We will begin to hide His Word in our heart (Psalm 119:11) and will be able to recall it when it's needed.


I want to challenge all of us to select one verse this week and begin to meditate on it all week. Learning it, memorizing it, studying it—letting God's Word become implanted into our heart and mind, transforming our thoughts.
If you need help in finding a verse to memorize, why not
download
the #SoulDeep daily Scripture reading plans from Sweet to the Soul.
​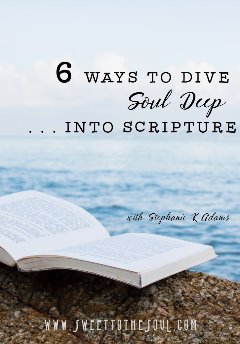 Six practical ways to dive soul deep and help you meditate on your passage of scripture.
​ Place your name into the verse(s) so it is personal
(ex: For God so loved Stephanie that He gave His only Son, so that if Stephanie believes in Him she will not perish but have everlasting life. John 3:16)
Bible journaling - think on the passage as you create
Write out the verse(s) several times, emphasizing a different word each time
Read the verse(s) aloud several times, emphasizing a different word each time
Look up words you do not understand in a dictionary
Use verse mapping — Real Women has an example of verse mapping here
Need more Bible study resources? Real Women Ministries is honored to bring you
Bible resources
, daily Scripture reading plans, online Bible studies, and a
prayer room
to help encourage you and bring accountability to spending time in God's Word.
​
​
Let's Chat: We would love to hear what verse you chose to meditate on. Also, what are some other creative ways you can incorporate God's Word into your schedule? Share with us in the comments below!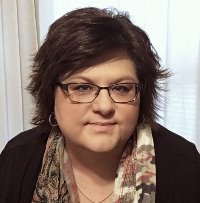 ​Stephanie Adams is a writer, speaker, and founder of REAL Women Ministries, where a community of women gather to grow their Relationship with each other and God through Encouragement and Accountability to studying the Bible, and cultivating a Love for His Word.
Stephanie's writings have been featured at The Blythe Daniel Agency's Blog Spot, LifeNotes Cafe, Sweet Jesus Ministries, Sweet to the Soul Ministries, 818 Ministries, and Triple Negative Breast Cancer Foundation. She is also the Managing Content Editor for Sweet to the Soul Ministries.
Stephanie enjoys reading, a good cup of coffee, and Saturday breakfast with her husband, Rick.
To join a community of real women studying God's Word, visit
www.RealWomenMinistries.org
Posted in
Bible Study
Tagged with Ecclesiastes, Quiet Time, Romans