Letting Go of Anger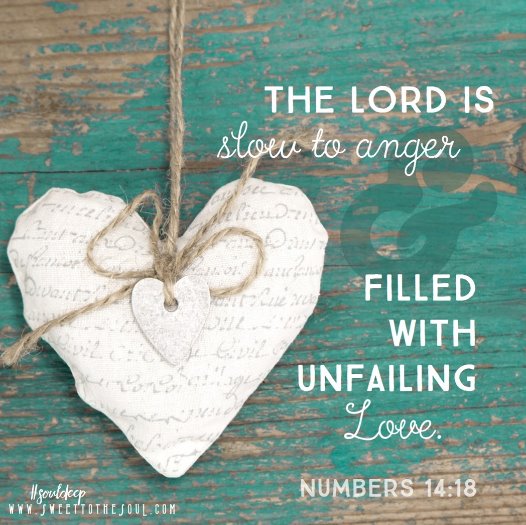 "​The Lord is slow to anger and filled with unfailing love."
Numbers 14:18

If only I could be the same. But usually I am quick to be angry and slow to show love, especially when a friend or family member's words or actions hurt me.

I can recall, on more than one occasion, my reaction to the pain of my freshly wounded heart.

Words that whip like a sharp knife make fresh lacerations on top of newly formed scars from the insults inflicted by the same "friend" some months earlier.

I wipe my eyes. My mind is in turmoil. "Why do I continue to be kind and considerate?" I question. "Why don't I just walk away, never to be hurt again?" I ask myself. "I step so cautiously, trying not to provoke, and she just lashes out at me. Is it my fault? Why has it happened again?"

Outrage erupts on the surface. "I hate her," I say out loud. I direct words to God. "How can you love her, God?" Then more to myself, "I can give as good as I get. Yeah, I can make her miserable, too."

​Yet fury is a poor bandage for an injured heart and an angered soul.
​Instead, prayer is a remedy. When someone gives you a hard time, respond with the energies of prayer, says Matthew 5:44.

​But, how do we pray for those who hurt us deeply? What do we say when wounds run deep?

​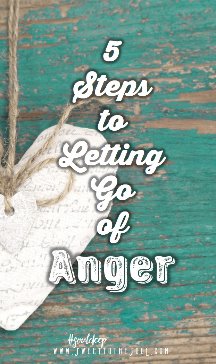 ​Here are some steps to follow:
​
​1. Begin by being reminded of the pain of God's love for you.
"​But he was PIERCED for our transgressions, he was CRUSHED for our iniquities; the PUNISHMENT that brought us peace was on him, and by his WOUNDS we are healed." Isaiah 53:5 (Emphasis mine.)

Jesus, a man who suffered, who knew pain first hand (Isaiah 53:3) knows what you are experiencing and he has endured pain inflicted not only by other people but by us.

​2. Pour out your anguish and anger in front of God. Speak honestly to him about your feelings.
Consider these words of the Psalmist: When those thugs try to knife me in the back, make them look foolish. Frustrate all those who are plotting my downfall. Make them like cinders in a high wind, with God's angel working the bellows. Make their road lightless and mud-slick, with God's angel on their tails. Psalm 35:4-6

These are strong emotions. The Psalmist did not hold back. Nor do we need to.
In your honesty, you can still be respectful to God; you just don't need to look respectable.

3. Bring your wounds to God for healing. Meditate on these words:
"The Lord works righteousness and justice for the oppressed." Psalm 103:6
"He heals the brokenhearted and binds up their wounds." Psalm 147:3

Then be deliberate, and look out for the healing he offers in the day-to-day moments of your life.

​4. Work on trying to forgive the person who has wronged you.
Ephesians 4:26-27 says: "In your anger do not sin: Do not let the sun go down while you are still angry."

We can take this instruction literally and make an effort to let go of our anger before we go to bed, or we can make a commitment to not stay angry, but to work through it in prayer, even though we find it difficult.

Ask God to help you forgive the other person.

5. Believe in God's protection of you.
"Whoever trusts in the Lord is kept safe." Proverbs 29:25
"Though I walk in the midst of trouble, you preserve my life." Psalm 138:7
Hold tight to God's promises. Write them out and keep them in a handy place. Or memorize these two verses. Repeat them when you feel fearful.

Day after day I prayed for the relationship that gave me so much agony. Eventually my anger subsided, and forgiveness took its place.

Now, this relationship is no longer fraught with antagonism. It seems my friend's heart has changed. I know my own heart has softened.

What pain and anger do you need to pray about?

​Blessings Soul Friends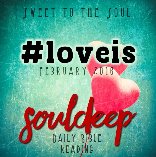 Today's blog post is part of our #SoulDeep Daily Scripture Reading series: #LoveIs


Join Rachel for the Tough Love Prayer Challege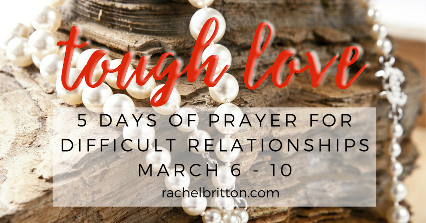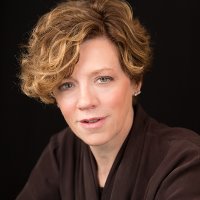 ​Rachel Britton is an author, blogger and speaker. Raised on the east coast of England, Rachel now lives in Massachusetts with her husband and three college-age children.
She is passionate about helping women become healthier in their relationship with God, with others, and with themselves.
Rachel is author of Prayer Zone Workout: Spiritual and Physical Exercise for the Heart, and its accompanying app. She loves to walk, swim and ski. Rachel cannot live without an early morning mug of English tea or a bar of chocolate.
You can connect with Rachel at
www.rachelbritton.com
,
Posted in Soul Deep Scripture, Bible Study
Tagged with anger, forgiveness, Numbers