31 Days of Grace

Grace - this month's #SoulDeep Daily Scripture Reading topic. In our 31 Days of Grace series, we will reach deep into the scriptures daily to discover what God has to teach us about grace.
​
​
​
Webster's New World College Dictionary
provides this theological definition of grace:
"The unmerited love and favor of God toward human beings; divine influence acting in a person to make the person pure, morally strong; the condition of a person brought to God's favor through this influence; a special virtue, gift, or help given to a person by God."

In Christianity, God's grace is often confused with God's mercy. Although they are similar, they possess a clear distinction.
Grace is the receiving of something we do not deserve (God's favor and forgiveness) and mercy is when we are spared from something that we do deserve (punishment).
Teachings of grace are woven all throughout the Bible, the 31 scriptures we've included for our daily reading are just a few on the topic. But our prayer is that through examining these 31 scriptures in context, will give us all a deeper, more real and relatable understanding of God's grace.

(CLICK ON IMAGE BELOW TO DOWNLOAD READING LIST​)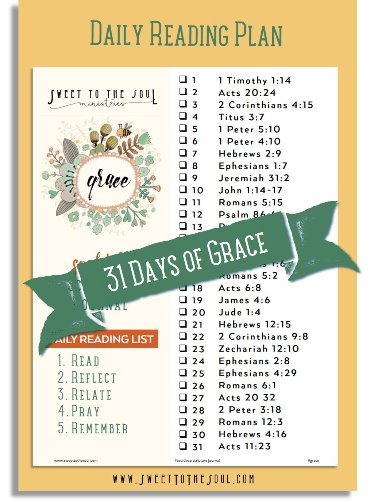 ​When I get into my Bible to study, I am a digger. I really enjoy diving in and searching for other scriptures on the same topic and cross-referenced scriptures that give more insight.
My most important tools are my everyday Bible (ESV), my ESV study Bible and my phone. Yes, my phone.
​1. First, I begin with prayer seeking God's guidance for discernment and understand of the scriptures. I ask for His enlightenment of the particular teaching He has for me in His words.

2. I look up the days scripture in my everyday Bible and read the verse in context; meaning, I read the scriptures preceding and following the days verse. This may even include the full chapter depending on the setting or situation.

3. Then I look up the days scripture in my study Bible and read the commentary offered for the specific verse as well as the surrounding scriptures. If I am not familiar with the particular book of the Bible, I even refer to the general commentary and notes about that particular book of the Bible.

4. If cross-referenced scriptures are given in the footnotes, I go through these two steps with each of these scriptures as well; reading the scripture, reading the scriptures in context and reading the commentary for each scripture.

5. Then I go to my phone. I could use my laptop computer for this step, but I find it actually distracting. I like the smallness of my phone because I can keep my main focus on my Bible. So on my phone, I look up the days scripture in other translations. I love BibleHub.com for this as it will list several translations on the same page. They also offer additional commentary notes following the scriptures. I may also do a general internet search on the scripture or topic to find blogs or articles which have been written using the scripture.

6. Next comes I think my favorite part, this is where all of the digging becomes personal. In every scripture I read, there always seems to be a word or phrase that just jumps out at me. So when that word appears, I look up the definition and see which additional words or phrases really speak to me.

All of theses steps led me to create the specific sections included on the #souldeep Scripture Journal pages. Two full pages to journal our learnings from each days scripture.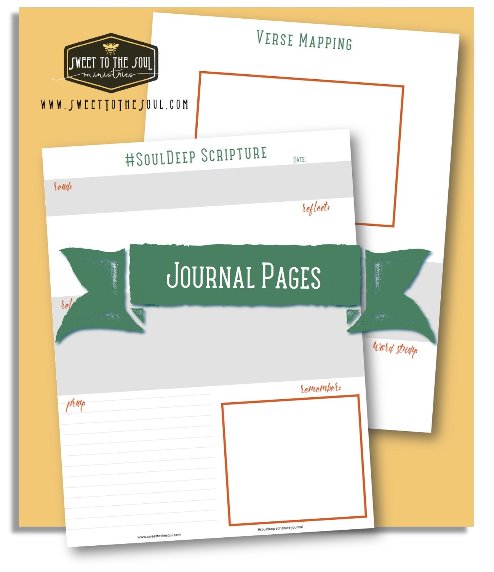 (CLICK ON IMAGE ABOVE TO DOWNLOAD BLANK JOURNAL PAGES)

​The #
souldeep Scripture page
includes 5 sections:
Read: today's scripture
Reflect: what does this scripture mean (use the verse mapping exercise)
Relate: how do I apply this scripture to my life
Pray: talk to God about today's scripture and topic
Remember: what is today's key take-a-way
The
Verse Mapping page
allows you room write out the day's scripture and really make it personal.​
Read the verse.
Write out your verse. (in this box, leave plenty of space around it, between the lines and between the words.)
Personalize it: replace words like "you", "we", "us", "them" with your name.
Mark, circle, underline, highlight words and phrases that stand out to you. Any words make you want to dig deeper?
Look up and define any words that need clarification.
Read the verse in context: read the preceding and following verses or whole chapter. See how it ties in to the verses before and after it.
Read the verse in other translations: note which words or phrases help you understand or apply the verse.
Cross-reference the verse: find, list and read other verses which speak about the same topic.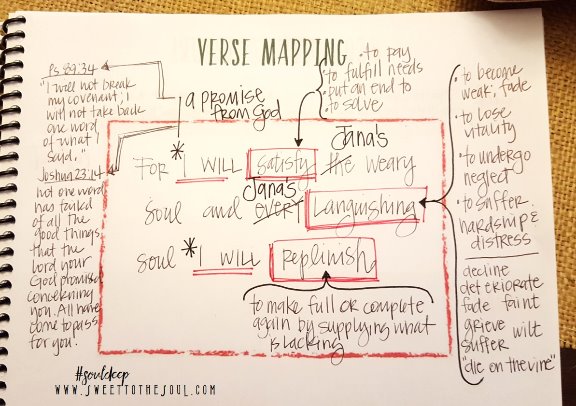 ​I am by no means an expert in Bible Study, in fact, I have found myself surfing on the surface more than diving deep. But I've been praying for God to give me a desire for His Word.

I would love to hear about your journey through God's Word. What are some of your study practices? Do you have some favorite resources?

​Let's jump in the Bible together this year, and dive #souldeep.


Blessings Soul Friends,


Today's blog is part of our #SoulDeep Scripture - Grace series.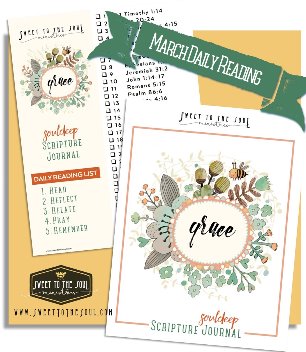 ​
Our
Grace - Soul Deep Scripture Journal
, is now available in the
SweetToTheSoulShoppe on Etsy
.
It is a .pdf file for you to download and print. Included is the Daily Reading List and 62 journal pages preprinted with each day's scripture.
Also included is a separate FREE download of 31 printable scripture cards.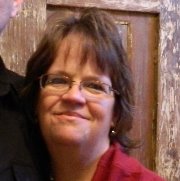 ​Jana Kennedy-Spicer is a wife, mom and Nana who is passionate about inspiring and encouraging women on their daily walk with Christ. A woman rescued and repaired by the grace of God, she loves to share about the realness of God's love, redemption and faithfulness. Embarking on a new life journey, she is dedicated to using her blogging, Bible teaching, writing, photography, drawing, painting and graphic designs to bring glory to the Lord.
Posted in Soul Deep Scripture, Bible Study
Tagged with
#grace