Make Your Words a Gift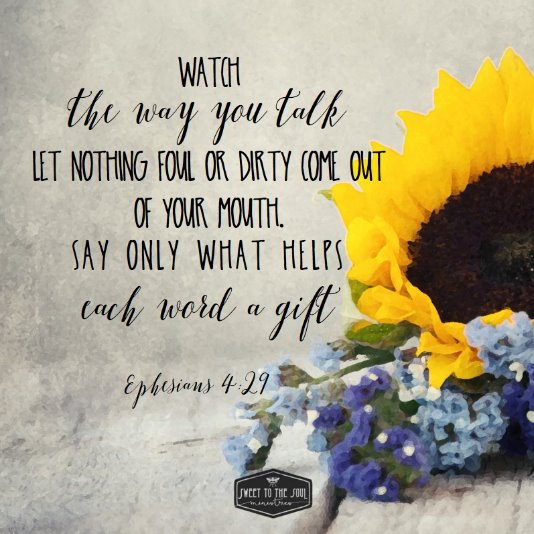 ​After twenty years of marriage, my husband and I often laugh about our differences. When he feels burdened or pressured, he goes quiet. He needs time to think and pray. When I feel stressed,

I talk about it.

I talk about what's bothering me. I tell my husband, I mention it to my kids, and I call my girlfriends to tell them about it too. Then I call my mom. Then I tell my poor husband about it again. Sometimes I just feel the need to vent, you know what I mean? When I'm worried, I fret aloud without realizing it.

If my husband's concerned about a decision, he asks one friend for advice. When I have an important decision, I ask ten people for their opinion.

Are you sensing a pattern here?

I process things verbally. I reduce my stress level by giving voice to my thoughts. But I'm learning I need to be careful.

​My words influence the atmosphere of my marriage and home.

​Ephesians 4:29 says,
"Let no corrupting talk come out of your mouths, but only such as is good for building up, as fits the occasion, that it may give grace to those who hear.."

​When I read this verse, I thought, "Unwholesome talk means profanity, right? Of course I don't use vulgar language." However, a bit of study revealed interesting synonyms for "unwholesome talk": rotten words, foul, worthless, harmful, or polluting language.

Can you imagine rotten words spewing out of someone's mouth, polluting the atmosphere around them? Not very appealing, is it?

​If I'm not careful, I can pollute the atmosphere around me with rotten words.
​Recently I wrote how I want to be a Fresh Water Woman who speaks life rather than a Salt Water Woman who spews out negativity. In the same way, I want fresh words to come out of my mouth instead of rotten words. I may not use swear words, but I pollute the atmosphere when I:
 Complain
 Fret aloud
 Vent about my frustrations
 Snap at someone in irritation
Many things we say each day without thinking can poison the atmosphere or cause a complaining, critical spirit to grow in someone else's heart. I'm learning that I don't have to speak everything I'm thinking.
​
Today's verse gives me 3 questions that help me think before speaking.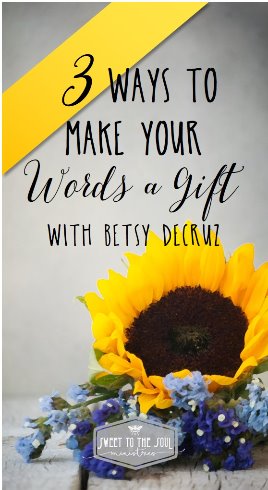 ​Will what I'm about to say contribute to a peaceful, cheerful atmosphere at home or at work? Do others need to hear this right now? Will my words help or hinder?

​Does it build others up?
​Will my words encourage my family members or co-workers? Will they speak life? Will this meet a need or help anyone grow stronger? Will my words build the listener up or bring him down?

​Does it benefit my hearers?
​Will what I'm about to say bless or give grace to listeners in any way? Will my words be a gift that encourages someone or a burden that weighs him down?

​I like the idea of our words being a gift from the Message version of our verse:
​"Watch the way you talk. Let nothing foul or dirty come out of your mouth.
Say only what helps, each word a gift."
​
How about making an effort today to think before you speak? Maybe someone in your life needs affirmation, encouragement, compassion, or hope. Make your words a gift. Let's impart grace by speaking words that are helpful, uplifting, and beneficial.

​Blessings Soul Friends,


​Recently I wrote how I want to be a
Fresh Water Woman
who speaks life rather than a Salt Water Woman who spews out negativity.

Today's blog is part of our #SoulDeep Scripture Reading series - #grace
and our series #GraciousWords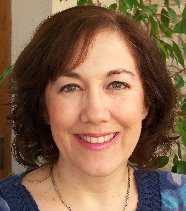 ​Betsy de Cruz enjoys God, life with teenagers, and dark roast coffee. She and her family live in the Middle East. Most days she feels privileged to live overseas; other days she wants to pull her hair out and catch the next plane home.
Betsy's passion is to encourage women to get God's Word in, so their faith can spill out, even during life's bumpy moments.
You can find Betsy at her blog,
faithspillingover.com
,
Posted in
Soul Deep Scripture
Tagged with #grace, Ephesians, words, #GraciousWords