How to Grow in God's Grace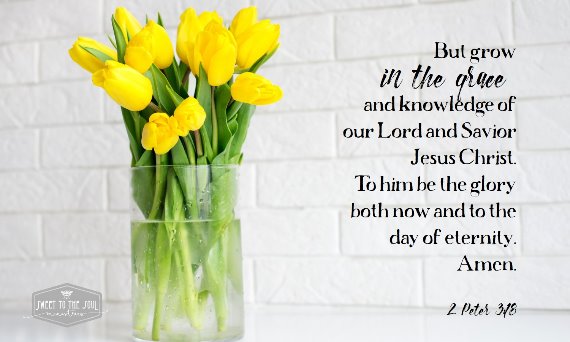 ​"But grow in the grace and knowledge of our Lord and Savior Jesus Christ. To him be glory both now and forever! Amen." 2 Peter 3:18

Access your inner wisdom, empower yourself, transform your life say experts in the area of personal transformation. Perhaps, like me, you are intrigued by the many self-help opportunities available for us to improve ourselves.

There is nothing wrong with us trying to become stronger people, but self-help programs seem to miss the most important aspect of changing for the better. That is—personal transformation is best when it is gained through God's grace.
​
​Grace is a gift from God says Ephesians 2:8. We can do nothing to gain God's grace. We only need to accept the gift by believing in who Jesus Christ is and what he has done.

Grace is accomplished by God. God's rescues us from wrongdoing and punishment through the work—the death and resurrection—of Jesus Christ. Romans 3:23-25

​But the real beauty of God's grace is it's not just a historical truth or a future assurance; God's grace means the remodeling of lives begins now.

God stoops down and gives us a new spirit and he removes our hearts of stone and replaces them with living, beating, healthy hearts (Ezekiel 36:26). He is the greatest heart surgeon ever.

With God's grace, I don't have to empower myself because instead, God has equipped me.
​
​Yet, how do we grow in the grace that God has placed within us?

We need to work at keeping our new hearts healthy.

We can protect our healthy hearts through prayer. Scripture tells us if we pray about everything, and every situation, then the peace of God, which transcends all understanding, will guard your hearts.

We can check the health of our hearts through reading God's Word.

Hebrews 4:12 tell us God's Word judges the thoughts and attitudes of the heart. When we meditate on God's word it stops us from sinning: I have hidden your word in my heart, that I might not sin against you, says the writer of Psalm 119:11 NLT


But there's another dimension too, to growing in God's grace.

​What God has placed inside us, we need to make sure it flows to the outside in our words, behaviors and actions.

Philippians 2:12 tells us to work out your salvation. My pastor, during a Sunday sermon, explained the term work out was used to describe miners bringing silver deposits to the surface.

So, the healthy heart that God has deposited inside us, we need to bring to the surface of our lives.​
​If we guard our hearts through prayer and studying God's Word, this allows God's grace to flow out in our words and actions as Proverbs 4:23 reminds us: Above all else, guard your heart, for everything you do flows from it.

Now, I don't need to worry about accessing my own selfish and tainted inner wisdom, which I certainly don't trust to be reliable in my life, instead I can rely on God's wisdom within me coming to the surface in the words I speak and the activities I do each day.

Then I will be giving glory to God for his grace.

How is the health of your heart? Are you growing in God's grace?
​Blessings Soul Friends,​


Todays blog is part of our #SoulDeep Scripture Reading series - #grace
​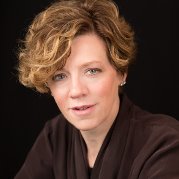 ​Rachel Britton is an author, blogger and speaker. Raised on the east coast of England, Rachel now lives in Massachusetts with her husband and three college-age children.
She is passionate about helping women become healthier in their relationship with God, with others, and with themselves.
Rachel is author of Prayer Zone Workout: Spiritual and Physical Exercise for the Heart, and its accompanying app. She loves to walk, swim and ski. Rachel cannot live without an early morning mug of English tea or a bar of chocolate.
​You can connect with Rachel at
www.rachelbritton.com
Posted in
Soul Deep Scripture
Tagged with #grace, 2 Peter, heart