My Body, God's Temple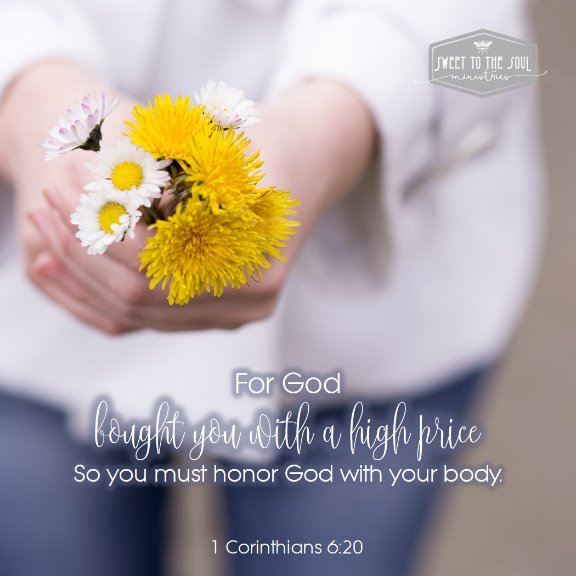 … for God bought you with a high price. So you must honor God with your body.
1 Corinthians 6:20

For a while God has been convicting me to be more intentional about honoring Him with my body in terms of my physical health and well-being, namely my diet and exercise (or lack thereof). Scripture tells me that my body is not my own. My body belongs to my Heavenly Father as a sacred temple of His Holy Spirit. I was bought and redeemed at the price of Jesus' shed blood and broken body on the cross. I am no longer a slave to sin and death, I now belong to Christ.

While all of the above is Biblically true it's not really what this verse speaks to. The danger of taking a verse out of context is that instead of receiving the real message we may shape it to fit our own purposes.

It's easy to talk about my struggles, shortcomings, and failures with food and exercise because most of us share in those struggles. Who among us doesn't want to lose a few pounds? Anyone feel like you exercised too much last week? Probably not.

But this verse does not refer to honoring God with our bodies in regards to diet and exercise.
​When we read 1 Corinthians 6:12-20 we see that verse 20 specifically speaks to honoring God with our bodies in regards to sexual sin.
The body is not meant for sexual immorality, but for the Lord, and the Lord for the body.
(1 Cor 6:13)
Do you not know that your bodies are members of Christ? Shall I then take the members of Christ and make them members of a prostitute? Never!
(1 Cor 6:15)
But he who is joined to the Lord becomes one spirit with him. Flee from sexual immorality. Every other sin a person commits is outside the body, but the sexually immoral person sins against his own body.
(1 Cor 6:17-18)
Wow. Sin is hard to talk about. Sexual sin is really hard to talk about.
For days now I have been wrestling with God, asking Him what He would have me share in regards to this verse. The enemy has me afraid. Afraid of judgement and condemnation, that you may judge me or feel that I am condemning you.
But I don't want to be afraid. Because it really doesn't matter what you or I think.
For am I now seeking the approval of man, or of God? Or am I trying to please man? If I were still trying to please man, I would not be a servant of Christ.
Galatians 1:10
The apostle John wrote:
"If we claim to be without sin, we deceive ourselves and the truth is not in us."
(1 John 1:8) We all have sinned and fall short of the glory of God. (Romans 3:23)
It is not my responsibility to debate what is and isn't sexual sin. Despite what our culture and modern society say the Bible is clear in regards to sexual sin.
It is also not my right to condemn or judge anyone else.
When I gave my life to Christ and began to follow Him He started to convict me in certain areas of my own sexual sin. In particular He brought to my attention some shows I was watching and books I was reading. Maybe the same is true for you. Or He may be convicting you in other areas.
Perhaps you have been indulging in lustful thoughts about someone other than your spouse. When speaking of lust in the Sermon on the Mount Jesus said:
"You have heard that it was said, 'You shall not commit adultery.' But I say to you that everyone who looks at a woman with lustful intent has already committed adultery with her in his heart."
(Matthew 5:27-28)
Our thoughts have power. But we are not powerless.
When we ask Christ to help us take our thoughts captive, to make them obedient to Him, He will. (2 Corinthians 10:5)
Maybe you are currently engaged in a relationship that you know does not have God's approval. Perhaps you feel like the adulterous woman, caught in the midst of an affair, about to face judgement.
Jesus did not condemn her nor He allow the condemnation of others. To her accusers He said: "Let him who is without sin among you be the first to throw a stone at her."
No one could throw a stone. No one was without sin. And neither are we.
When they had each dropped their stone and walked away Jesus said to her: "Woman, where are they? Has no one condemned you?" She said, "No one, Lord."
And Jesus said, "Neither do I condemn you; go, and from now on sin no more."
Let's drop our stones, shall we?
Instead of pointing out the sins of everyone else can we ask Jesus to help us see our own sin more clearly?
I challenge you today, be alone with Jesus; be quiet and still before Him.
Allow Him to lovingly search your soul.
Feel His gaze upon you, hear His voice gently and tenderly say to you:
​
"Neither do I condemn you; go, and from now on sin no more."
​Blessings Soul Friends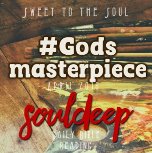 Today's blog is part of our #SoulDeep Scripture Reading series - #GodsMasterpiece
​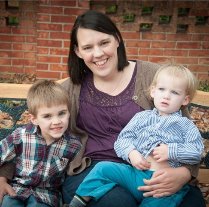 ​My name is Tara. I am a mama, a wife, a teacher, a sister, a daughter, and most importantly a follower of Jesus and a child of God. I have two little boys who love to run and jump and yell and scream and seem to love being attached to their Mama; Smith who is 6 and Charlie James who is 3. I have also been blessed with a "bonus" child, my stepdaughter Kaleigh, who just turned 12 and does her best to tolerate the antics of her little brothers.
​Connect with Tara on her blog at:
http://storyofmyheart.org
Posted in
Soul Deep Scripture
Tagged with #GodsMasterpiece, value, sin, 1 Corinthians