Evidence of our Belief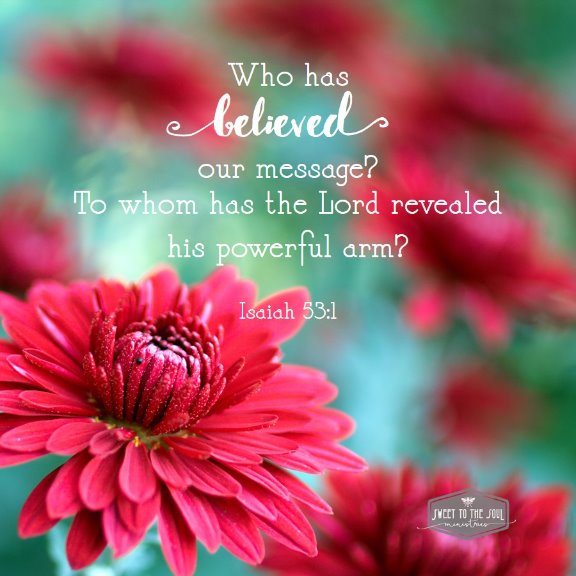 ​They approached me with smiles on their faces once again. At first I thought they were just trying to be friendly to new visitors. But their positive attitudes continued for several weeks. It didn't take long for me to notice the pattern.

I couldn't help but sense something different about them. But what could it be?

My first thought was this difference came from their belief in Jesus. But I was a believer too, even though I'd just recently recommitted my life to God. What was their secret? They radiated encouragement all the time. It felt good just being around them. I knew they had problems just like everyone else, so how could they be so happy? I didn't know the answer, but I determined to find it.

​"Who has believed our message? To whom has the Lord revealed his powerful arm?"
Isaiah 53:1 NLT

Today's verse is the beginning of a well-known chapter in Scripture. The powerful passage in Isaiah reveals the coming Messiah, and how some people would not believe in Him. Even seeing His miracles with their own eyes would not be evidence enough. Verse 4 says, "Surely he took up our pain and bore our suffering, yet we considered him punished by God, stricken by him, and afflicted."

God emphasizes through Isaiah how some would not understand or accept Jesus, even as He suffered for our sins. Yet I can't help but notice Isaiah's second sentence in today's key verse. "To whom has God revealed His powerful arm?"

Through Jesus, God worked miracles to demonstrate not only His love for all people, but also His power. Some believed, while others questioned. Then after Jesus' resurrection, God continued revealing His powerful arm. And, that power still continues today.

"May the God of hope fill you with all joy and peace in believing, so that by the power of the Holy Spirit you may abound in hope."
Romans 15:13 ESV

This is why my new-found church friends had something deep inside that fueled my desire to learn more about God. They didn't just believe; they relied on the power at work in their lives. And through reading God's Word and seeking more of Him, I learned a valuable lesson.

​God's power in our lives is the evidence of our belief.

​I remember the times I've grumbled and complained at work or spouted off negative comments in the company of friends. I wonder how those comments affected others. Did my friends question my faith? Did they wonder how a believer could be so bitter?

Lord, forgive me for those times and help me to do better.

I want to be like those church members who exuded enthusiasm for the Lord. I want others to look at me and say, "There's something different about her." And maybe through seeing the power of God in my life, someone else will want to learn more about Jesus, too.

So let's resolve to draw closer to Him today and seek more of His power in our lives. Let's strive to be more like those who radiate the kind of joy that only comes from our Savior. Then we can walk with confidence and happiness, knowing our belief is evident to everyone we meet.

​Blessings Soul Friends,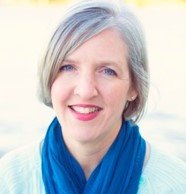 ​Kristine Brown is a writer, dramatist, and teacher. She helps women and teen girls navigate the ups and downs of real life.
Kristine devotes her time to family, freelance writing, and her nonprofit ministry, More Than Yourself, Inc.
You can read more from her at
http://www.morethanyourself.com
.
Posted in
Soul Deep Scripture
Tagged with #IBelieve, Isaiah