An Unclouded Day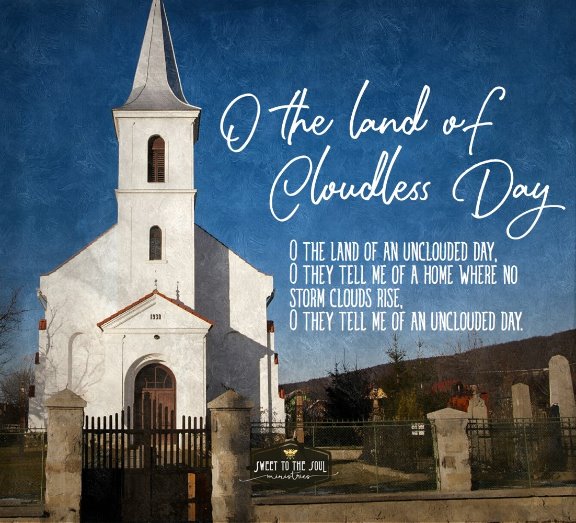 ​
One of my absolute favorite hymns!
As a child growing up I loved going to the small country churches my East Texas family attended. Summer time was hot and humid so the doors were always left open in hopes of a cool breeze. Handheld paper fans and church bulletins were fluttering across the one room church house offering a bit of relief from the Texas heat. The sun was shining through the hand hewn stained glass windows, creating beautiful colorful patterns on the rough wood floors; which were very distracting for this little girl.

Often times one of my aunts or cousins would be singing a special hymn during the service. Or we might be in attendance of the little white church where my uncle preached a powerful word from God every Sunday. A big "dinner on the grounds" would always follow, when we were visiting his church. Lots of southern fried chicken and more desserts than my brother and I could count. And my favorite - watermelon. Mother would object but Daddy taught us how to spit watermelon seeds and would happily engage us in an impromptu competition. ​
I have to say that my favorite country church to attend was at Turkey Creek.
My mother's family had lived in this little nowhere-on-a-map community since the 1880's, and some still do, or are very close. This place always felt like home. My Aunt Ruby was not just active in the little church, but she was also a caretaker and often times when I was visiting with her, she would gladly let me help.
Something other kids might not have wanted to participate in, but that I loved, was helping her maintain the small cemetery. As we would cut the grass and pull the weeds growing around the markers, she would tell me about each person. It seemed she knew the story of everyone there and how we were related to them. She would tell the stories of the original families who settled the area and about the Indians who called Turkey Creek home long before any of our family.
I loved hearing all of these stories, which not only brought the history of this little area of East Texas alive to me, but somehow connected me to the pine trees, red dirt and rolling hills. It was my home. As a girl adopted into a family with whom I shared no physical relation, hearing all of these stories about the generations of "my" family, made me feel connected. I was very proud of the little box on the family tree which held my name.

​Forty years later now, and most of those years without an address in or near Turkey Creek, I still consider it home. I still visit the small country church, although not very often. In fact, the last time I was inside was for my daddy's funeral almost five years ago. He, along with my brother, are now residents of that little cemetery that I used to help my aunt care for. She is there also. Along with most of my mother's family. One day I will reside there as well.
Yes, I know they actually have a different very glorious home, a home where we will all sing these wonderful old hymns together again. A home with unclouded days.



​The little community of Turkey Creek is located in the piney woods
of East Texas in Cass County. What better version of Unclouded Day
to share with you today than that of Cass County's very own
Don Henley. Enjoy.
The Unclouded Day

O they tell me of a home far beyond the skies,
O they tell me of a home far away;
O they tell me of a home where no storm clouds rise,
O they tell me of an unclouded day.

Refrain
O the land of cloudless day,
O the land of an unclouded day,
O they tell me of a home where no storm clouds rise,
O they tell me of an unclouded day.

O they tell me of a home where my friends have gone,
O they tell me of that land far away,
Where the tree of life in eternal bloom
Sheds its fragrance through the unclouded day.
Refrain

O they tell me of a King in His beauty there,
And they tell me that mine eyes shall behold
Where He sits on the throne that is whiter than snow,
In the city that is made of gold.
Refrain

O they tell me that He smiles on His children there,
And His smile drives their sorrows all away;
And they tell me that no tears ever come again
In that lovely land of unclouded day.
Refrain

Today's blog post is part of our
#SundayHymnBook
series, where we relive wonderful memories of beautiful old time hymns.
Posted in
Sunday HymnBook
Tagged with
hymn