Rest for the Weary Soul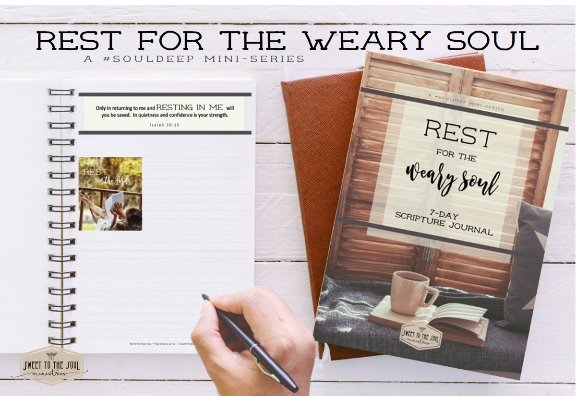 ​Lately, my soul has been feeling pretty weary.

Some things have crept in and drained my joy, my peace and my motivation. And I need to rest, replenish and refuel my weary soul.


​
I feel the need to just set all the chaos, demands and drama of everyday life aside and search out some alone time with God.

It's summer-time and I recently saw a picture of a friend quieting her schedule and enjoying some time looking out over the beautiful blue ocean from the cruise ship deck. And another sitting quietly with God and her Bible as the day slowly awakened with a picture perfect sunrise over the mountains. Still another was rejuvenating with a new devotional and peaceful waves lapping against her toes buried in the sand, alone on the beach.

Ahhh….

Sounds peaceful, restful, calm.

But I'm not on a cruise ship, in the mountains or dipping my toes in the sand, and don't foresee to be any time soon. How about you?

I may not be going to any of those places, but isn't it wonderful that I don't have to "go" anywhere to spend time with God – He meets us right in the middle of where we are. In the middle of our little mess, in the middle of that round of chemo and even right smack dab in the middle of that stressful relationship.

God comes to us, we just have to stop long enough to be with Him.


​Stopping… is that as difficult for you as it is me? How about just slowing down? It can seem impossible, but is it so essential.

Just as we fill our cars with fuel to keep them running, so we need to be filled with soul fuel to keep us running. And can I just say, I can see the "low fuel" light blinking over there in the corner of my soul. Where is your soul fuel gauge registering?

So I am going to take the next seven days to refuel. To be intentional about spending time with God and in His Word, and meditate on these seven scriptures. Would you like to join me? And invite a friend – or two or three or more – also. Let's take this journey together.


7 Scriptures for When You Need Rest

Day 1 - Exodus 33:14
"My presence shall go with you and I will give you rest."
Read Day 1 Blog:
Don't Go It Alone
Day 2 - Jeremiah 6:16
"Stand by the ways and see and ask for the ancient paths, where the good way is, and walk in it; and you will find rest for your souls."
Day 3 - Matthew 11:28
"Come to Me, all who are weary and heavy laden, and I will give you rest."
Day 4 - Philemon 1:20
"Yes, brother, let me benefit from you in the Lord; refresh (rest) my heart in Christ."
Day 5 - Mark 6:31
"Come away by yourselves to a secluded place and rest awhile. (for there are many people coming and going, and they did not even have time to eat)"
Day 6 - Isaiah 30:15
"Only in returning to me and resting in me will you be saved. In quietness and confidence is your strength."
Day 7 - Psalms 37:7
"Be still before the LORD and wait patiently for him; fret not yourself over the one who prospers in his way, over the man who carries out evil devices!"
I've put together a Soul Deep mini-Scripture Journal for this week, and I'd like to share it with you. It's a place where you can read each day's devotional, mediate on the day's scripture, and journal how God is speaking to you about applying His teachings to your life.
Click here to download
your FREE copy of the Soul Deep mini-Scripture Journal "
Rest for the Weary Soul
".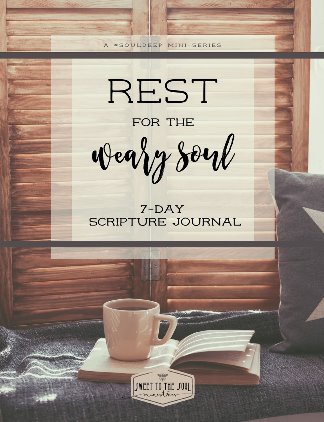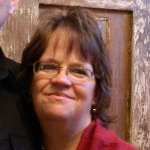 ​Jana Kennedy-Spicer is a wife, mom and Nana who is passionate about inspiring and encouraging women on their daily walk with Christ. A woman rescued and repaired by the grace of God, she loves to share about the realness of God's love, redemption and faithfulness. Embarking on a new life journey, she is dedicated to using her blogging, Bible teaching, writing, photography, drawing, painting and graphic designs to bring glory to the Lord.
Posted in not categorized
Tagged with rest, Quiet Time, #RestForTheWearySoul