What's The World Coming To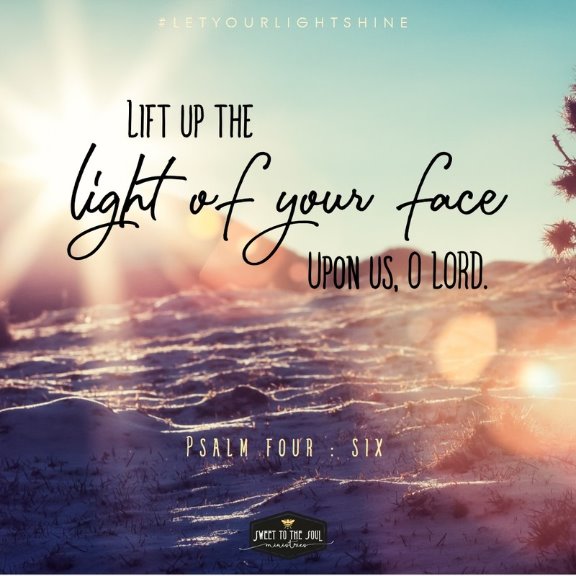 ​"There are many who say, 'Who will show us some good? Lift up the light of your face upon us, O LORD!" Psalm Four : Six

​My grandmother shook her head over rising skirt lengths. My mother was exasperated by modern lyrics. I, too, have wondered where we're headed when I watch the evening news.
We live in a world that doesn't follow God.
Some question why God allows the suffering we see from today's poverty and injustice. They mock "Where is God?" when natural disasters destroy lives or terrorists attack innocents. Some laugh at us for believing biblical nonsense. Some seek happiness in social status and possessions.
It's as hard for Christians today as it was for the psalmist of Old Testament times.
When he wrote Psalm 4, King David was distressed that the Israelite's faith was wavering. They had suffered greatly and questioned God's faithfulness. They sought other gods in an attempt to improve their lives.
Though frustrated by the culture, David confidently proclaimed
"You can be sure of this: the Lord will answer when I call to Him." Psalm 4:3 (NLT)
Then he asked for God's presence,
"Let the light of your face shine upon us, O Lord." Psalm 4:6 (NIV)
While surrounded by the same kind of discouraging circumstances we face today, David asked God to come near – close enough for the light from God's face to shine on him. He needed reassurance that he wasn't alone. He didn't ask God to change the world, just to be present.
And God answered David's prayer. Can you imagine it? God's hands firmly hold David's shoulders as their foreheads touch tenderly - the Father pouring strength into his son.
"Don't be afraid. I'm right here."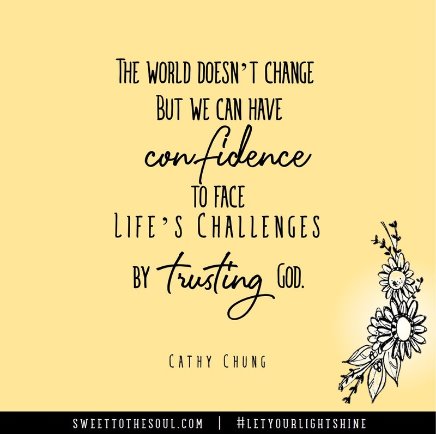 Do we share David's confidence that God hears our cries and answers our prayers?

What could we gain if we realized God's presence is available any time we ask?

With my powerful God close by, I'd certainly stand taller because together we could handle anything.

I'd have a personal tutor for understanding scripture and a clearer distinction between right and wrong. With God next to me, I might have unusual courage (maybe even supernatural courage) to step out of my comfort zone and to resist temptation. If I felt discouraged or sad, His presence would offer hope and comfort.

It sounds pretty awesome, doesn't it?

Here's the amazing thing. We can be as confident as David because Jesus promised to send a Counselor, the Holy Spirit, who would take up residence in every believer. Jesus said:
"[The Father] will give you another Counselor to be with you forever – the Spirit of truth. If anyone loves me, he will obey my teaching. My Father will love him, and we will come to him and make our home with him. But the Counselor, the Holy Spirit, will teach you all things and will remind you of everything I have said to you." John 14:16-17 (NIV) emphasis added

"But you will receive power when the Holy Spirit comes on you; and you will my witnesses…to the ends of the earth." Acts 1:8 NIV emphasis added

Jesus said "we (meaning God and Jesus) will come and make our home" with those who love God. This is the Holy Spirit that lives in you and lives in me, empowering us with His constant presence. If we tap into its power, the result (or fruit) will be "love, joy, peace, patience, kindness, goodness, faithfulness, gentleness and self-control" Galatians 6:22 (NIV)

Sure, we already possess some of these characteristics. Through our own effort we can sometimes be patient, but then our tempers flare. We often show kindness, but not to everyone. When we allow the Holy Spirit to come alive in us, we are transformed into His likeness and see people and situations through Jesus' eyes.

The world doesn't change, but we can have confidence to face life's challenges, courage to hold firm to our values, patience to withstand attacks on our faith, inner joy through unhappy times, hope that God has a bigger plan than we can know, kindness for our enemies, love for those whose opinions differ, and self-control in the face of worldly temptations. By trusting God, we find peace.
​

Dear God, Thank you for your constant presence through the Holy Spirit. Living in today's culture can be confusing and discouraging because its ways are so far from your Truth. May your Spirit transform us into people who see through your eyes and reflect your character. In the name of our Savior Jesus Christ, Amen.

​Blessings Soul Friends,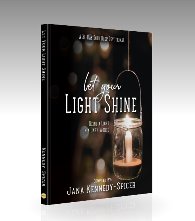 ​Cathy Chung loves Jesus and wants others to love Him too. She has taught the Bible to adults and teens for more than 15 years. Her blog, Seeds of Scripture, encourages readers to grow into a deeper relationship with Him through scripture. She loves gardening, hiking and reading. Cathy is married with three nearly grown children and lives near Boston.
Connect with Cathy at
SeedsofScripture.com

​We are also linking up in October with Crystal Stine for #Write31Days

Posted in
Soul Deep Scripture
Tagged with #LetYourLightShine, Psalm, change