Pale by Comparison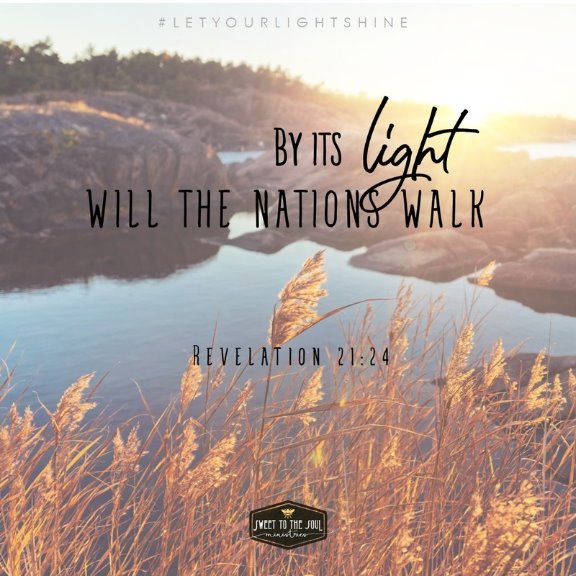 "By its light will the nations walk, and the kings of the earth will bring their glory into it,"
Revelation 21:24

​
Groggily, I took my position on the hotel balcony. Pulling a sweater across my t-shirt clad shoulders, I shivered in the morning air.
The rising steam from the cup of dark roast kissed the spring morning "Hello".
"It's too early," I murmured to my 'morning person' husband. "We're on vacation."
This was more than a vacation. Celebrating our 30th anniversary, it was the first trip taken without our 5 kids. After decades of dreaming, we'd arrived in northern Arizona.
Within a few moments, rose and violet hues flashed over the Sedona Red Rocks. Blue streaks pulled through the mulberry mosaic like salt water taffy. A pensive stillness blanketed the stoic masses as the promise of a new day glimmered above.
Slowly, soft pure light began to rise above the peaks with its rays bursting forth. The pinks and
purples faded into intense shades of tangerine, apricot and lemon.
The sun's beams stretched forth like a child waking in the morning after a night of rapid growth---yawning, stretching and declaring with innocent freshness, "I'm up now. What's for breakfast?"
Soon the citrus sky yielded to vivid blues as the blazing sun shown above the jagged structures. Clouds danced in dazzling whiteness. The Red Rocks stood in majestic contrast to the abundantly deep blue sky. Ah, the glory of God's creation!
As spectacular as this sunrise was, it pales to the coming splendor of God's kingdom.
​
How do I know? I've read the end of the Good Book--- Revelation.
Spoiler Alert: In grand majesty, GOD WINS!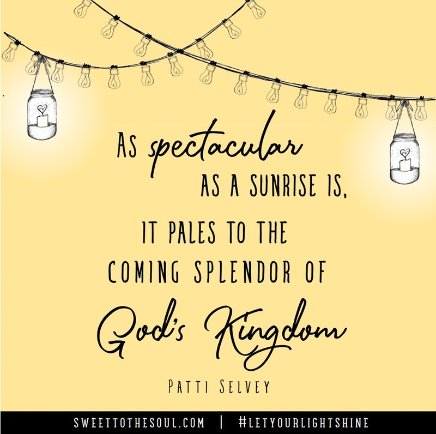 Revelation is authored by Jesus Christ. (Revelation 1:1) Jesus gave visions to John, His beloved disciple, while John was exiled on the island of Patmos. Revelation unpacks the spiritual battles waging plus prophetically outlines future events. It describes what is now unseen and what will unfold.
"By its light will the nations walk, and the kings of the earth will bring their glory into it"
Revelation 21:24 (ESV)
There will be a New City—a New Jerusalem! Heaven will be on earth forevermore! Like the temple of the Old Testament, the New City will be God's dwelling place. The sun and moon will be unnecessary. God's great presence will provide the City's Light and Jesus, the Lamb of God, will be the lamp. (Revelation. 21:23)
"will the nations walk….."
Who are the nations? The 'nations' are the believers who persevere in Christ through trials and persecution prior to the coming New Jerusalem. Those who endure will be the City's citizens. The phrase "will walk" literally means "in the way we should live" or "behave".
"…..and the kings of the earth will bring their glory into it".
God's majesty will demand that all bow to Him. Even the most powerful rulers of the earth will bend low before the true King of Kings and Lord of Lords. They will humbly present them-selves into the Light of God's presence.
There will be no more tears, illness and death. No more suffering or hardships. Sin will cease. Our enemy Satan will be completely defeated. We will dwell in the eternal state with God the Father and Jesus the Son forever in absolute peace! Maybe you are like me thinking, "Life is hard NOW. The promise of the New City feels so far away."
How can we walk in the pain of today's trials with the hope of the glory to come?
Live in the Light. The Holy Spirit is with us now. At any moment, we can pray to our Father and be heard. We are never alone, never abandoned, never forsaken. The Bible is His Word to us providing wisdom and guidance. It reveals who God is and what He has done. God doesn't change! We can count on Him. Take time to pray and read His Word every day.

Remember whose you are. As believers in Christ, we are dearly loved, wholly-accepted and adopted sons and daughters of the Most High. We are His. You are His! Bought with the blood of Christ and sealed in His Holy Spirit—you are marked with a promise and destined for a purpose. Claim your identity in Christ.

Live with the End in Mind. Remember our spoiler alert? God wins! If you are on His team, you win, too! Whatever you are facing, it ends with God victorious if you are in Christ Jesus. We can live in the confidence that God is bigger and stronger than any situation we face. His ways are higher and His love is deeper. God is for you! And if He is for you, who can stand against you? Develop an eternal perspective.
​
Heavenly Father, You are glorious! We look forward with hope to Your coming kingdom and being in the Light of your presence. In the meantime, strengthen us in the hard places of our lives. Help us to fix our eyes upon you and the hope of the glory to come! May we stand firmly in our identity as a child of God---never alone, never abandoned and never forsaken. We love you so much, Lord. We pray in the precious name of Jesus Christ. Amen
​Blessings Soul Friends,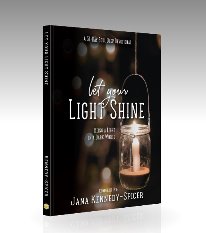 ​Today's blog post is part of our #SoulDeep Daily Scripture #
LetYourLightShine
series



​Patti Selvey is a wife and mom of five from Wheaton, IL. She is a full-time graduate student at Moody Theological Seminary (Chicago). A Bible teacher with a shepherd's heart, she loves sharing God's Word with His girls. Patti enjoys all things creative, especially music, writing and photography.
For more of Patti's work visit
www.pattiselvey.com
.

​This month we are also linking up with Crystal Stine and #Write31Days
Posted in
Soul Deep Scripture
Tagged with #LetYourLightShine, Revelation, #Write31Days