Brought Out Into The Light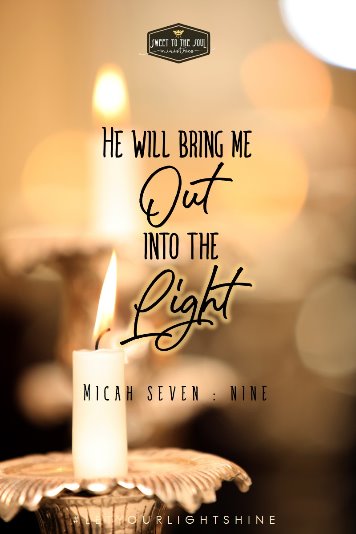 ​"I will bear the indignation of the LORD because I have sinned against him,
until he pleads my cause and executes judgment for me. He will bring me
out to the light; I shall look upon his vindication."
Micah 7:9

​I was sixteen and a senior in high school. And I knew I was in trouble. What passed as rebellion for this church girl was staying out past my curfew, and I was way past my curfew.

My mom was normally who I butted heads with in this type of situation, so as I drove home I was mentally preparing for the battle of words I knew would ensue.

When I opened the door though, I didn't see my mother. Instead, sitting on the couch impatiently waiting for his very late daughter, was my dad. Uh-oh.

He didn't say anything, just stood up. I walked over, handed him my car keys and simply uttered, "I'm sorry." Then made my way to bed.

As I lay there I felt the full weight of my father's disappointment. I was in the wrong and I knew it. I silently prepared myself to face the morning and whatever punishment would be coming my way.

In our scripture today, we find Micah poetically telling us of Zion's repentance.

Let's back up just a bit and look at the setting. In the time of Micah, God's people were divided. The twelve tribes have rebelled and battled, settling into two territories, Israel and Judah. Neither were following God. Throughout the book of Micah, the prophet tells of the sins and judgments of Israel and Judah. Today's verse picks up right when the nations become repentant and renew their faith in God.

This scenario of rebellion from God leading to sin, sinful actions leading to judgement and consequences, suffering consequences leading to repentance, repentance leading to forgiveness and restoration, and restoration leading to renewed faith and relationship with God IS the story of Israel.

And it is our story also.

I was surprised, when the morning after my late night curfew breaking, my father gave me back my car keys. Forgiveness. He forgave me of my transgression and restored what it had cost me. I think for the first time I truly understood what forgiveness looked – and felt – like.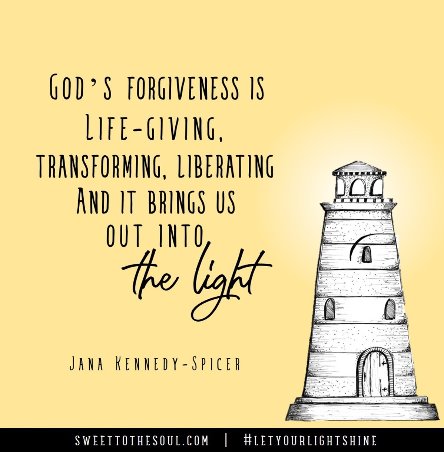 The forgiveness God offers is on a scale that we really can't comprehend yet. A teenaged girl getting her car keys back doesn't even begin to compare to the glory of God's forgiveness. If you've never been on the receiving end of someone's forgiveness, it may be difficult to see God's forgiveness in the proper context. God's forgiveness is life-giving, it is transforming, it is liberating, and it brings us into the light. It is also free. Free because Jesus Christ purchased it for you, for me, for any and every one willing to accept it. God only requires one thing from us – repentance.
Repentance is sorrow for and hatred for one's own sin, expressed with the purpose of amendment, and comes from a love of God. True repentance is so much more than "I'm sorry."
It is recognizing that what I did was a sin against God and being genuinely sorry – I need to repent.
It is owning that I am a sinner and confessing my sin – I need to confess.
It is doing what needs to be done to change my behavior and not commit this sin again – I need to change.
"Therefore, repent and return, so that your sins may be wiped away, in order that
times of refreshing may come from the presence of the Lord."
Acts 3:19 (NASB)
The writer of Acts tells us it's not enough to just repent of our sins, we must "return" to God. We must turn in toward God instead of moving further away.
Repentance plays a vital role in our salvation. But it is not a one-time thing. Wouldn't it be wonderful if when we first come to God with our repentant hearts and receive the gift of salvation, that we would never need to repent again?
But, sadly, that's not the case. Oh,
once we have received God's gift of salvation, we can never lose it.
"For I am sure that neither death nor life nor angels nor rulers, nor things present nor things to come, nor powers, nor height nor depth, nor anything else in all creation, will be able to separate us from the love of God in Christ Jesus our Lord."
Romans 8:38-39
We can, however – and do – continue to sin. Why? Because it is our nature inherited from Adam and his original sin.
"For I know that nothing good dwells in me, that is, in my flesh. For I have the desire to do what is right, but not the ability to carry it out. For I do not do the good I want, but the evil I do not want is what I keep on doing. Now if I do what I do not want, it is no longer I who do it, but sin that dwells within me."
Romans 7:18-20 (ESV)
So just like God's chosen people, the nation of Israel, we find ourselves in the same cycle of sin, consequences, repentance, forgiveness and restoration. And just like Micah writes related to God's people, with our repentance,
"He will bring me out to the light, I shall look upon His vindication."
​
Father God, we thank you for your patience, for your long-suffering, for your desire to bring us to repentance and the gift of our grace and forgiveness. We are not worthy of this blessing. Forgive us for the sin in our life we hold on to, and equip us to break the cycle and habits of sin in our lives. Thank you for hearing our prayers and healing our hearts. In Jesus' precious name, Amen.
​Blessings Soul Friends,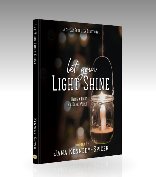 ​Jana Kennedy Spicer is a wife, mom and Nana who is passionate about inspiring and encouraging women on their daily walk with Christ. A woman rescued and repaired by the grace of God, she loves to share about the realness of God's love, redemption and faithfulness. Embarking on a new life journey, she is dedicated to using her blogging, Bible teaching, writing, photography, drawing, painting and graphic designs to bring glory to the Lord.
​Click here to access all of our #
LetYourLightShine
Resources
We are linking up October with Crystal Stine and #Write31Days
Posted in
Soul Deep Scripture
Tagged with #LetYourLightShine, Micah, forgiveness