Everyday Thanksgiving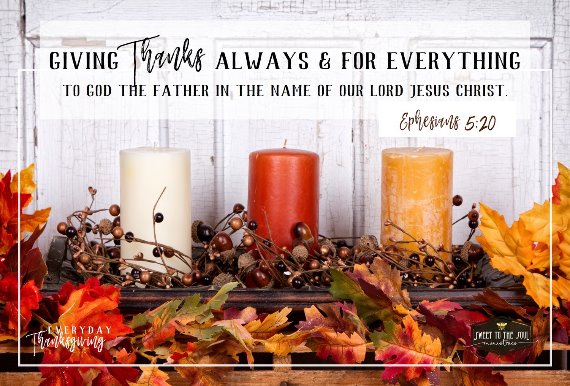 ​Just a few weeks ago, my husband and I were enjoying some time away in the mountains of New Mexico. The bright golden color of aspen trees with changing leaves combined with the cool crisp air was soul refreshing for this Texas girl.

Although it was still hot at home, there in the mountains, my favorite season was in full display.

Autumn. Ahhhh.

Yes, my favorite season. But not for the weather, although the cooler temps are very welcome after 100o summer days. And not for the colors, even though there is nothing like the beauty of the fiery red and golden leaves fluttering in the breeze.

No autumn is my favorite time of year because as the season changes, it seems attitudes also change and a sense of "gathering" sets in as the holidays are just around the corner.

Thanksgiving and Christmas.

True thanksgiving, though, is so much more than a holiday or a by-product of changing seasons.

True thanksgiving is a heart condition displayed in our normal day to day life.

True thanksgiving is everyday thanksgiving.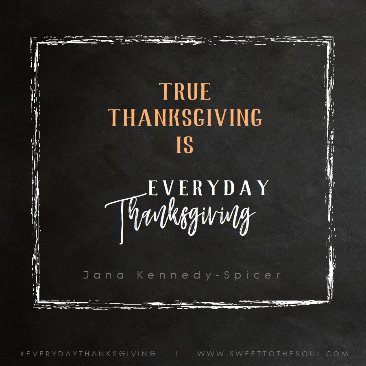 When we say "thank you" to someone is it typically for something - something they've said that made us feel good or something they've done which we appreciate. This is a lovely and right expression. But this isn't the type of thanksgiving we are called to by God's Word.

Biblical thanksgiving is much deeper than a mere expression or note card.

​"Give thanks in all circumstances,
for this is the will of God in Christ Jesus for you."
1 Thessalonians 5:18
Biblical thanksgiving is not based on our circumstances, it is in spite of our circumstances.

​"Giving thanks always and for everything to God the Father
in the name of our Lord Jesus Christ."
Ephesians 5:20
​Biblical thanksgiving is not an occasional feeling or spoken word, it is an always
attitude.

​Biblical thanksgiving is not an occasional feeling or spoken word, it is an always
attitude.
These scriptures teach us that:
True thanksgiving is present in all of our circumstances—
good or bad, easy or hard, beneficial or costly.

True thanksgiving is present in all of our days—
short or long, calm or stressful. Celebratory or mournful.

True thanksgiving is everyday thanksgiving.
Soul Friends, I would love for you to join us during November each day on the blog and social media. I look forward to this 31-day journey through the Bible as we dive soul deep each day in to God's Word to learn how we can live a life of everyday thanksgiving.
​Blessings Soul Friends,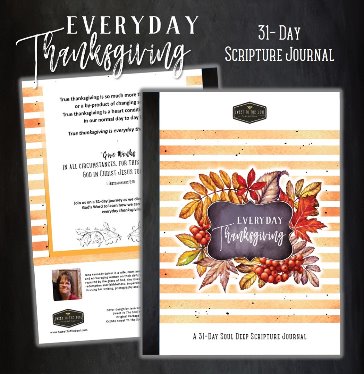 How To Use The Scripture Journal

​There are a couple of ways to use this Scripture Journal. But either way is at your own pace. If you've just got 10 minutes, go ahead and dive in; and if you've got more time, then let's get soul deep in the scriptures.

So, grab your Bible, a pen, some colored pencils or highlighters – and let's dive in!

​1. Read: today's scripture
2. Reflect: what does this scripture mean (use the verse mapping exercise)
3. Relate: how do I apply this scripture to my life
4. Pray: talk to God about today's scripture and topic
5. Remember: what is today's key take-a-way

​1. Read the verse.
2. Write out your verse. (in this box, leave plenty of space around it, between the lines and between the words.)
3. Personalize it: replace words like "you", "we", "us", "them" with your name.
4. Mark, circle, underline, highlight words and phrases that stand out to you. Any words make you want to dig deeper? Look up and define any words that need clarification.
5. Read the verse in context: read the preceding and following verses or whole chapter. See how it ties in to the verses before and after it.
6. Read the verse in other translations: note which words or phrases help you
understand or apply the verse.
7. Cross-reference the verse: find, list and read other verses which speak about the same topic.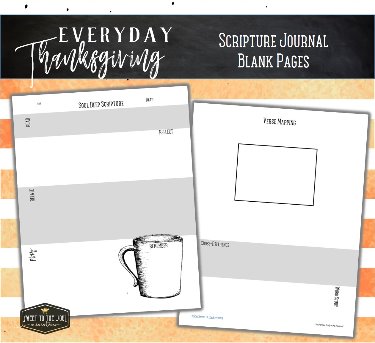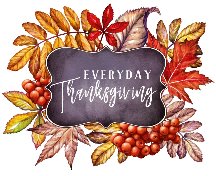 ​Jana Kennedy-Spicer is a wife, mom and Nana who is passionate about inspiring and encouraging women on their daily walk with Christ. A woman rescued and repaired by the grace of God, she loves to share about the realness of God's love, redemption and faithfulness. Embarking on a new life journey, she is dedicated to using her blogging, Bible teaching, writing, photography, drawing, painting and graphic designs to bring glory to the Lord.
Posted in not categorized
Tagged with no tags