Bible Journaling Myth Busting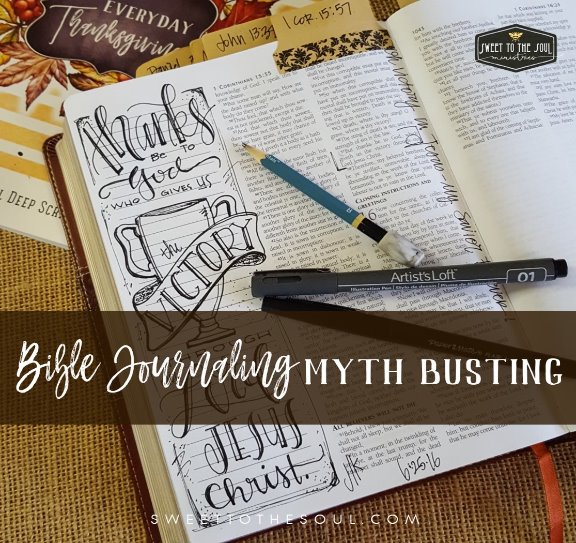 When I began incorporating Bible Journaling into my Bible Study time, I was pretty intimidated by all of the pics of others beautiful journaling. I've always been a doodler and a letterer but a lot of journaling styles didn't really represent a doodling or lettering approach. They looked more like scrapbooking. They were beautiful, but just not me. So I hesitated and didn't begin Bible Journaling because I didn't think what I could see in my heart would "look right".
​So let's just park right there for a few minutes before we begin the Myth-Busting and let me ask you a question.
​Why? Why do you (want to) Bible Journal? Beyond the, "it looks pretty" and "everyone's doing it" there are much deeper heart reasons.
​Spend time with God - yes, this really is the first and most important reason. When we open our Bible, we open the door for God to meet with us. Invite Him in and He speaks to us.
Memorize Scripture - whether this is a why or a by-product, I find that focusing on a single scripture for this concentrated period of time is a great way to remember the scripture verse.
Reflect on Scripture - spending time focused on a single scripture and in conversation with God is a great way to really plant God's Word in our hearts.
Slow Down- in our crazy fast paced world, Bible Journaling is a great way to slow down and recharge.
Feed your Soul - As God's children we need to stay close to Him so our soul can be nourished. Exercising my creative muscles and spending time with God is a double blessing for me.
Calm anxiety - there is something so calming about using the right side of the brain. Scientific? Oh, I don't know. Whether that's the reason, or it's spending time with God, I know my stress just melts away when I'm Journaling in my Bible.
So what is your why?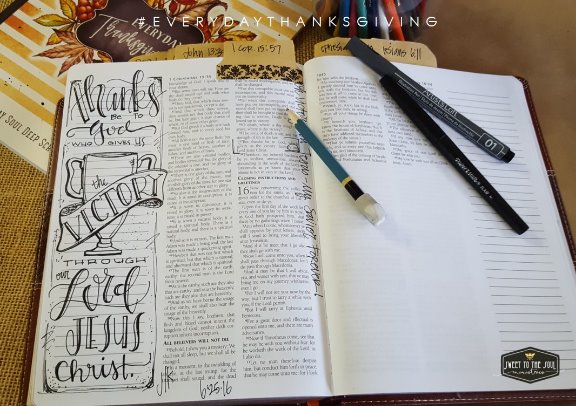 When I talk about Bible Journaling, I hear a variety of responses, but typically one (or more) of three myths that most believe to be true.
I don't have a special Journaling Bible
I can't draw, I'm not an artist, or I'm not creative
I don't have the right tools or supplies
​Do any of these sound familiar? Have you said one or heard a friend voice one of these reasons. Let's take a look at each one and see if I can convince your otherwise.
Let's bust some Bible Journaling myths!
Myth #1 - Must have a Journaling Bible
​This myth I totally bought into. Even though I would draw and doodle just about everywhere, I thought I had to have an official "journaling" Bible. And, let's face it, they can be expensive.
There are plenty of other resources to use as you begin your Bible Journaling adventure.
​Blank journals
sketch books
art papers
graph paper
note cards
a regular Bible
chalkboard
anywhere you can write or draw!
​Remember your "why". Why are you journaling scripture? All of the why's still apply no matter the Bible or resource being utilized.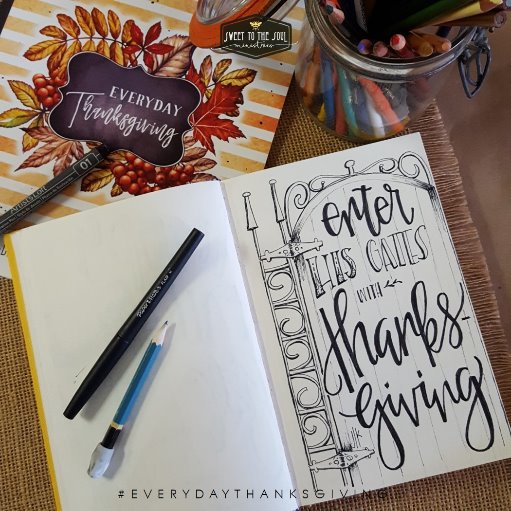 Myth #2 - Must be artistic or crafty
​First of all, no you don't. Why? Because Bible journaling isn't really about you or your talent. Remember your "why" - this time spent in the Bible is all about spending time with God. And He loves to spend time with you - just the way you are. Besides,
God cares more about your heart than your art.
​But if you're looking for a little inspiration, here are some of my favorite journalers:
​I'd also like to invite you over to our
Sweet To The Soul Shoppe
on etsy, where we have downloadable Soul Inspired Bible Journaling Templates / Color Your Own Bookmarks.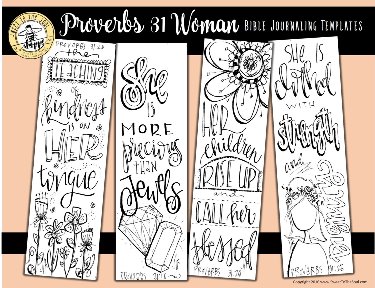 Pictured here are our "
Proverbs 31 Woman"
Bible Journaling
templates download
.
These are also great to
print, color, and cut
to make Bookmarks.
Myth #3 - Must have a lot of Supplies
This is my fav myth to bust, because I really believed it! I saw all of the beautiful pages by others and felt so intimidated. Surely I had enough supplies in my 'more than I will ever use' craft supply collection. And I did!
​Turns out, my go-to must haves are: a #2 pencil, eraser and a thin black marker. Yup. That's it! Most of the time I don't even color in my designs. I go through a lot of black markers. I also used a couple of different finer point sets,
Prismacolor
has a wonderful set.
​​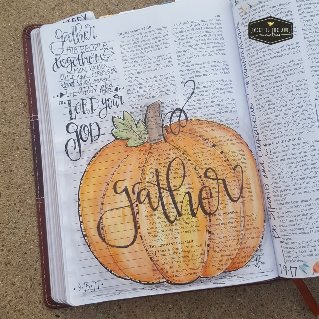 Blog update: at a retreat earlier this year someone introduced me to
Gelatos
. Oh goodness, my world has changed forever! Now I use these all the time to paint in my Bible.
​Yes, there are lots of supplies you can use, but I encourage you to find what fits your personal style and preference. If you do want to move beyond the basic pencil and marker, here are some of my other suggestions.
​Colored pencils - don't bleed through pages, My favs are Prismacolor
watercolor paints and pencils
gelato pigments
stickers, tags, cutouts, and washi tape
markers and paint
decorative papers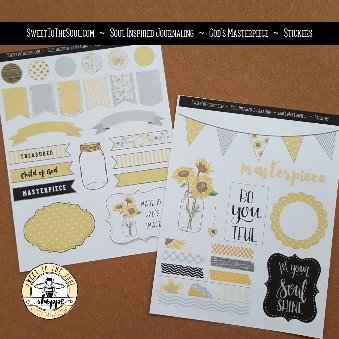 Pictured here are our
#GodsMasterpiece
printable stickers
download
.

Are you ready to move past the myths and let your soul be inspired? That's great!
​So now you might be asking where do I start? What do I journal?
​Start with a favorite scripture
Use a scripture Reading list (here are several of our Soul Deep lists)
Search a topic in the concordance at the back of your Bible and journal through the listed scriptures
If you're using a devo or Bible Study, journal the scriptures which speak to your heart
Add prayers to the journaling space
Write sermon notes beside the sermons' scripture
And you can always find lots of great inspiration on Pinterest.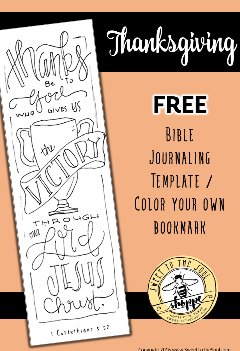 ​Thanks for dropping by today Soul Friends! I pray you have found some encouragement to let your soul be inspired! When you do, I would love to see your Bible Journaling! Share it on social media and tag Sweet To The Soul, and use the hashtag #SoulInspired.
Here's a FREE Bible Journaling template /
color your own Bookmarks from the Shoppe.
[
download
]
If you like this template, check out all of our
Soul Inspired products
.
Blessings Soul Friends,



If you enjoyed today's blog you might also like: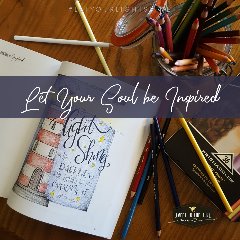 Let Your Soul Be Inspired
​Just like worship is a personal experience and reflects the individual, so does Bible Journaling. There are literally unlimited number of ways you can worship creatively with your Bible study.
Posted in
Soul Inspired
Tagged with #EverydayThanksgiving, Bible Journaling