Experience the Fullness of God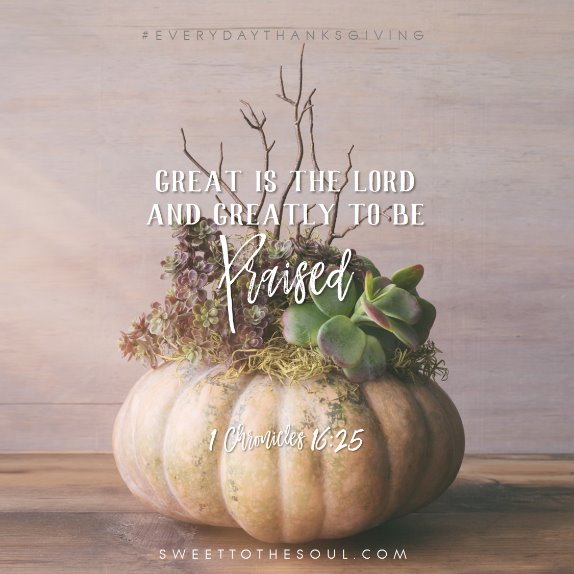 ​"For great is the LORD, and greatly to be praised, and he is to be feared above all gods."
1 Chronicles 16:25 ESV


​"Mom did much of the leg work for me. She really did a lot."

Tears sprang to his mama's eyes as this 6-ft-something 17 year old praised her efforts on his behalf. He didn't directly thank her. He didn't have to. His recognition of and public praise for all she had done for him held even more meaning.

We teach our children to express gratitude in an attempt to cultivate their awareness of the other person's contributions. It's a tool meant to direct their eyes off self. In fact, often the first manners parents tackle after teaching simple greetings is how to politely ask and acknowledge the receipt of something. We deem it that important.

However, too often, thanksgiving becomes a tit-for-tat exchange. We receive something, we give thanks for it. So what happens when we don't notice anything to be grateful for?

Giving thanks needs to be taken a step further. It needs to be paired with the acknowledgment of those gifts we can't always see in the moment. To live as joy- and peace-filled Christians in a broken world, we need to express our appreciation for the everyday goodness and greatness of God. This practice provides the assurance of hope in the seemingly hopeless. It brings calm in the midst of chaos.

Acknowledging God and His grace and mercy opens us up to experience the abundance of His promises.

Giving thanks prepares our hearts to be filled with the fullness of God. Expressing praise opens the door wide for His fullness to enter.

We will all face hard times. Suffering will come. Praising God has nothing to do with circumstances and everything to do with the truth we believe. When difficulties present, the question to answer isn't, can we find something worthy of our gratitude? The question we must answer is, do we believe in God's goodness, greatness, and faithfulness?

In order to enter the fullness of His promises, we must believe them. In order to experience abundance in the desert, we must trust it's possible.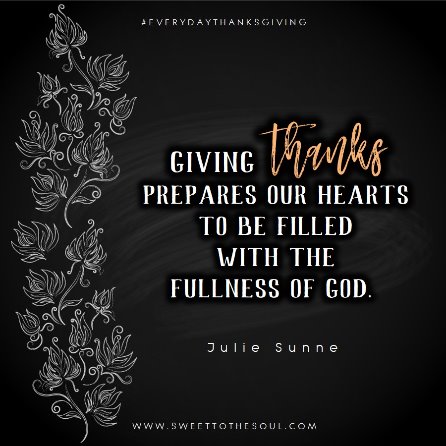 ​First Chronicles 16:25 clearly articulates that God is worthy of our praise. But what struck me as I explored this verse is its present and active tense in many Bible versions.
​"For great is the LORD, and greatly to be praised, and he is to be feared above
all gods." (ESV)

"The LORD is great and greatly to be praised; He is also to be feared above all gods." (NKJV)

"For great is the Lord, and greatly to be praised; He also is to be feared above all gods." (NASB)

"For great is Yahweh, and greatly to be praised. He also is to be feared above all gods." (WEB)

God knew we'd have hard times. He knew we'd need reminders of hope in seemingly hopeless situations. So He placed before us the active practices of thanksgiving and praise.

Sure, in similar fashion to how her son's praise pleased my mama friend, praising God will also please Him. But the Lord commands this ongoing act of worship for our benefit not His. Regular declaration of reverence and awe at who He is and what He can do centers us on the One who can bring us rest in any circumstance.

We need to praise Yahweh for who He is, because we are often blind to the blessings He gives. We experience pain and believe it's all bad. We receive a disappointment and wonder if God has turned away from us.

The confused, self-centered culture we live in dulls our senses to the Lord's constant presence and provision. It's time we fight back! Let's realign our hearts with God's. Let's train our hearts and minds to trust for today the One in which we place our hope for eternity.

Let's give Him thanks for all the grace drops we note. Then let's carry it a step further and sing His praises for all His behind-the-scenes and under-our-radar grace. As we do, we'll experience a beautiful rest only found in the shelter of the Most High—a soul rest that'll carry us well through any weather.


Lord, You are ever-gracious to us, but we often become blind to the blessings you offer. Stir our hearts to be grateful, but more than that, to praise You for your goodness and greatness even when we don't readily see it. Bring us into Your fullness as we worship You with reverence and awe. In Jesus' most Holy and precious name, Amen!

Blessings Soul Friends,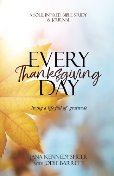 Julie Sunne...​Following years of working as a freelance editor and writer while being a full-time mom to four and homemaker, I now feel the need to write and speak about my experiences with God's grace and His divine guidance and strength. I feel compelled to tell of my struggles and His presence through the messiness of five miscarriage and raising our precious daughter who has lifelong disabilities. My desire is to encourage you in the hope of Jesus Christ in whatever situation you find yourself.
​Connect with Julie at
JulieSunne.com
Posted in
Soul Inspired
Tagged with #EverydayThanksgiving, 1 Chronicles