Giving Thanks in the Wait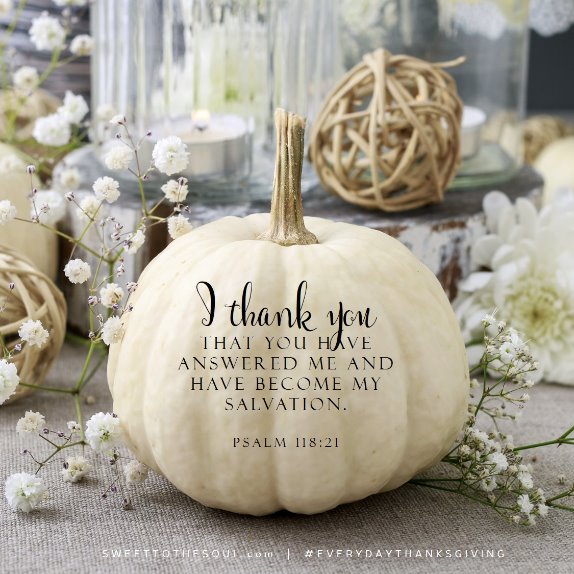 "I thank you that you have answered me and have become my salvation."
Psalm 118:21 ESV

When David penned "I thank you that you have answered me and have become my salvation." (Psalm 118:21 ESV) he embraced what we often fail to grasp - God always answers our prayers.

No matter if His voice is silent for a season, we can have confidence His answer will always come. (1 John 5:14 ESV)

When we experience a season of waiting for God's reply we must remember God's way of doing things and His way of thinking is far beyond what we can comprehend. (Isaiah 55:8-9 ESV)

God is omniscient - all knowing. He knows more than we do what tomorrow will bring. He knows what we will need, or not need, when tomorrow comes.

So what can we do in the midst of waiting to hear God's voice?


Habakkuk was familiar with waiting to hear God's voice, too. In frustration he cries out
"O Lord, how long shall I cry for help and you will not hear?" (Habakkuk 1:1 ESV)

God finally answers Habakkuk and says, "Look among the nations, and see; wonder and be astounded. For I am doing a work in your days that you would not believe if told." (Habakkuk 1:5 ESV)

When we find ourselves waiting, God says "Look around you. I have been working before you even heard my voice. If I had told you beforehand, you would not have believed the amazing work I am doing for you."

When we are waiting to hear God's voice, we can do what Habakkuk did: "I will take my stand at my watch post and station myself on the tower, and look out to see what he will say to me" (Habakkuk 2:1 ESV)

How can we climb into our watchtower and look out to see what God will say? Through spending time in prayer and daily Scripture reading, we allow the Holy Spirit to remind us of God's amazing blessings in our lives, even in the midst of heart-heavy circumstances, as we wait to hear His answer.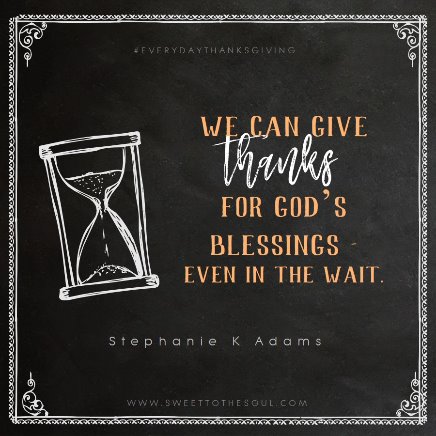 Remember: His timing is perfect - His plan is good

His 'Yes' is for our good
His 'No' is for our good
and His 'wait' is for our good

Because He is good and does good (Psalm 119:68 ESV), I can give thanks for His blessings - even in the wait.

What does your waiting look like?

* a broken relationship in need of healing
* a rebellious child to return
* an overwhelming financial burden to be met

Search for His goodness, and seek how He is already answering on your behalf. Lift up thanksgiving for all your present blessings, full of faith for His soon coming answers.

Thanksgiving comes easy when God's timing meets our expectations; a deeper level of gratefulness is cultivated when His answer is delayed and we praise Him in the waiting.


Thank you, Jesus, for hearing our prayers. You know the burdens we carry and You hear our cries and answer us. We believe You are already doing amazing work on our behalf and we give You thanks, by faith, for Your answers even before we have heard Your reply. Amen.

Blessings Soul Friends,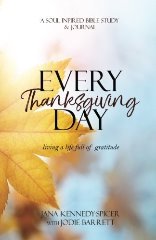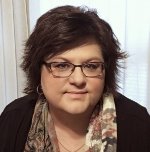 ​Stephanie K. Adams is a writer, speaker and founder of REAL Women Ministries, where a community of women gather to grow their Relationship with each other and God through Encouragement and Accountability to studying the Bible, and cultivating a Love for His Word. Stephanie is also a contributing writer for Sweet Jesus Ministries and LifeNotes Cafe, and her writings have been featured at The Blythe Daniel Agency's Blog Spot, Chosen and Crowned Ministries, 818 Ministries, and Triple Negative Breast Cancer Foundation. Stephanie enjoys reading, a good cup of coffee, and Saturday breakfast with her husband, Rick. To connect with Stephanie and join a community of real women studying God's Word, visit
http://www.RealWomenMinistries.org
Posted in not categorized
Tagged with no tags