A Jubilant Hallelujah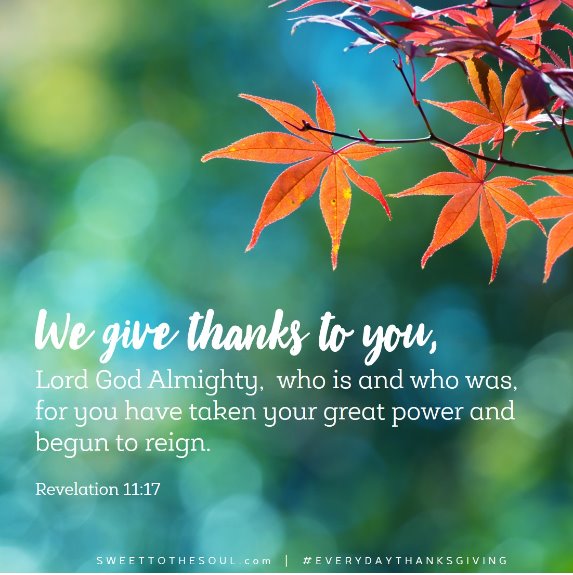 "We give thanks to You, Lord God Almighty, who is and was, for You have taken Your great power and begun to reign."
Revelation 11:17 (ESV)

​Recently a group of us went downtown and participated in a game where we were locked in a room, given a couple clues, and asked to figure out how to escape the room in order to break free (yes, we actually paid our own hard-earned money to be locked away). As we solved certain clues, more rooms and details were opened up to us. We had one hour to solve the mystery and break out of the final room. If the group was successful at beating the game, we would be given a sticker and the right to purchase a shirt that said "I Escaped!" on it. If not, each member of the group would receive a sticker that said "I Almost Escaped!" on it. Before our team started the game, we were able to see several teams come out of their game room. Some were celebrating in jubilation while others seemed bummed out that they didn't have enough time, clues or the ability to beat the game.

This modern day game requires the ability to think logically, be quick on your feet, and work in an orderly fashion. The clues become progressively more difficult as time goes along; and just when you think that you followed all the rules and solved the problem, another room opens up and a whole new set of clues are revealed. This same exact game concept can be applied to understanding the final book of the Bible.

Revelation, one of the most prophetic books in all of the Bible, is like a syllabus: a course outline of what is to come. Clues from all throughout the Bible are read and uncovered, and the story of what was, is, and is to come, plays out in an apocalyptic epistle.

What is first discovered is that the kingdoms of this world are currently under the enemy's rule, but they won't always be. The last trumpet will be blown and heard, which will then signal the Lord taking reign of the Kingdom. He will rule and reign forever. There will be a glorious proclamation of victory for The Church (The Bride of Christ). True worship of the King will be established, and instead of receiving a sticker like you do when you beat the game, a celebration of jubilee will take place. Nonstop praise with a resounding hallelujah will occur. Never-ending gratitude will be offered and the complete victory of God will be fully realized by all.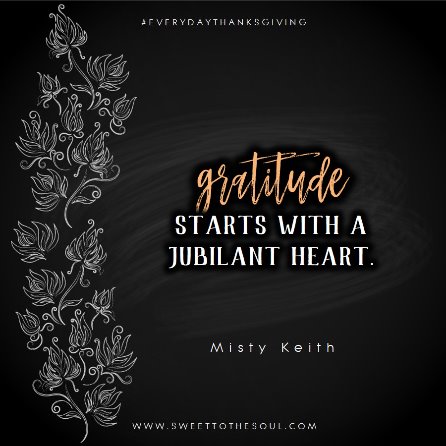 ​
Just as the twenty-four elders in the book of Revelation prostrate themselves in worship and give thanks for the One who was and is to come, we too can get in the habit of thanking the Lord God Almighty. Gratitude starts with a jubilant heart. Sometimes all we need is a friendly reminder to not be a sour saint or a grouchy Christian. Here are a few steps we can take towards possessing a happy heart.
1. We can start by making a list of our daily gratitude, all while thanking Him for His great power, His righteousness, His fair judgement and His gracious love and reward for those who serve Him.

2. We can speak our gratitude aloud, confirming for ourselves and for others that we are indeed full of joy. When others see or hear joy in our lives, they too want to possess that same lifestyle. They begin to seek after it, and a change of heart starts to take root. Bitterness is overcome with thankfulness and gratitude.

3. We can read and reread the book of Philippians as a reminder to be grateful and thankful. The Apostle Paul says in Philippians 1: 3-5 (ESV) "I thank my God in all remembrance of you, always in every prayer of mine for you all making my prayer with joy, because of your partnership in the gospel from the first day until now." The Apostle Paul, from a prison cell, expresses his gratitude toward this particular church. For as the seven churches are mentioned in the book of Revelation, the church at Philippi should be the church that we desire to model ourselves most after.

4. We can pray for eyes to see all that we are blessed with. Sometimes, quieting ourselves before the LORD and praying for proper perspective can immediately usher in an attitude of gratitude.

This month, as we continue to focus on #EVERYDAYTHANKSGIVING, let us set in our hearts a reminder to not just be grateful during the month of November, but to be thankful year round. A jubilant heart, an attitude of gratitude, and a hallelujah does not need a specific time of the year or a season in life to manifest. All is needed is a person willing to participate.
Blessings Soul Friends,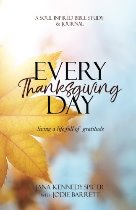 ​I'm Misty Keith and ​I am a daughter of the King of all Kings, wife to Richard, Mommy to Reagan (11 years), Kylee (8 years), and Karis Delaney (6 years). I am a teacher by trade, an encourager and up-lifter by calling and a writer by practice. I understood from early adulthood and beyond that I would never fit. The Lord helped me to realize that He called me to stand out and because of this, I am forever grateful and at peace with how He has made me and who He has made me to be.
My family and I live just outside the Austin, Texas area. I homeschool all three of my children and teach Reading for a private college in the Master's/Credentialing program. I stay busy and enjoy the hobbies of Reading, Writing, Scrap-booking and Running. As a family, we attend Hill Country Bible Church. We enjoy traveling and take "family fieldtrips" often. All of life is an adventure and we are thankful for every life lesson that the Lord teaches us in the process.
Posted in
Soul Deep Scripture
Tagged with #EverydayThanksgiving, Revelation, worship