Thanksgiving Through Prayer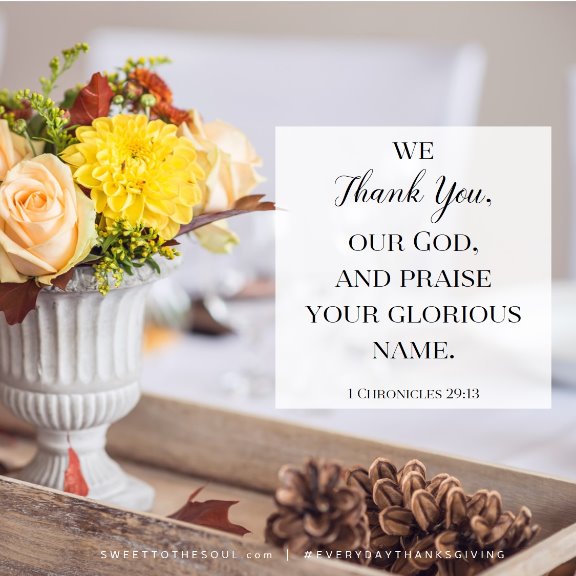 ​And now we thank you, our God, and praise your glorious name.
1 Chronicles 29:13

​
There have been a few times in my life when I was blind-sided by circumstances beyond my control that threatened to destroy my happiness. At those times, the last thing I wanted to do was to be thankful.

One of those times was when my son and daughter were pre-teens. We lived on and managed the farm/ranch where my husband had lived all his life. We all loved that land and loved getting to ride horses, raise cattle, and enjoy all the pleasures of living in the country. That is the only life my husband ever dreamed of and planned for. But my husband's parents experienced extreme financial trouble because of situations beyond their control. They were forced to sell the land before it was foreclosed upon. The new owner decided he wanted us to stay on and continue to manage the farm/ranch. We did that for a couple of grueling years. The owner was the kind of man whom it is impossible to please. Nothing my husband did was ever good enough, even though the land made more profit those years than it ever had before. Then one day the owner showed up out of the blue and told us that he had sold the land, and the new owners did not need us to manage it. We had no idea what we were going to do or where we were going to go.

God taught me a few things about being thankful during those difficult times. The first was this…

When you are feeling like you have nothing to be thankful for, instead of looking at your circumstances to find things to be thankful for, look at God and begin to thank Him for who He is, because He never changes.

Jesus is the same yesterday, today and forever. – Hebrews 13:8 NKJV

This is exactly what David did in the verses just previous to the one quoted at the beginning of this post.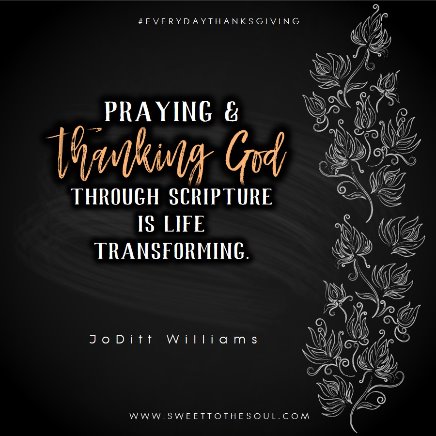 Therefore David blessed the Lord in the presence of all the assembly. And David said: "Blessed are you, O Lord, the God of Israel our father, forever and ever.11 Yours, O Lord, is the greatness and the power and the glory and the victory and the majesty, for all that is in the heavens and in the earth is yours. Yours is the kingdom, O Lord, and you are exalted as head above all. 12 Both riches and honor come from you, and you rule over all. In your hand are power and might, and in your hand it is to make great and to give strength to all. -1 Chronicles 29:10-12 ESV

I had to do that so often during those difficult days that now it has become a habit. For instance, now, whenever I am feeling intimidated by a situation and just really don't know what to do, I will begin to thank God saying something like…

Father God I thank you that you are the Great "I AM" and my Wonderful Counselor, who knows everything, including the details of my situation. Thank you that you know the plans you have for me, plans for good and not for evil. Thank you that Jesus is made unto me wisdom and righteousness and sanctification. Thank you that you freely give wisdom to those who ask, so I ask you now for wisdom.

Or when I look at my circumstances and see lack instead of abundance, I will pray:
Thank you, Father that you are my Provider and you provide all my need according to your riches in glory in Christ Jesus. Thank you, Jesus, that you are the Bread of Life and the Living Water. Thank you that you are making all grace abound towards me. I receive your grace in abundance so that in all things, at all times, having all I need I will abound in every good work.


The second way God taught me to be thankful when I felt like I had nothing to be thankful for was to begin to thank Him for who I am in Christ.

For instance, when I don't know what to do, and desperately need some direction in my life, I will pray: Father God, I thank you that I am your child whom you love with an everlasting love. Thank you that I am the righteousness of God in Christ Jesus. Thank you Jesus, that you are the Good Shepherd and I am your sheep. I hear your voice and follow you. Thank you that I am an overcomer, and that I can do all things through Christ who strengthens me.

Whenever I can, I speak these prayers out loud. The LORD hears our silent prayers, but I have found that it is impossible to continue to think negative thoughts while at the same time thanking God out loud. Plus, there is power in the spoken word. Proverbs 18:21(ESV) says that life and death are in the power of the tongue.

Praying and thanking God in this manner has completely transformed my life. My tears and desperation have been replaced with joy and peace. My lack of provision is being replaced with abundance and my fearful heart is being replaced with a generous heart. (I was even able to give my car away a couple of years ago to bless a single mom who desperately needed one.)

So, if you feel like you have nothing to be thankful for, or you just don't feel like being thankful, I challenge you to look to God and begin to thank Him for who He is and for who you are in Christ. I guarantee your life will be changed for the better.

Blessings Soul Friends,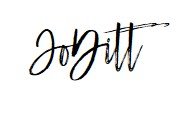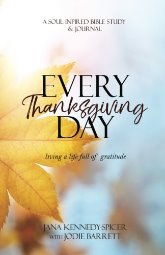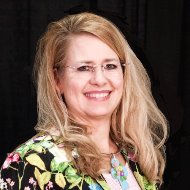 JoDitt Williams
is a writer, speaker, licensed artist, blogger and Etsy shop owner with a goal of brightening her little corner of the world and helping others do the same. Whether she is creating art using traditional methods or digitally, her style is always colorful, cheerful and charming. She hopes that her Scripture art will cultivate delight in the LORD and in His Word. JoDitt has a passion for encouraging, uplifting and inspiring women to live a life full of joy, while gaining victory over fear. That's why she teaches a weekly Bible study class for women in her community, and blogs at joditt.com about hiding God's Word in your heart. JoDitt and her husband of 28 years are empty-nesters, who have traded their house for an RV and their horses for a Harley. They, as well as their two married children and three grandchildren, call Texas home. Connect with JoDitt at
JoDitt.com

​JoDitt is also one of my fav artists and has just release a fun and amazing new Color Book! ​Click on the photo below to learn more.

Posted in
Soul Deep Scripture
Tagged with #EverydayThanksgiving, 1 Chronicles, prayer