Dying To Live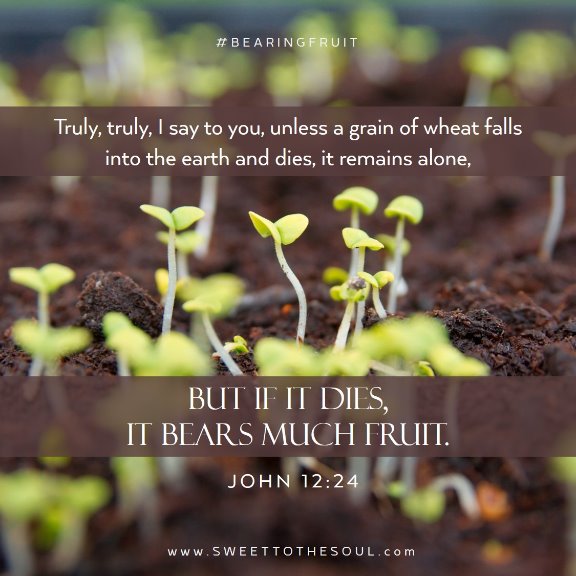 ​"Truly, truly, I say to you, unless a grain of wheat falls
into the earth and dies, it remains alone; but if it dies,
it bears much fruit." John 12:24

​I can almost see the confusion on the faces of Andrew and Philip. They went to tell Jesus there were visitors and he responds with talk of farming and lonely wheat and dying to bear fruit.
Huh?
We have a different perspective today than they did then and we know Jesus was talking about his own death, burial and resurrection.
The farming-wheat-dying-fruit analogy He gave also applies to his followers today.
Just as it was an image of Christ's literal death, burial and resurrection, it is also an image of Christian's literal death, burial and (eventual) resurrection.

It is also an image of Christian's spiritual death to self, being rooted in Christ and reborn to bear spiritual fruit.
​… "unless a grain of wheat fall into the Earth" ...
​
Clearly, we are the grain of wheat mentioned in today's scripture. But let's consider the life span of an actual grain of wheat.

Seed —> planted in soil —> roots & first leaves form —> roots & leaves grow —> grain heads develop —> wheat is harvested —> seed gathered —> planted, etc..

To simplify even further, there is planting, dying, growing and producing.

It does seem odd to have dying in the middle of the life-cycle instead of the end, but somewhere in the middle, what was planted dies and becomes something else.
​
​"Seeds are sown and rot but are far from perishing. Rather they grow up more beautiful. T
hey are sown naked and dry and spring up green from death by the power of God."
- Geneva Study Bible


​… "but if it dies, it bears much fruit" ...

​Dying to self is part of being "born again" when the old self dies and the new self comes to life. (John 3:3-7).
In practical terms, it can be described as putting aside what we personally want in the moment to focus on loving God. It moves us away from self-centeredness and closer to Christ.
So what does this look like in our lives?
We no longer try to get our own way (to gain attention)
We stop trying to impress others (to be elevated)
We stop offering unasked for advice (to feel important)
We no longer are obsessed with ourselves
​"It is much easier to pay attention to the needs of others when our own interests no longer consume us." Jan Johnson


​… "unless a grain falls into the Earth it remains alone" ...

​Right in the middle of today's scripture three words grabbed me - "unless" and "into" and "alone".

The processes of planting the seed and dying to self may explain where the action occurs, but they can't be done alone. There must be a catalyst, a stimulant, a food source.

In order to bear fruit, we must be "into" our food source, and our food source is God.

​"Abide in me, and I in you. As the branch cannot bear fruit
by itself, unless it abides in the vine, neither can you, unless
you abide in me. I am the vine; you are the branches. Whoever
abides in me and I in him, he it is that bears much fruit,
​for apart from me you can do nothing" John 15:4-5

​"fruit - karpos - everything done in true partnership with Christ, i.e. a believer (a branch) lives in union with Christ (the Vine). By definition, fruit results from two life-streams - the Lord living His life through ours - to yield what is eternal." - HELPS word study

​Let's make a recommitment to God, to put aside our personal desires and to focus on God and his will for our lives. Let's be fruit bearers.

​Blessings Soul Friends,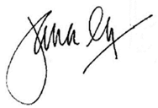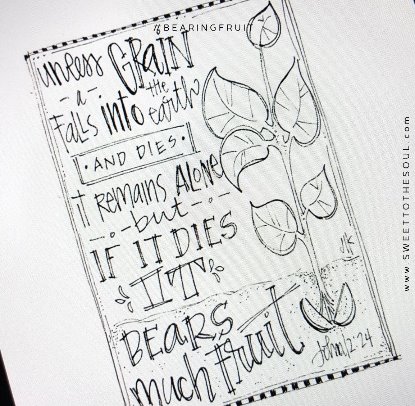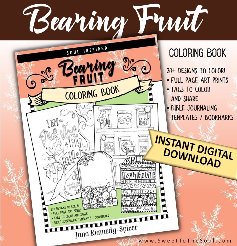 Posted in Soul Deep Scripture, Soul Inspired
Tagged with #BearingFruit, born again, John