SONshine In A Jar
Give-a-way and Soul Inspired Project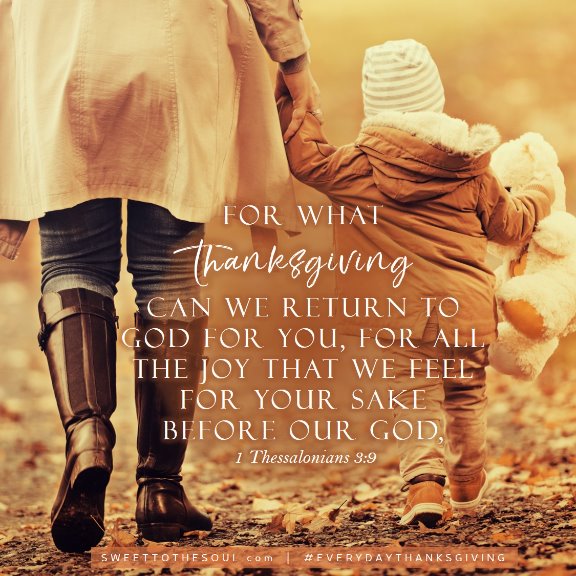 1 Thessalonians 3:9
For what thanksgiving can we return to God for you, for all the joy that we feel for your sake before our God,

Dreary. Rain was falling by the buckets with no end in sight. A special outdoor photography session had to be cancelled for a second time. The whole day looked like a wash and I was filled with JOY!

One look around the room and I could see four long, lazy bodies stretched out on the couch after a satisfying lunch. That lunch was prepared by many hands the day before at a family event and then my daughter helped set the table after we put on the finishing touches.

I sat in my chair, with a warm blanket across my lap and counted this very dreary day as a Son-shine moment. Many years ago while going through a very bleak season in my marriage I resolved that I could either stay stuck in the circumstances, overwhelmed with sadness, anger, and discontent, or I could look for the blessings in everyday and see the joy that was present even in the difficult. I named this process looking for Son-shine.

Each night while reflecting, journaling my prayers, and reading scripture I would draw a sun at the bottom of the page and record blessings. Some days it felt like looking for a needle in a haystack. One night I wrote next to my sun that I was grateful to hear my husband snore! Really, I did. It wasn't the snoring that I was overjoyed about, but his mere presence. When I say this was a difficult time in our marriage I was being quite real and his snoring reminded me that we were still together, still married, and still pressing forward.

Have you ever been there? Are you there now? In a place where every day seems filled with storms?

You dread getting up out of bed. You want to run as far from your life as you can because it seems, well, hopeless. I was.

In Psalm 143 David proclaims, "I am losing all hope". But he doesn't stop there. He continues with the words that became my mantra:
"Come quickly, Lord, and answer me,
for my depression deepens.
Don't turn away from me, or I will die.
Let me hear of your unfailing love each morning,
for I am trusting you."
Psalm 143:7-8 (NLT)

When we face the darkest, most desperate of times we can be honest with God and ask for His help. Ask to see and hear Him every morning. Ask him to help you find the Son-shine moments all along the way.

Being intentional to search for His goodness each day will strengthen you and change your perspective. I can say this after of watching for the Son to break through the darkest days. The more I searched, the more aware of His blessings I became and everyday there is something to be grateful for.

Let me encourage you with this prayer:

Lord,
We live in a broken world and we need you. Every day we need to see you. Help us become aware of the blessings that you pour out every day. Let us hear of your unfailing love every morning.
Amen

(Keep reading to enter our fabulous Give-A-Way!! You don't want to miss it!)

Collecting SONshine In a Jar
Today I want to share a fun Everyday Thanksgiving Project with you.

Do you ever keep score? You know, within your relationships. Sadly, there have been times that I have. Maybe I didn't do it on purpose, but it seems that whenever I am in a conflict with someone, recounting any little hurtful thing they have said or done just pops up like an unwelcome weed!

And just like weeds in our garden can choke beautiful flowers, these emotional weeds can choke a good relationship.

But what if we changed our scorekeeping and instead of keeping a tally of hurtful things, we began to count and collect thoughtful and kind and loving things. Or like our friend Jodie says: "SONshine".

Jodie shared above,
"While walking through a difficult season in our marriage, I began counting SONshine moments each day. INTENTIONALLY looking for the small blessings during a hard time. In my prayer journal I would end my page by drawing a sun and listing my SONshine blessing that I was thankful for. One day it was hearing my husband snore— it was a really hard day but we were still together!"

I love this idea! And I am taking on this challenge! Will y'all join us?

SONshine In A Jar Project Steps:
1. Find a large jar - one that will hold lots of SONshine!
2. Decorate as desired.
3. Keep a pen and pieces of paper, or post it pad, next to your jar for easy access.
4. Place the jar in a prominent location, you will see each day.
5. Everyday, intentionally look for the blessings in your day.
6. Write your SONshine on a piece of paper, fold it up and place it in the jar.
7. Select a date - or multiple dates - for your family to get together and read the SONshine notes with each other.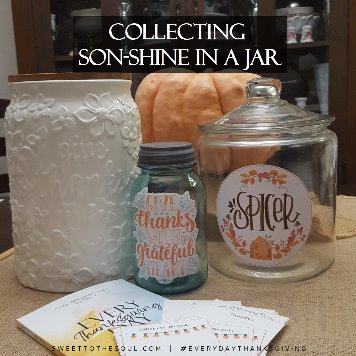 Here's my SONshine jar our family will be using this year.
You can
download this FREE printable
to use in decorating your SONshine jar.
1. Download to your computer
2. Print on label (sticker) paper - I used white label paper
3. Cut out each design and decorate as desired!
Jodie and I would love to see your SONshine Jar! Share with us on social media and tag Sweet To The Soul and Faithfully Following, and use the hashtag #SONshineInAJar.

Blessings Soul Friends,


Mary & Martha Gratitude Canister Give-A-Way
Oh goodness yall, I am so excited about our giveaway today!!!

How would you like to receive this Mary & Martha Gratitude Canister for FREE??!

eeek!

Yes please!

All you have to do to enter this drawing is leave us a comment below and share something you have been thankful for especially in a difficult time.

That's it!
We would love to see your comments encourage others, so
comment on other's comments
for extra entries. And invite your friends! At the top of this blog post are buttons you can just click to
share to social media
and to your friends.
We want to give a shout out and HUGE THANK YOU to friend and Mary & Martha consultant, Laura Blackburn. You can visit Laura's Mary & Martha page at
http://www.mymaryandmartha.com/Laurab
or connect with her on
Facebook
.
Leave your comments and share through the weekend. A name will be picked at random Sunday night November 12, 2017, 10:00pn cst.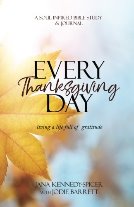 Posted in
Soul Inspired
Tagged with #EverydayThanksgiving, 1 Thessalonians, gratitude