New Year New Notebook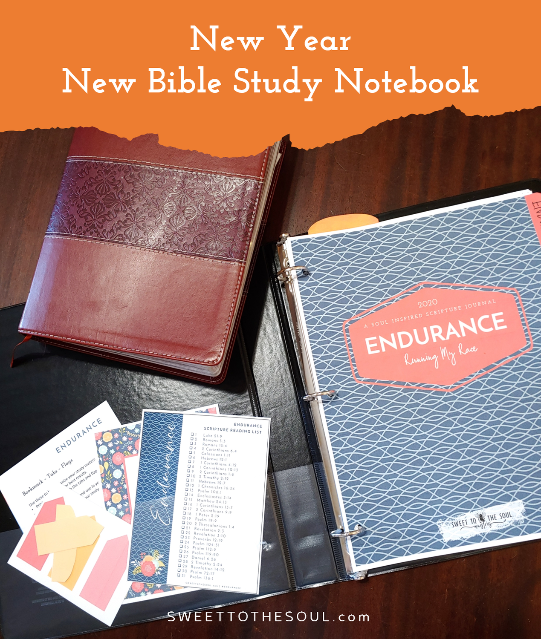 I think I am more excited about this year's Soul Inspired Bible Study topics than ever before. Can I give you a peek of the behind the scenes for a minute? It might surprise you.

Like other authors, you might be thinking that I spend time studying a topic then share it with y'all once I've finished and have it all nice and neatly written. But for me, it really doesn't work that way. At least not with our monthly topics. You see, I will be studying each of our 12 topics right along with you.

In November of each year, I begin praying about what topics God wants me to learn about in the coming year. Kind of like everyone does selecting their "one word" but I'm looking for 12. And God always answers this prayer right away! Typically in one sitting I walk away with a list.
The topics for 2020 even include a couple of topics we've covered before a few years ago, so those will be fun to take another look at.

This year we will be studying:
Q1: Endurance, Fellowship, Storms
Q2: Believe, But God, Grace
Q3: Humility, Moving On, Strength
Q4: Trust, Forgiveness, Praise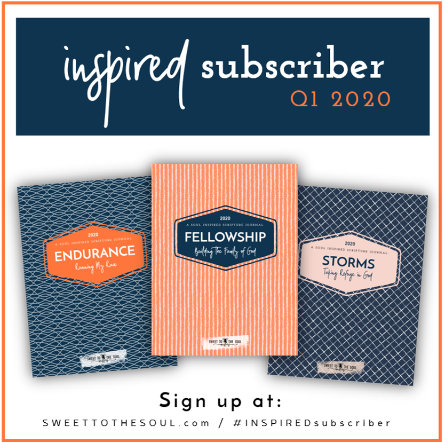 As always, each month's Scripture Reading List and blank study pages will be available for anyone to download and use. As well as discussions, blogs and social media posts.
For 2020, we've also added our
Inspired Subscriber
program. Which offers a lot of additional material available only to our members.
In January, we will be leaning about Endurance. You can download the Scripture Reading List and blank study pages over on our
Soul Inspired Page
.
If you are an Inspired Subscriber, I want to show you how I will be using the materials, especially setting up my
Soul Inspired Bible Study Notebook
for 2020.
Here's what you will need to get started:
Notebook
Scissors
Hole Punch
Adhesive
Pen or marker
Access to a printer
Not an Inspired Subscriber yet? No worries, you can still download this
Notebook Package
that includes this Soul Inspired Bible Study notebook cover and Contents page.
After downloading the "2020 Endurance part1" file, the first thing I do is print off all of the pages. You can print this in color or in black and white, or just a few specific pages in color. That's the great thing about a printable .pdf file, you have all the pages and can print them how best you like.

Here's how I printed my Endurance Scripture Journal:
The Cover, Scripture Reading List and Scripture Art Print, was printed on a heavy cardstock paper.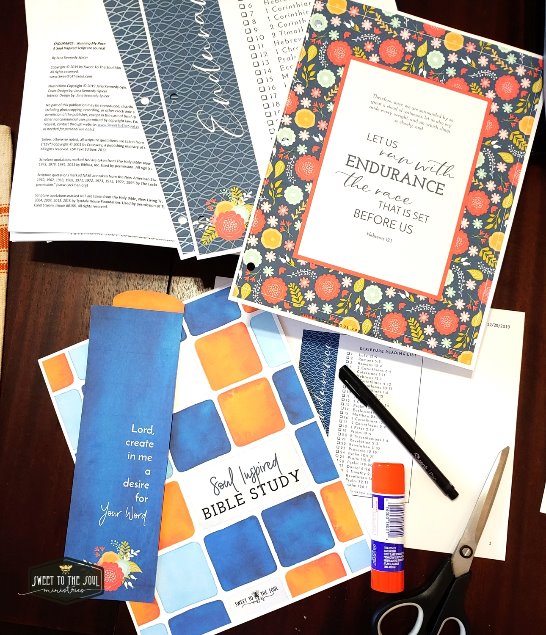 Additionally, I wanted a copy of the Scripture Reading List and the Scripture Art to keep in my Bible, so I printed another color copy of each on 28# paper at 50%. This reduced their size to fit nicely in my Bible.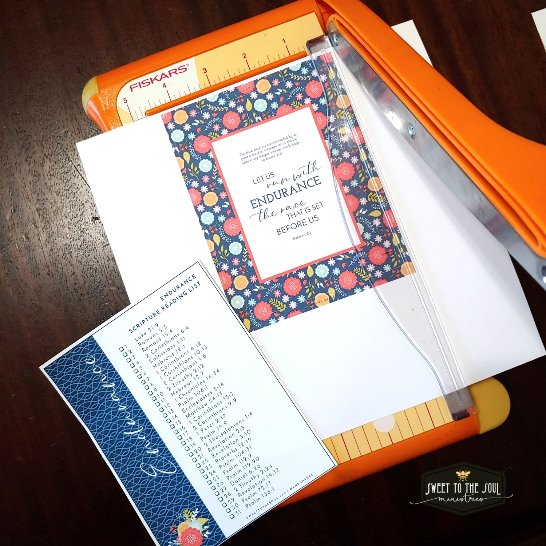 The remainder of the file, I printed in color, double sided on the same 28# paper. It is just a bit heavier than normal copy paper and is a nice weight to write on.

I printed the "Day Quick Study" pages twice so I would have 2 weeks of these study pages.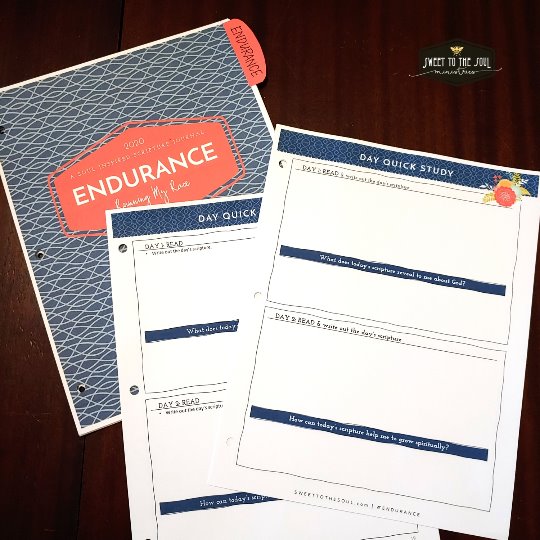 I'm sure I will be reprinting several of the blank study pages as the month goes along.

The bonus file 2020 Endurance Bonus, I printed out all 3 pages in color on the heavier card stock.


The notebook I am currently using does not have the pocket on the cover so I am keeping my "Soul Inspired Bible Study" cover page tucked inside my notebook until I can get another notebook.

I cut out the book mark and some of the tabs to use in setting up my study notebook.
The bookmark I will use to keep my place. And the tabs and flags I will use to mark important points. I've added one of the tabs to my Endurance title page to use as a divider page.

Remember, your notebook will be holding 12 months of soul inspiring study topics!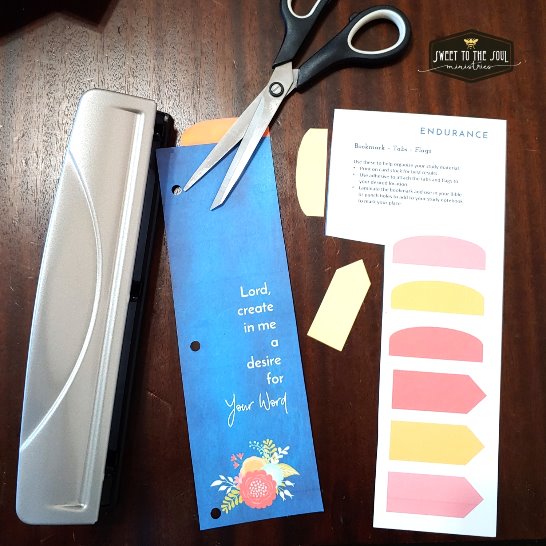 I've got my book all set up and ready to begin! I would love to see how you are using your study materials. Take a pic of your study notebooks and share with the rest of us online! Don't forget to tag Sweet To The Soul and use the hashtag #SoulInspired or #InspiredSubscriber.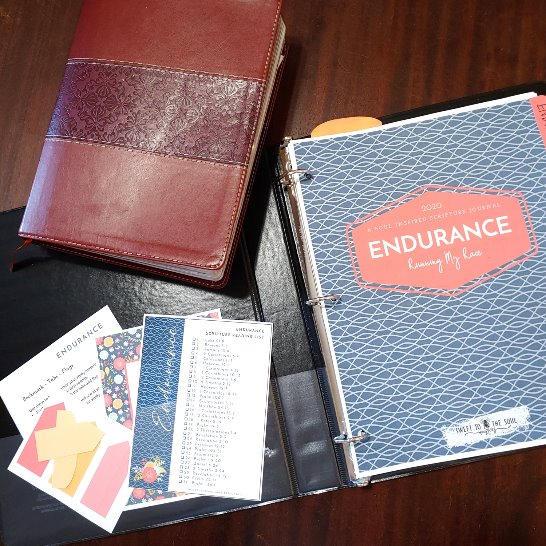 I look forward to learning all God has to teach us in the new year!

Blessings Soul Friends,

Note: Some products and pages featured in this blog post are only available through our Inspired Subscriber program. To learn more and sign up, visit
Inspired Subscriber
.

Posted in Bible Study, Inspired Subscriber
Tagged with Bible Study, endurance