Living An Intentional Life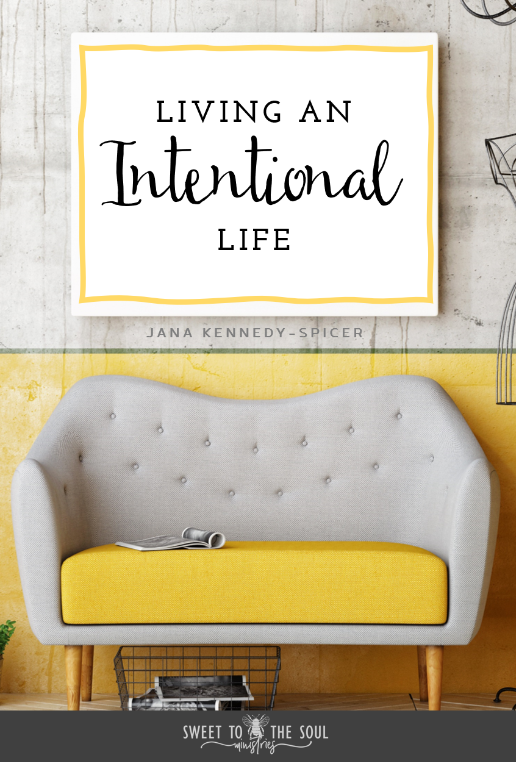 Hello January! It is the beginning of a new year and a new decade. Something seems more fresh this year than others. We've looked further back this month than previously, making an evaluation of the past 10 years! Shoot, I can still remember the calendar flipping over from 1999 and waiting for all the computers at work to crash and the world to stop spinning. Anyone else?

Flash forward 20 years - yikes! - and it is officially "the future".

I wasn't going to do it this year, but everyone began posting about their "one word" and so I began wondering what mine might be IF I were to join in. I went through a list of several that sounded good, you know, like words which would challenge me, but just not too much. Comfortable growth.

But as always, when I began talking to God about it, it He didn't hesitate to supersede my intentions. Interesting that for all the times He offers us comfort, it never seems to be in the area of our spiritual growth.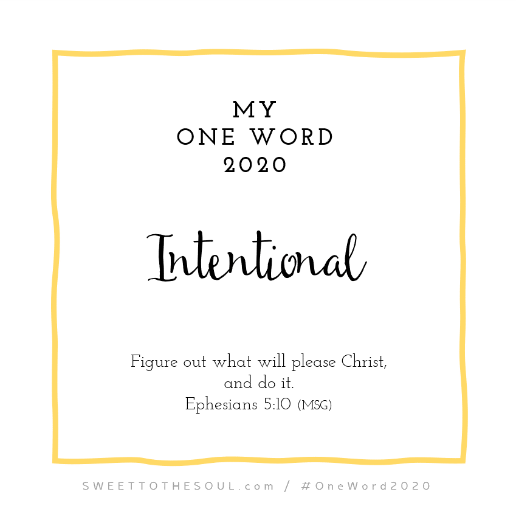 Intentional.

Yup, that's my word. Not a bad word, you would think. Well, let me tell you about myself.

I don't wear a watch and almost never set an alarm. I'm the friend that is never early. I'm creative, my mind runs alllll the time. My attention span is on par with a gnat. (Do gnats even have an attention span?) Long before I can cross any finish line, my brain has already lined up several more things to do. I chase squirrels, a lot of them. I love to brainstorm with my friends and help them come up with things for them to do. I'm totally spur of the moment. I actually thrive in an atmosphere of change.

Not really a portrait of intentionality. That's not to say that I don't plan well. I can plan the fire out of any project. Follow through, crossing the finish line, that can be a challenge.

INTENTIONAL
Purpose or attitude toward the effect of one's actions or conduct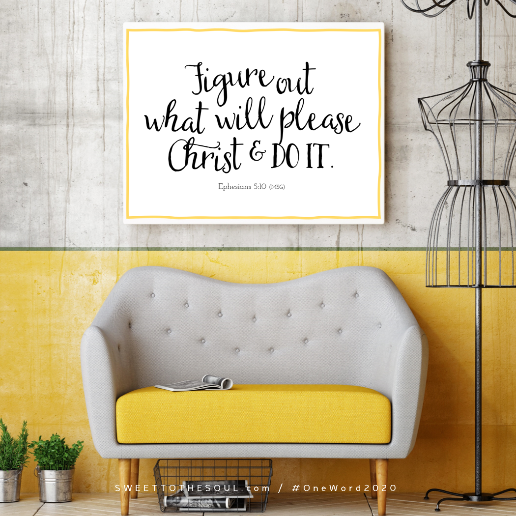 God gave me my word, so my next step was to see what the Bible had to say about being intentional. Surprisingly, not a lot directly. I will be spending the year on this topic in my personal study time, so I know God will be teaching me much.

But i did come across this translation of Ephesians 5:10; it's pretty direct. This will be "my verse" for the year.
"Figure out what will please Christ, and do it."
Ephesians 5:10 MSG
If God wants you to do something, then it should involve a conversation with him, so I prayed and asked Him what living intentionally should look like for me. If this is your word also, for you, it may mean something else and look completely different. But for me, God gave me three specific goals and three more scriptures. Each of these will be expanded as God teaches me more, but here are my initial thoughts.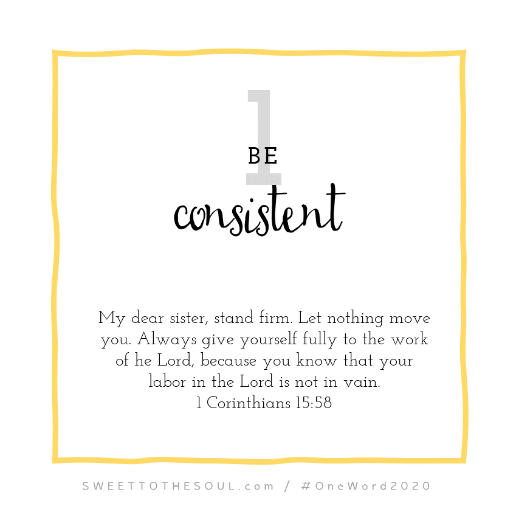 Hurdle #1. Consistency. If you are a creative, I'm wondering if this is a growth opportunity for you as well.

Let nothing move you - all of those shiny new ideas will need to be kept in check. The inspiration is a beautiful thing, but they need to take their place in line.

Give yourself fully to the work of the Lord - my word, intentional, does not just apply to my "work" - my ministry - but also to my other work - my family, home, health, church, friends, etc.

Your labor is not in vain - none of this work is for me. I know that I know this. But being self-employed with my own ministry, I have to admit that I pretty much do what I want. It seems it's a lot about me. Or at least I've made it that way.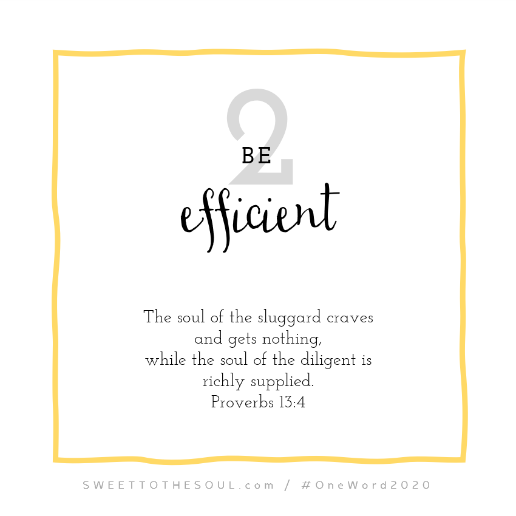 Hurdle #2, Efficiency. Did I mention I am easily distracted and love to chase after new ideas?

The sluggard craves and get nothing - a friend recently asked me a very simple question in regards to a "big idea" I had. She asked, "Do you want to do the work?" Profound moment. The truth was I loved the idea, but no, I really didn't want to expend the resources to do the work.

The diligent is richly supplied - I know this is a proverb and not a promise, but I am believing God will supply all the resources for all of the assignments given to me BY HIM. I can see discernment is going to need to come into play here also.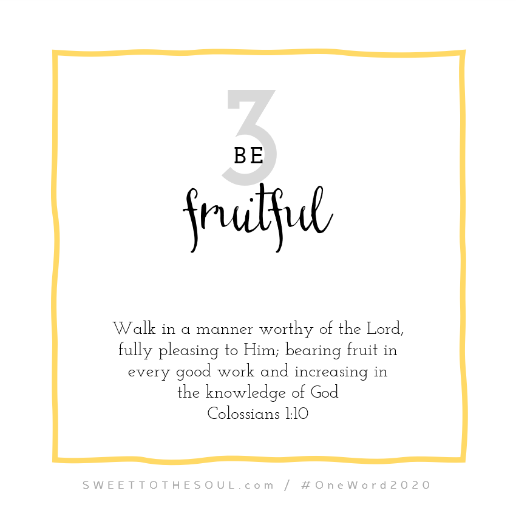 The reward, Fruitfulness. This is the goal. the hurdle attached to this, though, will be to let God define what the fruit should be.

Walk worthy of the Lord - if ever there is an undeniable edict of how we are to conduct our business, this is it. I can not let the world and culture influence the ethics which must be adhered to and exemplified.

Bearing fruit in every good work - all kinds of fruit, bug fruit, little fruit. Fruit which pleases God.

Increase in the knowledge of God - this is the ultimate goal after all. The work done here is really kingdom work. May my kingdom work bring me closer to the King.


Soul Friends, I would love to hear about your "one word", or your 4 words or whatever word / focus / goal God has placed on your heart for 2020. Share with us below and inspire a friend. We're all walking through this world together, let's lift each other up; let's encourage and inspire each other.

Blessings #SoulFriends,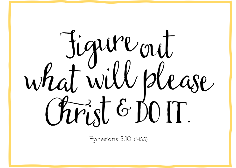 Download a printable
of this Ephesians 5:10 Scripture Art, and add to your space for a great reminder. I have mine in my office.
Posted in
My Story
Tagged with One Word, Intentional, Consistent, Efficient, Fruitful