This Time - Study Journal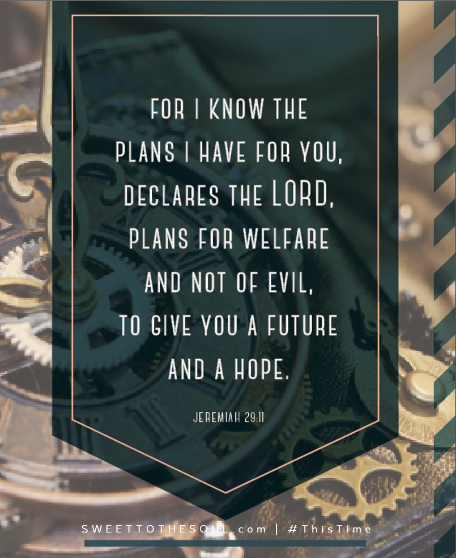 I took a deep breath, inhaling from a world which was warm and comfortable. But in the very next moment, I exhaled into a world of utter chaos and unknown. Life as I knew it had just imploded all around me and my family.

Time.

It's a funny thing, our perception of time. As we watch our children graduate from school, it can seem as though with a blink of the eye they went from babies cradled in our arms to young adults wanting to spread their wings and fly. On the other hand, as we are waiting for that phone call from the doctor with test results, a mere 24 hours can seem like an eternity.

Time.

In those times when our world shifts on its axis, we turn to the scriptures for comfort and God's reassurances – and rightly so. God longs to spend time with us on easy days, but He especially calls us to come to him in the midst of the storms.

One scripture that Christians take great comfort in is Jeremiah 29:11.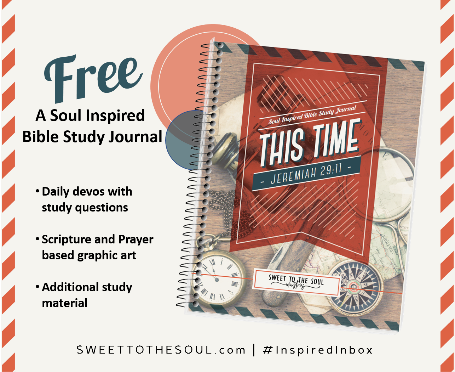 It is a popular scripture we can find printed on everything from t-shirts and cups to graduation announcements and cards of encouragement. We quote it to a friend in a trial and we cling to it when we are facing our own trials.

Sadly, very often this Bible verse is completely misapplied to our situations. Not to mention the translations which substitute "thoughts of peace" with "plans to prosper you" and the subsequent misapplication of prosperity.

If not careful, we can tend to approach Jeremiah 29:11 as a security blanket.

Inferring it to mean something that is does not actually mean, like "God has a plan for me that is good, so clearly this suffering I'm going through will end soon and my flourishing will begin."

Umm. Not exactly.

As with any scripture, it can be dangerous to extract a single verse, not considering it's right meaning in context of the chapter or book which it is included, or relative to the entirety of God's Word.

"This Time" will take you on a deeper journey of this popular scripture to understand what Jeremiah was actually saying to the people of Israel in his letter and learn if it holds a promise for us today.

Blessings Soul Friends,

To download your FREE copy of "This Time" click on the book cover below: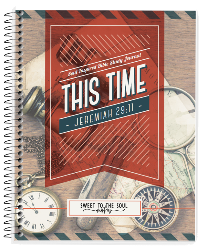 Posted in
Bible Study
Tagged with #ThisTime, Jeremiah