This Time In Context
Welcome to day one of the "This Time" study. Today we will be reading Jeremiah chapter 11.



"They [the inhabitants of Jerusalem] have turned back to the iniquities of their forefathers, who refused to hear my words. They have gone after other gods to serve them. The house of Israel and the house of Judah have broken my covenant that I made with their fathers. Therefore, thus says the LORD, Behold I am bringing disaster upon them that they cannot escape." Jeremiah 11:10-11a


Here is what was going on at the time Jeremiah gave us what would end up being one of the most quoted scriptures in the Bible.

It is almost 600 years before Christ will appear and the people of Israel and Judah have continued to live in rebellion of God; they are worshiping false idols and following false teachers. God called Jeremiah as His prophet to warn the people about the consequences of their actions.


"For 23 years ... the Word of the Lord has come to me, and I have spoken persistently to you, but you have not listened. You have neither listened nor inclined your ears to hear, although the Lord persistently sent to you all his servants the prophets saying, "Turn now, every one of you, from his evil way and evil deeds, and dwell upon the land that the Lord has given you and your fathers from of old and forever. Do not go after other gods to serve and worship them, or provoke me to anger with the work of your hands. Then I will do no harm." Jeremiah 25:3-7


Flash forward, the Israelites do not heed Jeremiah's warnings and God does indeed execute his wrath upon the people. Jerusalem is overrun and the people are taken captive by King Nebuchadnezzar and relocated out of their homeland and into Babylon. [Read the book of Daniel for insight to what this time was like.]

I cannot even imagine being in that situation, taken from the only home I have ever known to be held captive in a foreign country.

But I have found myself suddenly thrust into unknown and often unfriendly territory as life's circumstances uprooted me from my familiar, warm and cozy comfort zone. Sometimes as a result of my own choices and rebellion, just like the people of God; but sometimes by no action or fault of my own.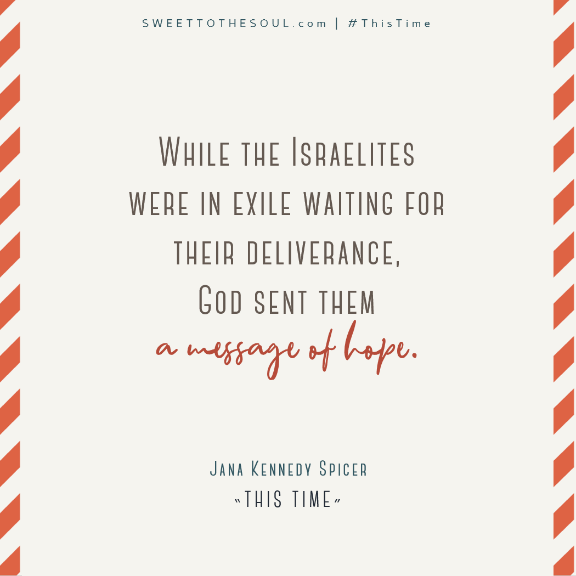 Let's face it, many of us are there right now. Maybe you're reading this today because our focus scripture grabbed your attention and you are looking for that hope Jeremiah 29:11 says Gods wants you to have. Let me reassure you friend, God does offer us hope, a hope like none other.

This letter Jeremiah pens in chapter 29, is God's message to the exiles, meant to provide comfort and the reassurance that God will deliver them. God was punishing His people, but He was not abandoning them. They would get to come home, eventually.

While they were waiting for this deliverance, God sent them a message of hope.


Today, begin your study time in prayer. Ask God to open your heart to understanding His Word. Spend time talking to Him about your current circumstances and all that is going on. Be genuine, voice your concerns, He knows your heart already! Speak in detail like you were speaking to a friend, because He loves you more than any earthly friend could.
Then, Journal your prayer time on the backside of todays devo page.
I would love to hear about what God impressed on your heart today. Share with us in the comments below, you will be an inspiration to others.
Blessing Soul Friends,

Download
these 4 Scripture and Prayer based Journaling Cards. They are a great size to add to your Journaling Bible or blank journal. At almost 5" x 4", they also make wonderful postcards of encouragement. Just add a written note to the back side and share with a friend.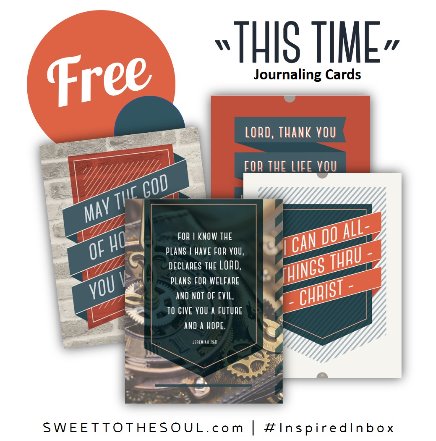 To download your FREE copy of "This Time" click on the book cover below: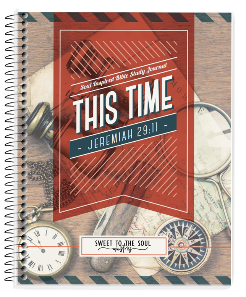 Posted in
Bible Study
Tagged with #ThisTime, Jeremiah