Gracious Words Bible Study / Journaling Kit
Let your soul be inspired with the "Gracious Words"
Bible Study and Bible Journaling Kit.

James warns us that the tongue is small but mighty:
James 3:5,6 "So also the tongue is a small member, yet it boasts of great things. How great a forest is set ablaze by such a small fire! And the tongue is a fire, a world of unrighteousness. The tongue is set among our members, staining the whole body, setting on fire the entire course of life, and set on fire by hell."

​The ability to control our tongues and our words comes only through surrendering them to God and allowing the Holy Spirit to intercede. It takes great obedience on our part to keep our words gracious.
​
* * *
Join me for our newest - and perhaps my most personal - Soul Inspired Bible Study. The four devotional studies can easily fit your schedule, whether daily or extended over several weeks.

Also included are color pages, Bible journaling templates and blank pages to let your soul be inspired.

Gracious Words Scripture Reading List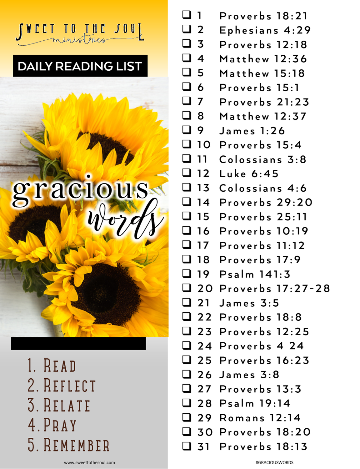 Download this FREE printable Scripture Reading List
Download these FREE printable Journaling Pages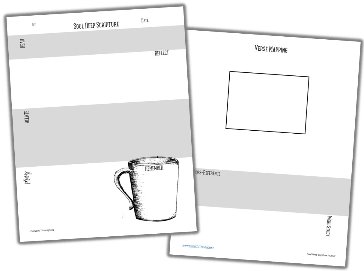 Gracious Words Bible Study Booklet
COMING SOON! PREORDER THRU 9/8/17 FOR FREE SHIPPING and BONUS CARD set!!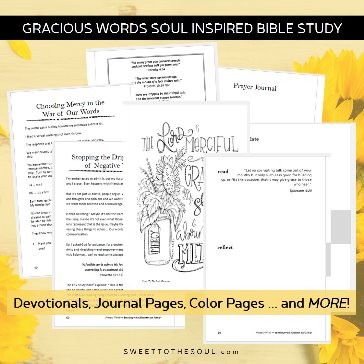 ​**70 pages including: Study Instructions + pages, Prayer journaling pages, Devotionals, Scripture Reading lists, Color pages, +++ more! ** BONUS - set of 15 Scripture & Quote cards ​
Gracious Words Bible Journaling Kit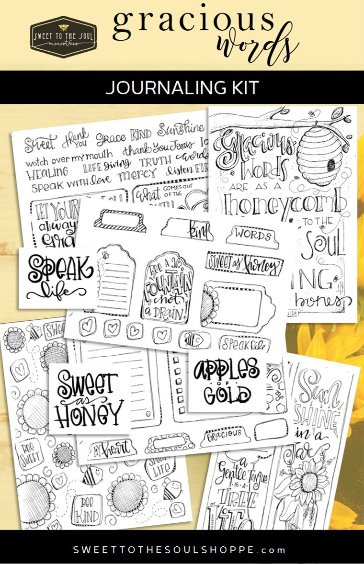 This month's Bible Journaling Kit includes all colorable elements which you can color and customize!
​elements including: words & phrases, cards, color pages, tip-ins, tags, tabs, stickers and more!
Journaling Templates / Colorable Bookmarks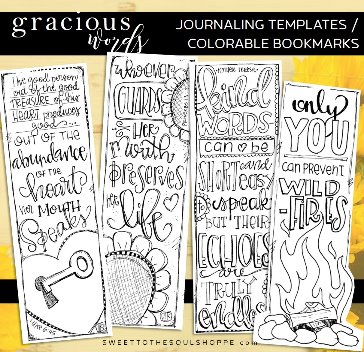 Templates for:
Luke 6:45
Proverbs 13:3
​James 3:5
​Mother Teresa Quote



* ​How Gracious Are My Words
* Choosing Mercy in the War of Our Words
* Working For Peace
​* Stopping the Dripping Rain of Negative Words
* Taming The Tongue
​**70+ pages including:
* Devotionals
* Bible Study instructions and Journal Pages
* Prayer journal pages
* Color Pages
​* Creative Space
+++ more!
** BONUS - set of Scripture cards ​


Sign up for our sorta monthly Shoppe email newsletter / freebies and receive these FREE fall color pages.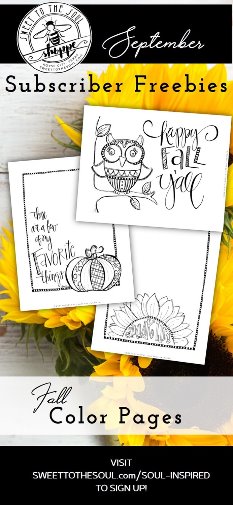 Note: this page contains affiliate links
​
By purchasing or downloading any of the files offered or made available from the www.SweetToTheSoul.com/shoppe website, you are agreeing to the following Terms of Use:
#SoulDeep Scripture Journal download is for a single personal use only. No graphic or print, whether the actual .pdf file, the graphic image displayed on this page or the printed product from the file, may be sold, listed for sale or reproduced for sale in any format. No graphic or print, whether the actual .pdf file, the graphic image displayed on this page or the printed product from the file may be altered or edited in any way. The images on this page may be shared across social media or on your webpage, but in doing so we would request an author notation of Sweet To The Soul and a link back to our website at www.sweettothesoul.com. The purchased .pdf file MAY NOT BE SHARED.
If you are with a group, ministry or organization which is desiring to use any of this images or files under conditions other than what is listed here, please contact us at graphics@sweettothesoul.com.
Thank you. Blessings.
​elements including: paper pieces, cards, flags, buttons, washi bits, ribbons, banners, tabs, clipart, words & phrases & alpha stickers